When I lived in Sacramento and needed a laugh, I sat down and watched Bill Murray's "Stripes." Now living in the Bay Area, all I need to do for a good laugh is to watch San Francisco local politics.
Sometimes the board of supervisors is passing loony resolutions, like advocating that the federal government allow a San Francisco group to trademark the name "Dykes on Bikes." Other times, the craziness comes from the many different (and often freaky) groups in San Francisco, the high church of group politics.
The latest example is the tension in the Polk Gulch neighborhood. Once dominated by drug dealers, prostitutes and the homeless, the neighborhood now is enjoying gentrification. In most other cities, where there is a conflict between the old timers and the new comers, you often read stories where low-income, minimum wage earners are getting evicted so owners can make room for new, high-end townhouses.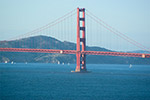 San Francisco, as usual, brings its own brand of looniness to the typical neighborhood gentrification story. Gay Shame is the lead group complaining about Polk Gulch's transformation from slimy to chic. The group recently told the San Francisco Chronicle that the new restaurants and clubs coming into the neighborhood are pushing out "hookers, hustlers, drug addicts, homeless people, trannies, needle exchange services, working-class queers and other social deviants." Tell me again, why is that a bad thing?
It's all down hill from here, to hear the social deviant advocates tell the story. A bar that was a known hangout for johns has turned into a hip new dance club for young people. Another bar, described by the Chronicle as "the last male hustler bar in the neighborhood," closed, with an upscale wine bar opening nearby. Horrors!
I often compare San Francisco with my favorite city in the world, Chicago. While both are controlled by Democrats, Chicago, at least, is pleasant to visit. Mayor Daley, as ethically challenged as any Chicago politician in the past, runs a city that is clean, pretty and works! Chicago's zoos, the museums, the shopping and the neighborhoods beat that pants off San Francisco's city attractions.
A Bay Area friend recently took her family to Chicago for a vacation and reported that Chicago's city buses were so clean that a person could have eaten off the floors. In San Francisco, they might actually eat off the floor of the bus, but it's not clean.
The newer residents of the revitalized Polk Gulch street neighborhood tell the Chronicle that they want people to know that their area "can be nice and safe here, and they don't have to walk over passed-out people and vomit." There's a nice tag line for the next San Francisco tourism ad: "Come visit San Francisco: Less vomit than before!"