Much more will be wrtten here about businessman Bill Mundell (pictured with Prop. 77 initiator Ted Costa) as he gears up a campaign to challenge Dianne Feinstein in her bid for re-election. Mundell, who hails out of the Westside of Los Angeles, is a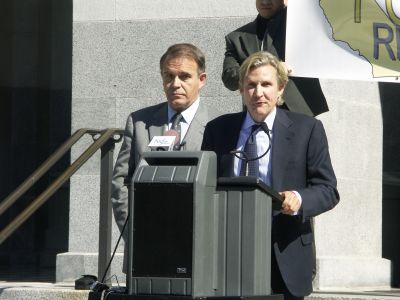 successful businessman, son of a nobel-prize winner in economics, self-styled libertarian Republican who has played a key role in Proposition 77, the Redistricting Reform measure. You can read Mundell's bio here.
It is actually safe to say that without Mundell's early financial support, it is dubious whether 77 would be on the ballot AT ALL right now – in a state as large as California, you must have a paid effort to gather the requisate signatures. In late 1997, I worked for Ron Unz on the successful Prop. 227 campaign (to end bilingual education) – a popular issue – and still it took a substantial paid effort augmenting a volunteer effort to get onto the ballot).
Right now, Mundell is relatively politically unknown. He is just starting to meet with folks (I was invited to spend about 15 minutes with him in his suite at the last GOP Convention – he was very low profile at that event). At this point, his focus is primarily on passing Proposition 77. Which brings us to an interesting twist in THAT campaign.
You may have read in yesterday's news articles, but Governor Schwarzenegger has come out in support of Measure #4 coming up on a November ballot in the State of Ohio. In that state, it is Republicans who dominate the legislature, and hold the Governor's mansion. So the lines there were gerrymandered to substially assist the GOP in keeping their statehouse numers up, and maximizing Republican representation on that state's Congressional delegation.
In an effort to show that the redistricting measure in California is a 'non-partisan' one (Bill Mundell will tell you over and over that if 77 is viewed as a GOP scheme, it loses, but if it is balanced 'non-partisan' reform, it wins) – Schwarzeneger, and now Mundell along with 77 pioneer Ted Costa are all coming out in support of this "sister" measure in Ohio.
But is it a sister measure? Here is the "pro" side on that Ohio measure, and here is the "con" – so you can look at them (I note with dismay that 4 is tied to another measure that would institute draconians contributions in Ohio – blech). I'm no expert on Ohio politics. But I place a high degree of value on the opinions of Ken Blackwell, the Secretary of State of Ohio (a Republican who will hopefully be that state's next Governor). Blackwell is strongly opposed to the measure. A close friend of Blackwell's is an old College Republican buddy of mine, and now a senior business executive in Ohio. I asked him about issue 4, and his response: "It is a thinly veiled effort by unions and Soros money to hijack Ohio's election system."
Apparently Issue 4 is heavily bankrolled by George Soros, the leftist billionairre who dumped tens of millions into MoveOn.org and other liberal groups who were trying to elect John Kerry to the White House. Now, I understand that it is hard to wade through the very partisan implications of these measures. Is a Democrat opposing 77 because they believe that elected officials should draw lines? Or because its passage would hurt the Democrat Party politically? In Ohio, is someone line Blackwell opposing 4 because he believes that elected and accounting representatives should draw lines? Or because its passage would politically injure Buckeye State Republicans? We could spend a lot of time trying to analyze all of this.
Taking this commentary back to Bill Mundell. I find it fascinating that Mundell and Ted Costa are flying out to Ohio to announce their personal support, and the support of the "Redistrict Now" committee for Ohio's Measure 4. It may be good 'politics' for passing 77 out here, but is it good politics for Bill Mundell? As I mentioned above, he is relatively new to politics. Unlike Ted Costa or Arnold Schwarzenegger – known commodities in the political realm, people like you and me will be looking closely at Mundell.
With Costa, he has faught so many battles for the conservative cause that his credentials speak for themselves – as do his motives. Some will roll their eyes at tying 77 to a Soros initiative in Ohio. But Mundell is taking a political gamble. He will create some enemies in GOP circles. I don't think he needs to worry about the self-serving Ohio Republican elected officials, who might lose their seats. But he needs to worry about principled conservatives, like Blackwell, and my friend out there. They have friends here in California and will speak of Mundell's weighing into this measure in Ohio.
I will say this – I admire Mundell for his political chutzpah. There is no doubt that there is some personal risk to himself and his own effort to win a GOP primary next year in the Senate race (although he would need to have an opponent…) — still, his priority is passing 77, which he views as his first, and higher calling.
I've attached his own words, as to why he is off to Ohio, for you to read.
Take care,
Jon