The host committee is an important part of any fund raising event.
There is a big difference between the working host committee member that has agreed to raise a determined dollar amount and the host committee member who simply lends his or her name to an event for the sake of prestige or comfort in numbers as I like to call it.
The invite that prompted this post was received this week from Laguna Niguel City Councilwoman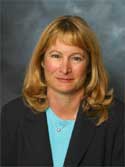 Cassie DeYoung who is running for Orange County Supervisor (5th District, an open seat in '06 due to term-limits). The Nov. 9 event to be held at Antonello's Ristorante (the best Italian restaurant in OC and hot spot for old school political fund raisers for offices like Board of Supervisors and Anaheim City Council) is $175 per person.
The only thing missing from the invite though, is a list of host committee members. DeYoung, a seemingly wealthy candidate who has self funded with hundreds of thousands of dollars, is running against popular former
Assemblywoman Pat Bates. Perhaps the reason DeYoung's invite lacks host committee members is that she doesn't have any big names to put in print.
Or there might be some other strategy behind the committee-less invite. DeYoung's strategy team includes El Toro airport-slayer Col. Bill Kogerman as manager, Democrat (but only works for Republicans and all around good guy) Dennis DeSnoo of DeSnoo & DeSnoo out of Santa Ana and City of Irvine/Irvine Councilman Larry Agran brain-trust Forde & Moolrich who have a reputation of being the MOST expensive consultants around.
Bates' campaign is being run by Gilliard etal at GBW&A out of Sacramento which usually brings along the fund raising expertise of Julie Paule and operative husband Phil.
DeYoung has already been in the mail with a piece on traffic, condemning the smart new infrastructure of a tunnel between The OC and Riverside County. It looks like Gilliard is running a more traditional race waiting until at least after the several upcoming Special Elections before reaching out to voters on behalf of Bates.
More soon…