Some opportunities you just can't pass up.  Being a gearhead of the Mustang persuasion, when offered a chance to "deliver" a 2006 Hertz Shelby GT-H Mustang to NorCal, it didn't take much arm twisting.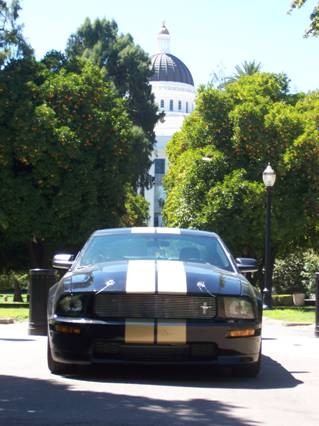 The 2006 model is the reincarnation of the '66 Shelby Mustang GT350H that you could rent from a participating Hertz location in 1966 for $17 a day and 17 cents a mile.   Carroll Shelby persuaded the Hertz folk back then they needed to liven it up a bit so they took delivery of a total of 936 special edition GT350′s in Hertz company colors of black with gold stripes.  This was the Mustang fastback which in its Ford incarnation came with the 271 horsepower Hi Performance 289.  Shelby's magic brought it up to 306 h.p. via a big 715 cfm carburator, Cobra high rise intake, Tri-Y headers and improved exhaust.  Plus enhanced suspension bits, stiffer springs and shocks to straighten curves and brake upgrades to bring some more "whoa" with the go.  And of course, some cool gauges and interior trim and outside the totally cool front to rear over the top stripes and the slick plexi quarter windows that replaced the vents found standard on 'stangs.
Which brings us back to today.  The 'retro' look of the restyled '05 Mustang was just asking for this nostalgia wave to hit.  The 300 h.p. GT is a hit and the Shelby inspired Hertz model of '06 truly recaptures the attitude and intent of Shelby in '66.  Selected Hertz dealers around the country will rent them soon for around $175-200 a day.   Performance enhancements via cold air intake, bigger diameter throttle body, high flow X pipe cats, and Ford Racing mufflers [shut off the stereo and just listen to the growl.  it's the 60's baby here I come, yeah!]  combine to bring 25 more kicking h.p.
Suspension tweaks lower it to that "just so" ride height and give a taut ride that loves to carve canyons via firm springs, shocks, bigger sway bars.  Again, it has the Hertz black and gold livery that
is quickly recognized and a super cool numbered dash plaque, signed by Shelby himself.
OK, OK, I'll get to the driving part.  We picked it up at the Hertz counter at Las Vegas along with 20 others from around the country who wanted to self deliver them.  After a little time about the cars with the Hertz reps, we were invited to tour the Shelby production HQ at Las Vegas Speedway.  They build Cobras, these Hertz cars and other new projects there that they can't tell us about…yet, heh heh.  Appropriately, my Hertz buddy did the driving til we were to drop him off for his appointment later.  The drive to the track was smooth and firm, the sight of 20 identical growling Mustangs leaving the Hertz counter was one that drew stares, no doubt.  
After the tour, some souvenirs, many photos of vintage Cobras, Shelby Mustangs and our new ones lined up out front it, we headed out for SoCal down 15, sorry, "the" 15.  This car rolls.  In no time, we hit Baker, CA and decided to stop at the Mad Greek for the milkshakes [hey, my 11 year old son was along, no Animal House road trip here] as advertised on the can't-miss-it billboards.  Great shakes…haven't figured out what the Greek is so mad about…Baker has a great nightlife I'm sure…
I get the wheel, yeah this car gets with it.  The automatic is programmed for firm shifts and seems to hold a gear longer before shifting.  Of course all of the 500 '06′s produced ['cept maybe a few 5 speed units for Hertz execs I hear] are automatic equipped after the stories of the fried clutches and blown engines from the '66 4 speed cars that were quickly replaced back then with automatic cars.  [Seems as if people were truly renting them to race, a quarter mile at a time.  Some accounts had cars coming back with the engines replaced  with regular old 289's from renters seeking to upgrade their own cars with Shelby go-power.  Hertz' policy of Gold Club only members of age 25 and older probably quelled much further damage.]  
I prefer a manual trans, most of my own cars plus the State car, a Mustang, I have are stick.  Hey, cheaper to buy, better mileage, direct control instead of computer and more power to the rear wheels.  But I'll give this car credit, firm shifts and popping the overdrive lockout brings you up to freeway passing speeds effortlessly.  It seems as if you barely have to crack the throttle to get the desired result…plus.    It's a car that really wants to be driven and enjoyed.  I'm sure the PC crowd rolling along in the hybrids at 54.5 mph in the fast lane, trying to eke out that last 1/100th of a mile per gallon wouldn't understand.  
Before you know it, we're in Sacramento.  [Hey, Dichiara, is 4 1/2 hours from Castaic to the Capitol garage a good time?]  A couple pics by the building and a little showing off for the garage gang and we're off for our haven in the north.  What a cool car.  What a great chance to relive a glimpse of the 60′s musclecar heyday.  I know it's a now-and-then experience that my son and I, zinging up the valley to the sounds of Patty Loveless and Johnny Cash, and those lovely dual pipes, will always remember.  Reserve yours now.