With Lou Correa being sworn in as Orange County's newest State Senator (well, I guess he is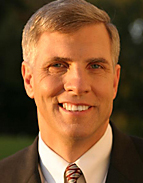 sharing the honors with Mark Wyland who will represent some of southern OC), there is now a ten-way donnybrook underway to fill Correa's seat on the Orange County Board of Supervisors.  To most FR readers, this won't raise much of an eyebrown as only a small percentage of our overall readers are from California's most Republican County. 
The election will take place in February, and so it will be a quick and high-profile affair.  That said, as I look at the field of candidates, it would appear to me that just a simple review of them would give an obvious leg up to former Assemblyman Tom Umberg.  The vast majority of the candidates are Republicans, and significant is that no one Republican seems to enjoy overwhelming support from the GOP community.  Umberg, while not the only Democrat on the ballot, has already received the endorsement of the Democrat County Central Committee, and look for a slew of other endorsements to come down in support of this well-known long-time Orange County politician.
In a regular election, one would expect Umberg to face-off against whichever Republican comes in second place, but this is a special election, and it is the top-vote-getter that will fill out Correa's term on the board.
If I were to handicap the GOPers in the race, it seems like Santa Ana Councilman Carlos Bustamante is in a strong spot, as Santa Ana is a huge city in this district.  It seems like the other prominent Republicans are mostly crowding the field from the west end of the district.  Most significantly is the challenge that faces Truong and Janet Nguyen (no relation).  The former is on the Garden Grove School Board, the latter is on the Garden Grove City Council.  Nguyen is a very common name amongst Vietnamese (it is like "Smith") but still…  It only adds to their collective challenge that both Nguyen's are listed in the final two spots on the ballot…
Of course, stepping back and looking at the big picture, Republicans are in all four other seats — and pretty conservatives ones at that.  So while it will be interesting drama to watch this 1st District race unfold, don't look for its outcome to change a lot of policy decisions on the 5th floor…
Oh yes, Assemblyman Chuck DeVore observes over at the Red County/OC Blog (the place to watch the nitty-gritty on this race unfold) that Umberg has listed himself on the ballot as a State Assemblyman.  He questions whether Umberg, who retired from the legislature on November 30th, can use that title.  We'll see whether his chose designation is formally challenged.