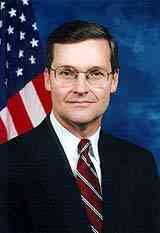 This is a particularly tough time for Congressman John Doolittle.  Doolittle (pictured to the right) is in the midst of dealing with the taint of an FBI investigation of Congress that has included family business dealings with now-disgraced and imprisoned ex-lobbyist Jack Abramoff.  Our hearts to go out to John and his family at this time.  In America, we have a strong tradition in our courts that you are innocent until you are proven guilty.  I would tell FR readers that having known John for nearly two decades, I don't believe that he is guilty of any crimes.  That having been said, Congressman Doolittle is facing a trial — but it is in the court of public opinion…   And at a time when the public's bias is not in the favor of Washington politicians.
DOOLITTLE'S NEGATIVES OVER 50%
Over the weekend, I had an opportunity to see some results of some polling that was done recently in Congressional District 4.  The survey, taken by very reputable pollster Chris Wilson of Wilson Research Strategies was taken of 600 voters in the District.  This is the first time that I have seen any objective polling numbers that tell of the very large uphill battle facing Congressman John Doolittle in his bid for another term, and outline some significant trouble for the GOP in the General Election next year if Doolittle is the nominee.  Let me remind FR readers that this particular U.S. House seat was specifically drawn to elect a Republican and has always been considered a "safe" seat…
In a one-on-one match up, if the election were held today, Democrat Charlie Brown gets 51% of the vote to Congressman Doolittle's 31%.
Those surveyed were also asked if they had a favorable or unfavorable opinion of Doolittle.  Respondents came back with 28% favorable and 56% unfavorable.
In the survey, GOP primary voters were asked whether Congressman Doolittle should run for another term.  33% of those asked said he should.  A staggering 50% said that the Congressman should either resign or should not run again.
I did have an opportunity to see some other interesting data from this survey, which I may be able to share with FR readers soon.
DOOLITTLE'S CHALLENGERS – THE GAINES CANDIDACY
Until just a few days ago, Doolittle was looking at two relatively unknown primary challengers — a councilman from the city of Auburn by the name of Mike Holmes, a self-described moderate, and Iraq War veteran Eric Egland, a conservative who claims to have raised over $100,000 in his bid.  As of last Thursday, however, the primary field has become a lot more crowded with the entry of popular conservative Assemblyman Ted Gaines.  Gaines brings a lot more to the table in terms of fundraising ability, and name I.D.  The freshman legislator served for many years as a member of the Placer County Board of Supervisors.
**There is more – click the link**