Every year it is always difficult to pare down the hundreds and hundreds of terrible bills the Democrats who control the state legislature down to just twenty for our annual Top 20 Bills To Veto column. With the help of Senator Mimi Walters and Assembly Chuck DeVore, we were able to get there, although a lot of terrible legislation is still sitting on the Governor's desk besides the ones we highlighted.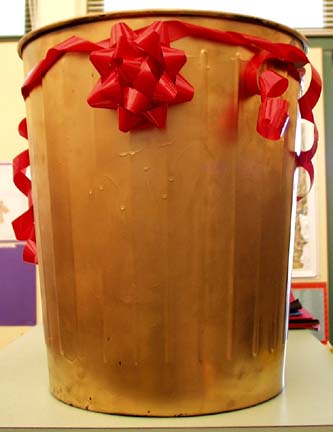 Each year I try to pick just one bill out of the worst to award the FlashReport's "coveted" Golden Trashcan Award. That's right — one piece of legislation is so bad and toxic that we encourage the Governor to take this bill, veto it, and throw it into the trash — hence the title of the award.
This year, the "top honors" actually go to a pair of bills that are married to one another, and are sitting on the Governor's desk — Senate Bill 900 and Assembly Bill 1602. Together, these two bills have been dubbed by us as the "rush to Obamacare" and Arnold Schwarzenegger should terminate these bills right away.
There is no doubt that the passage of Obamacare has played a key role in awakening a movement across this nation that is focused on the massive and unsustainable growth in our country's federal government. America, which is supposed to be a land of opportunity and promise, is becoming so mired with overspending and debt that the liberty of all of its citizens is at risk. A center point to this movement is the repeal of Obamacare with the election of a new President in 2012, and the election of Republican majorities in the U.S. Senate and in the House of Representatives.
This background is important because SB 900 and AB 1602 seek to comply with significant mandates of Obamacare that are not required to be implemented until 2014, which means that it is entirely possible that this massive regulatory scheme will not even be in existence by then. Or put another way, Governor Schwarzenegger should put the brakes on what is an eager rush towards socialization of health care by State Capitol Democrats.
Since these bills are that terrible, I have written about them before. In this column I go into some of the specific policy reasons why these bills are terrible — as they seek to set up a "healthcare exchange" for California, setting up a new bureaucracy at a time when we can't fund the ones we have now.
California's next Governor, whether it is Meg Whitman or Jerry Brown (we're working hard to elect the former) will have a couple of years to work with the legislature and come up with a bipartisan plan to implement Obamacare should it come to that. These bills represent such a partisan push that between them, they garnered only a single GOP vote for only one of them.
SB 900 and AB 1602 receive our Golden Trashcan Award. Governor, we urge you to veto them, and let's wait and see what happens this November and behind. It would be a tragedy if we were able to repeal the national legislation, but got stuck with a whole new bureaucracy on health care just here in California.