With the resignation of long-time Los Angeles South Bay Congresswoman Jane Harman, there is a big food fight taking place between two of California's highest profile liberal ladies to succeed her — Secretary of State Debra Bowen (who represented that area locally in the State Legislature for many years) and Los Angeles City Councilwoman Janice Hahn.
I know that when I assess the state of play in a Republican primary, one of the first thing I do is look to third-party endorsements, to help me understand what's really going on. So when I look at the race between Bowen and Hahn, I figure that the best way to figure out that race is to do the same — look at the endorsements. Of course, on the Democrat side of things, no endorsements are more significant than labor.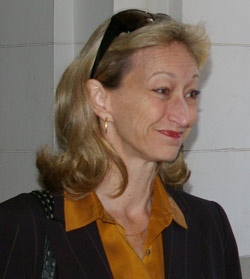 My first assumption was that Bowen would be cleaning up with big labor endorsements. After all, she had a ton of them in her recent election for Secretary of State:
California Labor Federation AFL-CIO
Teamsters
AFSCME
California Federation of Teachers
California Nurses Association
Peace Officers Research Association of California (PORAC)
California Professional Firefighters
ALADS (Association for Los Angeles Deputy Sheriffs)
California School Employees Association
California State Employees Association
ILWU Southern California District Council
Laborer's International Union of North America
State Building and Construction Trades Council
Communications Workers of America District 9
International Union of Operating Engineers Local 12
United Auto Workers Region 5
Um, no. There actually is no place where endorsements are listed on Bowen's Congressional Campaign Website (which is usually an indicator in and of itself) but under press releases I found that just one labor group, the nurses, have endorsed her.
When I cruised over the Janice Hahn's website, I figured out where pure evil is concentrating its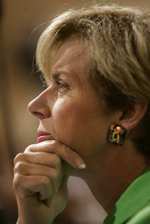 efforts. It is very clear that organized labor has made its collective pick on who to send to Congress…
AFSCME California PEOPLE, AFL-CIO
International Longshore and Warehouse Union local 13
Los Angeles/Orange Counties Building and Construction Trades Council
State Building and Construction Trades Council of California
Painters and Allied Trades District Council 36
International Brotherhood of Electrical Workers local 11
International Brotherhood of Electrical Workers local 18
Unite HERE local 11
International Association of Machinists and Aerospace Workers (IAM), California District Lodges, 947, 725, 190, as well as Local Lodge 1484
California Conference of Machinest
Operating Engineers local 12
United Steel Workers
Laborers' International Union of North America (LiUNA)
LiUNA local 300 & 802
Amalgamated Transit Workers local 1277
Teamsters Joint Council 42
Iron Workers local 416
Iron Workers local 433
UA Plumbers local 78
UA Steamfitters local 250
United Food and Commercial Workers Union locals 770, 1442, and 324
Sailors' Union of the Pacific
National Association of Letter Carriers Branch 24
Communication Workers of America local 9400 & 9000
Asbestos, Heat & Frost Insulators
United Industrial Workers
Transportation Clerical Workers (TCU)
International Organization of Masters, Mates & Pilots
United Firefighters of Los Angeles City local 112
Los Angeles County Firefighters local 1014
Torrance Firefighters Association local 1138
Manhattan Beach Firefighters Association local 3925
Los Angeles Airport Peace Officers Association
Los Angeles Port Police Association, ILWU local 65
Hermosa Beach Firefighters Association local 3371
So I guess in the bizarre world of a conservative analyst looking at a Democrat primary, it's clear that Hahn would be the "big labor tool" in the U.S. House — so does that make Bowen the "more acceptable" candidate? Could be! One thing is for sure, for all of these labor groups to endorse against a statewide Constitutional Officeholder that they helped elect and re-elect sure is embarrassing for Bowen.
PROP. 14 CHANGES THE RULES
In the meantime, this race is the first real opportunity to see the new "Top Two" system enacted by the passage of Proposition 14 in action — where before you could count on a rubust campaign within each party, with their nominee advancing to a runoff — now it is the top two vote-getters, regardless of party affiliation (or lack thereof) that go on to the runoff.
While the 36th Congressional District, as currently drawn, strongly favors a Democrat victory — it is not assured. Except, of course, if the only two candidates to make the runoff are Democrats. With Hahn and Bowen battling it out, and with Dem-turned-Green-turned-Dem Nancy Winograd on the ballot (plus a couple of other random Dems), you would think they would chop up the liberal vote enough to ensure a GOPer makes through, right? WRONG. Republicans are fielding SIX different candidates, thus making it likely that the runoff may go to Hahn and Bowen. We'll have to see how it plays out. But this is an example of how much Prop. 14 truly is terrible — a party should be in the business of encouraging all potential candidates to run — instead, we need to get used to trying to winnow the field, with the runoff being now an elusive target.