Four and a half years ago I was honored to be invited and attend President Ford's funeral at the National Cathedral when he passed away.  I posted my thoughts of that event at the time and if you'd like you can read it here.
One of the things I most remember is at every memorial event for her husband, Mrs. Ford sat and personally thanked everyone that came.  What class.  What graciousness.  What strength.
Last Friday we lost that wonderful former First Lady.  My family will miss her and we honor her service to our country.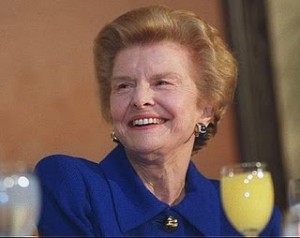 The Battin family met the Fords in 1960 when my father was elected to congress.  My Dad represented Montana and then-congressman Ford hailed from Michigan.  Both families built homes in Virginia to raise their kids while they served in congress.  In those days the weekly back and forth trips back to the district just didn't happen.  The Fords lived right around the corner from us.
My Dad left congress and became a federal judge in 1969 and we moved back to Montana.  I was a little kid then and my memories of the Fords then are scarce.  I re-met President and Mrs. Ford when I ran for the Assembly in 1994.  Whether it was from the relationship he had with my father, 0r just that he was a really great guy (probably both), President Ford became a major supporter of mine right away.  And if you know the Fords, when you get one – you get the other too.
Mrs. Ford was always a major force in the Coachella Valley and her support was very important.  Just as she touched the heart of the entire country when she went public with her fight against breast cancer and then changed they way people felt about drug and alcohol addiction when she told us of her own personal struggles with addiction, she was beloved in the Desert.
She wasn't afraid to be open with the challenges she faced, and more importantly, she used them as a call to action.  Because of her "outing" herself as a women with breast cancer, she is responsible for millions of women seeking mamograms – saving countless lives.  After she overcame her own demon of alcohol and prescription drugs abuse, she opened one of the most successful and innovative drug rehabilitation centers in world, The Betty Ford Center.
She always had kind things to say to everyone.  Always open and willing to talk to strangers and fans.  I think my mother-in-law was her biggest fan, because Mrs. Ford always remembered her and always called her by name whenever their paths crossed.
She was an impressive lady and her memorial service reflected it.  The Ford family invited about 1,000 guests from all over the country and they came to honor her.  I sat five rows behind (sitting in this order) Nancy Reagan, President George W. Bush, Secretary of State Hillary Clinton, First Lady Michelle Obama and Rosalyn Carter  (and right behind each of them sat a Secret Service agent).  It was interesting to watch their interaction with each other.  President Bush and Hillary Clinton chatted on and on for quite awhile before the service started.  He would also talk with Nancy Reagan on his left.  Even though Hillary was sitting right next to Michelle Obama, I didn't see them speak one single time.  In fact, Mrs. Obama just seemed to stoically sit there the entire time and not speak with anyone (even Rosalyn Carter, to her right).
I also ran into Governor Pete Wilson in the church's entry when we were leaving.  I ran into him four years earlier in the exact same spot for the viewing of President Ford's casket.  I told the governor yesterday the same thing I said to him four years ago:  "We really miss you Governor Wilson, please come back".  He just laughed.  In my 14 years of serving in the legislature, Pete Wilson was the best governor – hands down.
I sat next to the former U.S. Ambassador to Italy and other distinguished visitors filled the church.  We all were privileged to be there and all because we wanted to honor the life of Betty Ford.
She's left us and we will be lesser because of her absence, but she's now with her "boyfriend of 58 years of marriage" President Ford, and I'm sure she is thrilled.