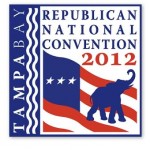 Republican National Committeeman from California, is a well known fixture here at the FlashReport.  He's already in Tampa in advance of next week's Republican National Convention, and will be "live-blogging" from on the ground…  Here's his second update from Florida.
Before the Republican National Convention officially kicks off, the members of the Republican National Committee meet in advance, to address internal party issues, before tens of thousands of delegates, alternates and guests descend on Tampa.
Today's general session featured 56 banners representing the 50 states as well as six for the U.S. Territories.  The total membership of the RNC is some 168 members — the Party Chairman and a Committeeman and Committeewoman from each state.  I am so proud to represent California Republicans as their Committeeman.
The big issue on the floor of today's meeting was whether or not to include Paulista insurgents into different state delegations to the convention.  My colleague California's Committeewoman Linda Ackerman serves on the Committee of Conflicts (aptly named!) precisely to deal with these delegation seating fights.  Conflict Committee Chairman Mike Duncan stated there hasn't been this many conflicts in a generation.
The Committee on Conflicts, in general, supported the establishment view that notwithstanding different state rules — Ron Paul delegates could not be seated even if they were entitled to by state party rules.  Needless to say Ron Paul disciplines cried foul, even as movement conservative and icon Morton Blackwell of Virginia rose to defend the insurgents.  Blackwell made a motion to enfranchise several Paul delegates.  He argued that in Virginia the Paulistas were given a fair representation of the votes they earned.  He argued that Ron Paul supporters are being treated the same as Goldwater supporters of the 60's and like the social conservatives in the 1980's.  Blackwell forcibly argued that All three insurgencies greatly strengthened the Republican Party
We heard rumors that at Louisiana State GOP Convention both sides called for the state police and the militia.  In Nevada the Paulistas wiped out the establishment leadership including a former Governor of the state who was tossed out as Committeeman.  In Maine delegates were forced to wait a 1/2 mile line to get credentialed – as with most insurgencies it was pandemonium the Ron Paul people were told not to trust anything the establishment was doing. By the way, don't expect to see many Ron Paul delegates from Maine, nor the state's Governor for that matter, as he said he would not attend the RNC convention unless the Paul supporters were seated — and the RNC voted not to seat them.
Needless to say, I voted with Morton Blackwell and against the purging of Ron Paul's supporters.  I welcome any right of center insurgency. Ron Paul's supporters are young, naïve, obnoxious and foolish. They also represent fresh thinking and energy, and did I mention they are young?
In fact many people don't know this, but I was an original member the Libertarian Party and formally re-registered Republican in the 1980's.  I love much of the libertarian philosophy though not all if it – most notably their foreign–policy views
The new chairman of Iowa a newly victorious Ron Paul supporter, argued it made no sense to try to keep the new generation Republicans in limbo.  I am more concerned with recruiting Paulistas as fast as we can — rather than using parliamentary devices to exclude a new generation of insurgents
Besides we don't have the luxury of limiting membership to our club.