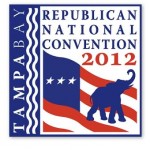 Republican National Committeeman from California, is a well known fixture here at the FlashReport. He's already in Tampa in advance of next week's Republican National Convention, and will be "live-blogging" from on the ground… Here's his third update from Florida.
After several busy weeks and literally hundreds of e-mails, the first Asian-American Republican Summit attracted a huge crowd at the stately St. Petersburg Lyceum.  Board of Equalization Member Michelle Steel, Steven Fong, Susie and Joel Angeles were heroes!
It putting together this event, these four really pulled off a feat!  Without seeking anyone's permission they put on a really great, quality event!
But it was not an easy endeavor.  First they had to secure an available venue. Secondly they had arrange for private transportation for people to get there.  Finally they had to put together a list of top notch speakers that would attract a large number of Asian-American Republican.
When the Honorable Elaine Chao, Secretary of Labor in the administration of President George W. Bush, agreed to Michelle's request that she'd be the featured speaker — that led to a cascade of elected Asian Republican officials to want to attend the Summit!
Quite by surprise Leehan Chin, Governor Romney's policy director and all around wunderkind spontaneously accepted Michelle's invitation and the summit committee was off to the races.
Some of the other luminaries at the event included Virginia Governor Bob McDonnell (McDonnell's  work with recruiting Asian-Americans is legendary for giving Republicans huge majorities), New York State GOP Chairman Ed Cox (the son-in-law of former President Richard Nixon — who talked to the crowd of the large and growing roll Asian Republicans are playing in the Empire State), and we were very pleased to have Republican National Committee Chairman Reince Preibus speak to us as well.
The security was obsessively tight — and logistics were a challenge, it was difficult to reach the Lyceum except through one street from the North.  Some people who arrived came late but the room was filled. the capacity.  Equally important was the 30+ Asian-American reporters representing four different language groups — Chinese, Korean, Filipino and Vietnamese.
What a tremendous event to kick off a great RNC Convention!
(Photo Credit: Hon. Ling-Ling Chang)