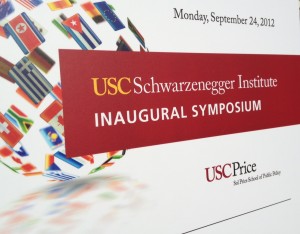 Yesterday I took a bit of a trip through the looking glass, as it were.  Yesterday, as far as I could tell, I was one only two ideological conservatives who attended the inaugural symposium of the new Schwarzenegger Institute for State and Local Policy at the University of Southern California.  I would say that there were about 750 people there, mostly invited guests as well as a large contingent of university students.  Actually several hundred more students wanted to attend but were turned away due to lack of space.  In his opening remarks, Arnold Schwarzenegger joked that they picked those students with the least amount of body fat to actually let into the room.  Schwarzenegger's trademark humor was in full-force at the event, where the former California Governor was both relaxed, but on top of his game.  The Schwarzenegger Institute, according to their web page, "will focus on the responsibility of policymakers to transcend partisanship to implement policies that most benefit the people they serve, with five priority areas: education, energy and environment, fiscal and economic policy, health and human wellness, and political reform."
Let me first thank the Institute for having me as their guest for the day.  When I first heard about this symposium, I was really curious to come and check it out, so I reached out directly to Bonnie Reiss, who has been tapped as the  Global Director (yes, that's a real title) for the Institute.  FlashReport readers will recall that Reiss, a Democrat, served in various rolls in the Schwarzenegger Administration including as a senior advisor, as a member of the State Board of  Education, and as Secretary of Education.  She currently serves on the Board of Regents of the University of California.  Reiss was most gracious, immediately extending me an invitation, with any trepidation not evident in her e-mail.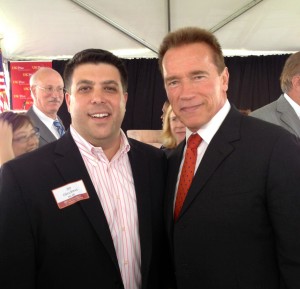 Because there were so many people at the event, there's no way that I was able to identify everyone there.  But for curious readers, some of the more prominent GOPers that I saw there, moderates all, included former California Republican Party Chairman Duf Sundheim, former Department of Consumer Affairs Director Charlene Zettel, former Gubernatorial Communications Director Adam Mendelsohn, former Gubernatorial Press Secretaries Margita Thompson and Aaron McLear, and no doubt a few others.  Oh yes, the other conservative there was Dan Dunmoyer, who for a time served as Cabinet Secretary for Schwarzenegger.  Needless to say there was a cadre of more liberal folks there, but it was notable that, as far as I could tell, the only actual elected partisan official at the gathering was United States Senator John McCain, who appeared on a panel, as I will mention below.  There were a few people noticeably absent from the event — Dan Schnur, who is the Director of the Unruh Center on Politics at USC, was out of town (he teaches a class at U.C. Berkeley as well, which is where he was), former Schwarzenegger Chief of Staff Susan Kennedy, Schwarzenegger re-elect Campaign Manager Steve Schmidt, former longtime Schwarzenegger Legislative Secretary Richard Costigan, former Communications Director Matt David and Clay Russell, who traveled everywhere with Schwarzenegger for years.  Noticeably present were former U.C. Regent David Crane, former Assembly Speaker Bob Hertzberg, and chronicler of Arnold himself, Joe Mathews.  Of course when Schwarzenegger is around, one looks for celebrities, and on-hand for this event was his former True Lies co-star Tia Carrere.
Opening comments were first delivered by the USC President Max Nikias, who then introduced Schwarzenegger.  It was really a toss up, between the two, which one had the thicker eastern european accent — something that Schwarzenegger joked about, of course. Schwarzenegger spoke for about twenty minutes, where depending on your perspective, he spent a lot of time praising, as he calls it, "post-partisanship" — or you could say that he pretty well beat the crap out of ideologues and political parties – as polarizing influences in the world of politics.  The former Governor talked, with relish, about how he was not easily categorized — bragging about how he did some things upset Republicans, and other things that upset Democrats — but that he also found areas to work with both parties.  Ultimately, as evidenced by the virtual complete absence of contemporary political officeholders, the Governor's form of "post-partisanship" did not leave him with lasting close friendships with many partisan officials — but Schwarzenegger would tell you that he didn't take the job to make friends.  In fact he commented at the event that it took courage to stand up to everyone, and do what he felt as the right thing.
After the Governor spoke, there was a panel emceed by ABC's Cokie Roberts — with the all-star line of up post-partisans being former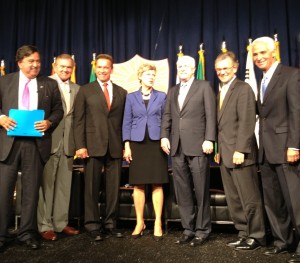 Governor's Schwarzenegger, Bill Richardson (NM), Tom Ridge (PA), and Charlie Crist (FL) as well as current Senator John McCain (AZ) and former Senate Majority Leader Tom Daschle (SD).  For the most part, this moderated discussion provided a forum for each of these folks to talk about their experience bucking their respective party hierarchies – though I will admit that Daschle seemed a bit out of place amongst this group, as someone who was noticeably partisan.  My thought was validated when McCain basically called him out on it, which was amusing.
After the morning panel, we left the underground hall where the session took place, and enjoyed a hosted lunch outdoors under a large tent.  While dining on herb crusted Salmon, we enjoyed a moderated discussion on global warming, where we heard from one of the world's leading alarmists (sorry, can't help myself) Dr. R.K. Pachauri and from Bob Foster, the Mayor of Long Beach, whose talked more about what regulations has been put into place at the Port of Long Beach to reduce its carbon emissions.  The "lunchtime enthusiasm award" went to Terry Tamminen, Schwarzenegger's former Cal-EPA Secretary, who opened the lunch and was clearly very excited to be a part of the day.  Kudos as well to NBC's Conan Nolan, who moderated the lunch discussion in his usual good form.  In the afternoon was another panel discussion, with more high profile folks, but unfortunately I was not able to stay for that part of the program.
As I said above, I was grateful to be a guest for this event, and as such I have tried to — reserved — in my comments.  This was clearly the beginning of a serious political discussion about how "post-partisans" can effectively move the ball forward in what may be the most partisan time in our nation's history — and of course to begin some policy discussions in terms of basically moving forward in many of the areas championed by Schwarzenegger when he was Governor.  But I think it is fair for me to comment that it was somewhat of an endurance test for me to hear a lot of rhetoric that was a bit condescending and dismissive of ideologues, that were often simplistically referred to as partisans.  It's probably a story for another day about how the major political parties have their own anti-ideological tendencies much of the time.  But there was an ongoing narrative of, "Let's respect the heartfelt ideology of folks, but then let's figure out practical solutions for America" — but speaking on behalf of those dreaded conservative ideologues, I would observe that much that seeks to be accomplished by the policy objectives of the Schwarzenegger Institute, is an increase in the size and scope of government control and spending at various levels of government (with, of course, the attending and commensurate decrease in the liberty and property of the governed).
I would have to say, as a final thought, that this event was a success for Schwarzenegger and his new Institute.  He was in top-form himself.  The program, while not my cup of tea in terms of content, was well delivered and serious in nature.  And the logistics and flow of the event were, from this participant's point of view, flawless.  And the media coverage was plentiful.  The long term success of this Institute and its goals are the subject for future columns.  I drove up to USC not knowing what to expect, and came away with a sense that while there has been much to potentially distract Arnold Schwarzenegger, he has maintained his focus on public policy, and it clearly came across at this symposium.  Congratulations to Arnold on the success of his event.