Alert the media! The Assembly Women's Caucus is offended.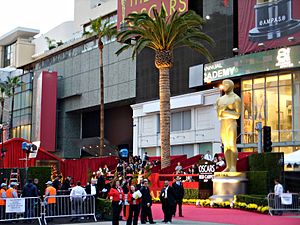 Seth MacFarlane, the creator of Family Guy, and a successful entertainer, actor, and writer, hosted Sunday's Oscar awards show, with his usual snarky, brazen, naughty gutter humor. And in helping the Awards show achieve a much-needed ratings increase, McFarland managed to offend the feminists of the California Legislative Women's Caucus. The women's caucus sent a formal complaint Wednesday to the Academy of Motion Picture Arts and Sciences, complaining that McFarland "struck a new low in its treatment of women."
Boo hoo. As if Hollywood doesn't already reach record lows in taste and humor. Look at these dresses!
"In a world where women have historically faced challenges and obstacles when it comes to their portrayal in popular culture, Sunday evening was a setback for women fighting hard to gain appropriate respect as contributors in this industry and society and general," read the letter from women's caucus Chairwoman Assemblywoman Bonnie Lowenthal, D-Long beach, and Vice Chairwoman Sen. Hannah-Beth Jackson, D-Santa Barbara.
I'll bet they hate that I called them "Chairwomen."
I tend to take the approach to television that if you don't like something, change the channel or turn it off. But that doesn't work for the perpetually offended in society. What would they talk about if they couldn't be offended?
"On Oscar night, when Hollywood seeks to honor its best, Seth MacFarlane's monologue reduced our finest female actresses to caricatures and stereotypes, degrading women as a whole and the filmmaking industry itself," the letter said. "To degrade women is totally unacceptable in today's world."
It's not as if lawmakers have more pressing things to be very concerned about. Tuesday at a legislative hearing on the $68 billion-and-growing High-Speed Rail system, Lowenthal cut the microphone of two members of the public, when they dared to question the unholy alliance between labor unions and the High-Speed Rail Authority over the Project Labor Agreements.
We still don't have any answers about the inflated PLA contracts, and the Legislature isn't requiring the Rail Authority to answer.
Be very concerned when lawmakers attack free speech, even if you find it offensive. McFarland may be offensive to some, but others find him very funny, as evidenced by his phenomenal success. I´d rather be offended by a comedian than have Assemblywomen Lowenthal and Jackson claim they speak for me because I'm a women.
Lowenthal clearly doesn't respect free speech — on the television or in her hearing room. Be very concerned when lawmakers attack free speech, even if you find it offensive.
Cross posted at http://www.calwatchdog.com/2013/02/27/gasp-oscar-host-offends-lawmakers/#sthash.YhlDfDD4.dpuf