First-time political candidate Vanila Singh was inspired to run for Congress out of concern about the direction of the country. Singh is running for the congressional seat in California's 17th congressional district, located in the South San Francisco Bay Area, and the heart of Silicon Valley.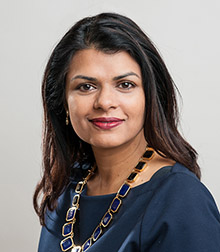 While many political candidates say they are concerned about the direction of the country, Singh is different.
After spending a year as a medical intern at Yale New Haven hospital, Vanila was drawn to acute care medicine. She moved to New York City and completed her residency in Anesthesiology at Cornell Medical Center.
Currently a Professor and Physician at Stanford University, Singh was doing her residency in New York City on September 11, 2001 when the twin towers were bombed by terrorists. Singh spent days treating victims.
She also worked at a Veterans Administration hospital for a year.
Real-world experience
Singh says she is ready to bring her real world experience as doctor, parent, and community leader to Congress to help make a difference for middle class families in California.
In 2004, Singh was appointed to the Faculty of Stanford Medical Center, and was promoted to Associate Professor of Anesthesiology, where she has been treating patients with complex pain management issues.
Vanila (pronounced Van-eela) Singh is the epitome of the American Dream. She is the daughter of hard working, immigrant parents who brought her to the United States when she was just 15-months old. Her father moved the family to the U.S. to get a Masters Degree in engineering.
Singh grew up in Fremont, CA, and is the only candidate in the race who grew up in the 17th congressional district.
Incumbent, Rep. Mike Honda, D-San Jose, a Democrat, lived in the district prior to the redistricting, but no longer resides in-district. Democratic challenger Ro Khanna rented a house in the area a year ago to run for this seat, according to Singh's campaign. The late entry straw candidate in the race, Silicon Valley executive recruiter Joel VanLandingham, lives in the 18th district.
After going to public schools in Fremont, Singh went to UC Berkeley, where she double majored in Economics and Molecular and Cell biology. She then went to George Washington Medical School.
No more lawyers
Singh said in an interview she decided to run because she believes that doctors, and consequently patients, did not have a voice in the development of implementation of Obamacare. "We need more doctors in Congress," Singh added. There are plenty of lawyers serving.
"Primum non nocere" is Latin and means "first, do no harm." Singh said this is being violated everyday in America, with the Veterans hospitals scandals, and already under Obamacare. Singh said the VA is a living example of single-payer, government-run healthcare, and what Americans are facing if Obamacare is not repealed.
I asked her if repealing Obamacare is a viable option. "First the IPAB needs to be repealed," Singh explained. Often called a "death panel," the Independent Payment Advisory Board was created by Congress ostensibly to cut Medicare spending. "They will decide everything," Singh said. Currently people could call their congressman if they experienced problems with Medicare, Singh said. "That will go away with the IPAB."
Singh warned that the IPAB will make policies and decisions they want using data points, and cost considerations, rather than consulting with physicians. Singh said Obamacare will hurt American medical advancement and innovation.
One example of innovation Singh used is the heart transplant.
Worldwide, nearly 3,500 heart transplants are performed annually, with the vast majority performed in the United States. California currently is the largest heart transplant center in the world and has performed the most number of yearly heart transplants. Under Obamacare, Singh explained the research and development of the heart transplant would not have happened because of the vast up-front expense. With 3,000 heart transplants performed in the U.S. annually, this has become a viable life-saving procedure.
Racial promotion
Recently in Sacramento, lawmakers proposed to reintroduce racial discrimination into college admissions with Senate Constitutional Amendment 5.  Singh said since our country's founding, Americans have dedicated their lives to the pursuit of equality of opportunity, and the primacy of merit.  Granting college admissions, promotions, or other rewards on the basis of race, sex or factors other than merit undermine their work and sacrifice.  "Now more than ever we should be rewarding our high achievers with choices, and not limit their ability to self determine," Singh said. "I stand against racially divisive politics, and will fight for fairness and excellence objectively and without prejudice."
The campaign
There are several reasons this race is important, according to Singh and her campaign:
–       Silicon Valley is the current flagship for entrepreneurship and capitalism. The 17th Congressional District is home to Apple, Tesla, Intel, Yahoo!, and Ebay, as well as many more high tech businesses, and should be represented by a capitalism friendly Republican who is familiar with the district and the industries.
–       The East Bay and Silicon Valley are ground zero for Republican Party building in California, with an unusually high amount of decline-to-state voters. Vanila is the candidate who has the shared experiences and commonalities.
–       There are only about two dozen doctors in Congress, and only 18 percent of Congress is female. Singh believes there needs to be more doctors and more women in Congress, particularly to deal with and repeal Obamacare.
Vanila Singh has been unanimously endorsed by the Santa Clara County Republican Party, the Alameda County Republican Party, the California Young Republicans Federated and the Silicon Valley Young Republicans.