Introduction from FR Publisher Jon Fleischman
When we go through hundreds and hundreds of bills to find the ones that we consider to be the most egregious, harmful or inappropriate, it is our hope that a responsible Governor would veto all of them.  Remember, we're talking about the worst bills.  If the Governor signs any of the bills listed below, it is bad news for the people of California.  This is our ninth year in a row featuring this column.  Each year, we partner with two conservative members of the State Legislature — this year is no different.  Our thanks go out to both State Senator Joel Anderson and Assemblywoman Diane Harkey, and to their staff members, for their hard work in selecting the terrible bills below out of hundreds and hundreds on the Governor's desk.
On a final note — targeted to our friends in the mainstream media.  Some stories have been written asserting that somehow this last legislative session was more "moderate" than some others.  I'm sure once you peruse this list you will agree that any such assertion is lacking a basis in fact.
— Flash
THE FLASHREPORT
TOP TWENTY WORST BILLS
WORTHY OF THE GOVERNOR'S VETO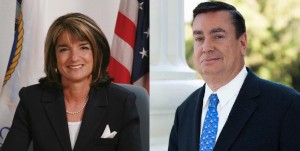 As compiled by Senator Joel Anderson and Assemblywoman Diane Harkey
(with some assistance from FR Publisher Jon Fleischman)
Please check back to see the status of these bills.  As of today, the Governor has acted on one of them.  When he is done, we will grade Governor Brown on his performance.  The Governor's "letter grade" will be computed using the following scale…  If he vetoes 90% or more, the Governor got an "A", 80% – 89% a "B", 70 – 79% a "A", 60 – 69% a "D" and below that, an "F"…
For convenience, we have broken down the bad bills into different categories.  Next to the bill number and author, in bright red, will appear the action taken by the Governor on each bill.
We present the 2014 Top 20 Bills to Veto list which we respectfully submit to the Governor's attention…
Taxes and Fees
SB 270 (Padilla)
Prohibits grocery, convenience, and other stores from providing single-use plastic bags to consumers, and requires stores to charge customers at least $0.10 for each recycled paper bag or reusable bag provided, thereby constituting state-mandated price fixing. SB 270 establishes a highly regressive tax on consumers and threatens jobs. The 10 cent per bag fee will go to the retailers providing the bags, to help cover their costs. This policy applies statewide, not just in coastal districts.
SB 1183 (Desaulnier)
Authorizes a city, county, or regional park district to impose a new annual surcharge of up to $5 on motor vehicles registered within their jurisdictions, and use the resulting revenues to maintain and improve public bicycle paths and trails. SB 1183 requires that people who own cars will pay for bike paths and trails that they may not even use. There is not a clear nexus between car registration fees and recreational bike trails.
SB 1077 (DeSaulnier)
Requires the Transportation Agency to study options for imposing a new tax on motorists per each mile traveled, and creates a committee to advise on the implementation of a pilot project. This bill begins the process of establishing a new vehicle tracking and tax regime that erodes privacy and increases costs for motorists.
SB 628 (Beall)
Lowers the voter-approval threshold on the financing of Enhanced Infrastructure Finance Districts (EIFD) from 2/3 to 55%, expands the life of an EIFD from 30 years to 45 years. Any bond debt that will be passed on to other generations over 45 years, long after the current officeholders have left, should be subject to a two-thirds vote of local residents, consistent with the vote requirement for the creation or extension of a special tax pursuant to Prop. 218.
Union Protections and Expansion
SB 25 (Steinberg)
Revises the law imposing "mandatory mediation" (which is a combination of compulsory mediation and binding arbitration) for collective bargaining agreements between agricultural employers and unions in order to make it easier for unions to force the adoption of a collective bargaining agreement.
AB 1897 (Hernandez)
Creates joint civil liability between a "client employer" and a labor contractor hired by the client employer. Exposes California businesses to liability for the wrongs committed by another employer, simply because the second business failed to meet all of its legal obligations to employees, treats private employers more harshly than public employers.
Job Destruction
SB 605 (Lara)
Establishes a new Air Resources Board global warming program, in addition to AB32, requiring ARB to develop a comprehensive strategy to reduce emissions of short-lived climate pollutants. This bill requires yet another regulatory program to force businesses to reduce specified emissions. Businesses throughout the state are already required to meet emissions limits, and this bill ensures more costly mandates.
AB 2617 (Weber)
Chamber of Commerce Job-Killer bill. Prohibits arbitration agreements and pre-trial settlements regarding alleged violations of civil rights, thus increasing the cost of doing business in California.
AB 1522 (Gonzalez)
Provides that an employee who, on or after July 1, 2015, works in California for 30 or more days in a year is entitled to paid sick days, which shall be accrued at a rate of no less than one hour for every 30 hours worked. Employers, already adjusting to new minimum wage increases will incur the additional cost of this new mandate. The legislature should be focused on pro-growth policies that emphasize job creation. This bill will have the opposite result.
AB 2565 (Muratsuchi)
Requires a landlord of a dwelling to approve a written request of a renter to install an electric vehicle charging station, even if the lessor does not want one built. This forces landlords to comply with their tenants wishes, even if it is not in the best interest of the property. If these charging stations will be such a boon to the property owners, then the legislature should not have to use the force of government to strong-arm them into compliance.
Crony Capitalism & Special Government Powers
SB 1275 (De León)
Requires the Air Resources Board (ARB) to provide public financing or financially back private auto loans for low-income consumers purchasing electric vehicles. Creates a substantial unfunded liability, increases pressure for tax increases, and furthers the Legislature's efforts to artificially inflate the market for electric vehicles.
AB 2442 (Gordon) 
Provides immunity from civil liability for acts and omissions associated with any investigation, cleanup, abatement, or other remedial actions taken by the State Water Resources Control Board and local boards. Essentially, by providing immunity from civil liability, this bill leaves injured individuals and businesses with no ability to seek compensation for injuries caused by the state or regional board's negligence, or the negligence of their employees or contractors.
Incentives For Illegal Immigrants
AB 1660 (Alejo)
Exposes business establishments and employers to potentially frivolous litigation by expanding the anti-discrimination provisions of last year's AB 60 – which allows illegal immigrants to obtain drivers licenses – to come under the Unruh Civil Rights Act and the Fair Employment and Housing Act (FEHA).
SB 1210 (Lara) Creates a program to provide loans to undocumented students attending a UC or CSU campus, creates a costly entitlement for undocumented students at a time when California citizens are facing serious financial hardship and our colleges and universities are overcrowded and raising tuition. Higher demand leads to higher costs, an economic reality.
The Nanny State
SB 1053 (Mitchell)
Requires most health plans and insurers to cover a variety of FDA-approved contraceptive drugs, devices, and products for women and prohibits deductibles, coinsurance, co-payment, or any other cost-sharing. In addition to increasing healthcare costs, the bill would force California taxpayers and those who have deeply-held religious beliefs to pay for these services and devices.
AB 1444 (Buchanan)
Mandates kindergarten for all California children. AB 1444 is a one size fits all approach that limits parental choices and freedom. California families deserve the freedom to choose which educational path is best for their children.
Assault on Second Amendment
AB 1014 (Skinner)
Allows for the court issuance of "gun violence" restraining orders for individuals who may pose "a significant danger, in the near future of personal injury to himself, herself, or another" by having under his or her custody and control, owning, purchasing, possessing, or receiving a firearm or ammunition. These orders would be initiated by either an "immediate" family member or a law enforcement officer, and would remain in effect either for 21 days, or up to one year. The bill may sound reasonable if a person truly does pose a danger but without a 51-50 evidencing proof and prior to any hearing, an individual subject to an order would be required to surrender all firearms and ammunition in their possession.
SB 808 (De Leon)
Starting on July 1, 2016, this will would require a person to apply to and obtain from the Department of Justice (DOJ) a unique serial number or other mark of identification prior to manufacturing or assembling a firearm. The bill requires background checks, verification of age and identity, and payment of fees to DOJ. Violations would be punishable by one year in jail and/or a fine of up to $1,000.
Manipulating The Elections Process
SB 1253 (Steinberg)
Gives opponents of an initiative several opportunities to kill the initiative before it qualifies for the ballot (e.g. prior to and during circulation) by adding another disclaimer to the petition, requiring a 30 day public review and comment period prior to circulation, and requiring legislative committees to hold hearings on the initiatives during circulation.
SB 29 (Correa)
Requires elections officials to count vote-by-mail ballots that arrive up to 3 days after the election, even if they have no postmark, so long as the return envelope is signed and dated on or before Election Day. Invites fraudulent activity and could allow unscrupulous actors to tip the scales in close elections by continuing to return vote by mail ballots after Election Day.
_____
As we said above, it was particularly difficult to whittle the tremendous number of noxious bills down to just a list of twenty.  A great many bills were left on the cutting room floor, but still await action by the Governor.
In closing, thank you to the great many people who contributed their suggestions on bills to veto.  There are literally hundreds of bills on Governor Brown's desk, the vast majority of which deserve a resounding and speedy veto.  We know that Governor Brown and his staff are thoroughly reviewing all of them.  But it is our hope that the "worst of the worst" bills highlighted in this column get an extra level of scrutiny.
CALL TO ACTION
You have an opportunity to contact Governor Brown and urge him to veto all twenty of these bills!  You can reach the Governor here.