If a picture is worth a thousand words, this picture of the cities and counties within the state of California that have already passed plastic bag ordinances, implemented bag bans and taxes, proves one point: Most of California is being ruled by the liberal coastal regions.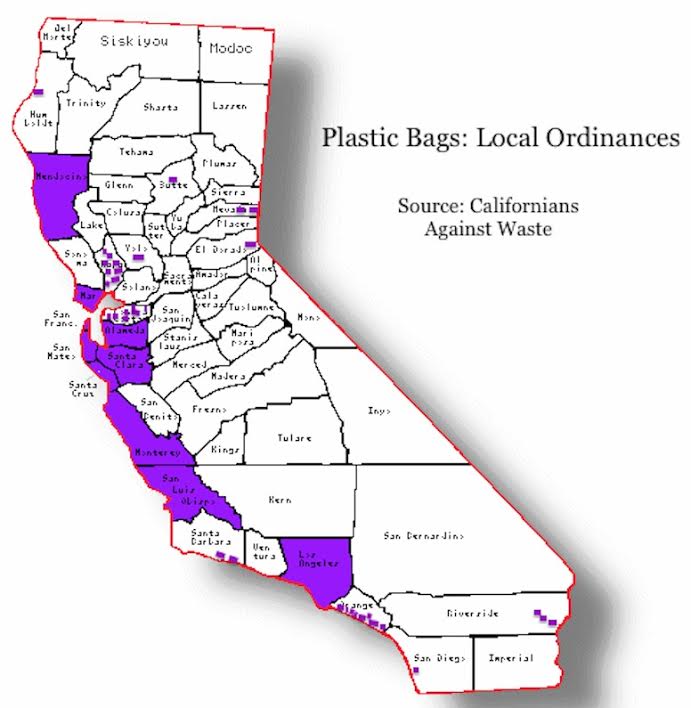 Is it any wonder the people up in the counties of Modoc and Siskiyou have submitted a petition for the right to form a 51st State of America, which they want to call the State of "Jefferson?"
Voters in Yuba, Sutter, Glenn and Tehama counties plan to present declarations soon, according to Mark Baird, one of the State of Jefferson founders.
It's easy to assume, judging by this map, no one in the State of Jefferson is interested in banning or taxing plastic bags.
"No New Taxes"
Governor Jerry Brown has repeatedly said, "There will be no new taxes for the foreseeable future."
The Big Lie: The plastic bag ban is also a tax increase on reusable bags, and paper bags — 10 cents per bag — which grocers will pocket.
Senate Bill 270 by Sen. Alex Padilla, D-Pacoima, is no ban on plastic grocery bags;  the bill only names the plastic bags used by grocery stores, pharmacies and liquor stores, and ignores all other plastic bags used in the state.
Padilla is running for Secretary of State.
California Split
In July, Silicon Valley tech venture capitalist Tim Draper Venture submitted 1.3 million signatures he collected to get an initiative on the ballot to split California into six separate states.
Draper, a start-up Internet investor, in Skype, Hotmail, and others, said the reason for the split is because California is too big, too populous, and now too diverse to adequately address the needs of all residents. Interestingly, this is the same sentiment of the State of Jefferson proponents.
Draper's plan would split the world's eighth-largest economy geographically into Jefferson, North California, Silicon Valley, Central California, West California and South California.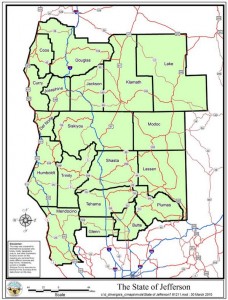 Taxes, Lies, and No End To Litter
If the governor bans plastic grocery bags in the entire state, he will show his promise of "no new taxes for the foreseeable future" was not sincere. Some will call it a bald-faced lie.
"Of course, the governor could also return SB 270 to the legislature, and ask them next year to bring him a "clean" bag ban–one that doesn't contain billions of dollars in payoffs to the greedy grocers," Jon Fleischman said on Breitbart recently.
The ban on plastic grocery bags does absolutely nothing to cut down on plastic bag litter. In fact, when SB 270 was being debated recently in an Assembly committee, Assemblywoman Cheryl Brown, D-San Bernardino, asked, if this bill is really about reducing litter and pollution. "why not just get rid of all plastic bags?"
 California Cities Impacted
Below is a partial list of cities with median income in California that currently have a local ordinance to ban plastic bags, cities with no tax on paper, cities  that currently have a local ordinance to ban plastic bags with a tax on paper, and cities which will be affected by statewide ban.
Plastic bag ban, no tax on paper:
| | |
| --- | --- |
| City | Median Income |
| Malibu | $135,530 |
| Manhattan Beach | $134,445 |
| Dana Point | $80,938 |
| Carmel by the Sea | $78,971 |
Plastic bag ban and tax on paper:
| | |
| --- | --- |
| City | Median Income |
| Marin | $90,962 |
| Napa | $62,505 |
| San Francisco | $73,802 |
| Monterey | $60,143 |
Cities in California that will be affected by statewide bag ban and tax on paper:
| | |
| --- | --- |
| City | Median Income |
| Riverside | $56,403 |
| Modesto | $49,205 |
| Stockton | $47,246 |
| Watsonville | $46,603 |
| Fresno | $42,276 |
| Calexico | $37,431 |
Source: United States Census Bureau