On the campaign trail recently, First Lady Michelle Obama and News One Host television Roland Martin said if Democrats were successful at getting "souls to the polls," that they could celebrate with some "soul food."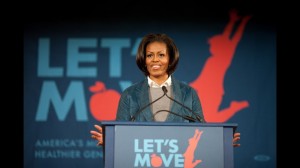 "I give everyone full permission to eat some fried chicken after they vote," Michelle Obama said during an interview with News One Host Roland Martin on TV One, a network that plays largely to black adults.
"Only after, if you haven't voted… You make a good point. Because I am, I do talk about health. But I think that a good victory for Democrats on Tuesday, you know, should be rewarded with some fried chicken."
Michelle Obama explained that it's important that Americans elect the right "team" for her husband to work with to accomplish his agenda. But then softened that sentiment by adding it "isn't about Barack" but "about you." However, his actions and her words prove otherwise, the Daily Caller said.
Her comment has been ignored by all the large mainstream media and usual media race-baiters. Racism apparently works only in one direction.
Michelle Obama also said the candidate on the ballot does not necessarily matter, nor what they say, or policy positions they take shouldn't matter to African-American voters, because voting solidly Democratic is what's best for them.
"That's my message to voters," she said. "This isn't about Barack. It's not about the person on the ballot — it's about you. And for most of the people that we're talking to, a Democratic ticket is the clear ticket that we should be voting on, regardless of who said what or did this. That shouldn't even come into the equation."
No writer could make this stuff up; truth is indeed stranger than fiction.
Imagine the reaction if U.S. Senator Al Franken had told white Minnesotans to vote the Democratic ticket, and then gave them permission to eat all of the Lutefisk and boiled potatoes they wanted in celebration.
Voting the Democratic Ticket is Bad for African American Families
Households led by an African American have lost $3,000 of annual income since Obama was elected.
The unemployment rate of 11.4 percent for blacks is more than twice than the UE rate for whites.
In the 42-year period during which the Bureau of Labor Statistics has separated out unemployment data into different races, black unemployment has always been higher than white unemployment.
"When Obama entered office on January 20, 2009, U.S. unemployment stood at 7.8 percent," Deroy Murdoch recently wrote in National review. "By April 2014, that Bureau of Labor Statistics figure had fallen to 6.3 percent — a modest improvement. Among blacks overall, joblessness dropped, though less significantly — from 12.7 to 11.6 percent. But for blacks aged 16 to 19, unemployment grew from 35.3 to 36.8 percent."
Michelle Obama claimed in the same interview millions of black children are no longer living in poverty under Barack. Yet that's not true: Poverty has increased under Obama, and black Americans living in poverty expanded from 25.8 to 27.2 percent.
Overall, 14.3 percent of Americans were below the poverty line in January 2009, versus 15.0 percent in 2012, according to the latest available data from the Census Bureau's Current Population Survey.
And black home ownership during this interval sagged from 46.1 to 43.3 percent, Murdock reported.
Meanwhile, in Ferguson, MO...
Ironically, in Ferguson, Mo., where blacks are rioting over the killing of an unarmed 18-year-old African-American by a white police officer, the black unemployment rate is three times higher than the white unemployment rate.
Because of President Barack Obama's failure to "push job creation," Fox News business host Lou Dobbs said the economic issues that have contributed to the tensions in Ferguson. "Black unemployment is three times that of white unemployment," Dobbs said. "The community itself has a 13 percent unemployment rate, more than double that of the national average. The household net worth in that community is $10,000, a third less than the national average."
Murdock is one of the few African Americans who challenged Obama's morally wrong message to vote Democratic.
U.S. Sen. Tim Scott, a Republican African American from North Carolina, has a much better message than Obama's: "My goal is to positively affect lives with a message of hope and opportunity, and my Opportunity Agenda is a direct reflection of that," Scott said. "It is founded on the principle that all Americans should have the opportunity to succeed."