Last Friday, Gov. Jerry Brown's State Water Resources Control Board ordered junior water right holders to stop diversions of water in order to protect more senior water rights and "releases of previously stored water." Friday's announcement only targets those whose rights have been held since 1903. Senior water right holders in the affected watersheds who staked their claims earlier than that year can continue to divert water. And so can environmentalists who together with the Bureau of Reclamation, have been letting millions of gallons of water out of dams so a few fish can migrate to the Pacific Ocean.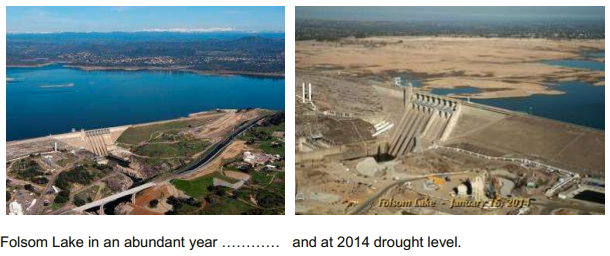 Recent water releases for 29 fish were enough to meet the annual residential needs of a human population of 300,000.
California once built dams to store water from wet years so there would be plenty for everyone in dry years.  Government used to assure an abundance of water to support the growing population as well as the once-flourishing economy. But radical environmental laws have squandered our existing water supply, and obstructed the construction of any major dams, while the population has nearly doubled.
The Water Control Board said in its notice that there is insufficient water available for senior water right holders with a priority date of 1903 or later in the San Joaquin and Sacramento watersheds and the Delta.
The curtailment notices affect 276 pre-1914 appropriative water rights held by 114 right holders – farmers and ranchers.
The "uses to be curtailed" order impacts "135 water rights held by 53 right holders for irrigation, stockwatering, and/or livestock as the sole water use; and 208 water rights held by 80 right holders for irrigation, stockwatering, or livestock as at least one of the claimed water uses," according to the state water board."
However, the Hetch Hetchy Regional Water System, which has held water rights since 1901, and supplies water to the San Francisco Bay Area, is not on the list.
Also missing from the list is any curtaiolment of the environmental flows being let from the state's dams for fish.
The State Water Resources Control Board adopted new drought policy and regulations last summer to give local agencies the authority to fine water wasters up to $500 a day.
Who are these board members, comfortable with imposing fines on taxpaying citizens? They all have ties to environmental groups with radical ideological agendas:
Water Board member Dorene D'Adamo, was also on the California Air Resources Board, since 1999, until 2013.
Board member, Frances Spivey-Weber was a director of international programs for the National Audubon Society, and previously a legislative assistant for the Animal Welfare Institute.
Chairwoman Felicia Marcus was the Western Director for the Natural Resources Defense Council.
Steven Moore served on the San Francisco Bay Regional Water Board from 2008-2012 and held staff positions at that Regional Water Board over 14 years, and worked 10 years as an engineering consultant on a wide variety of water infrastructure projects, stream and wetland restoration projects, and Environmental Impact Reports throughout California.
Tam Doduc most recently served as Deputy Secretary at Cal/EPA, where she directed the agency's environmental justice and external scientific peer review activities.
Farmers have already been forced to make do with about one-third less surface water than usual, and have allowed hundreds of thousands of acres of crops to fallow. Crop, dairy and livestock revenue was lower last year by about $1 billion and employed 20,000 fewer workers, according to UC Davis.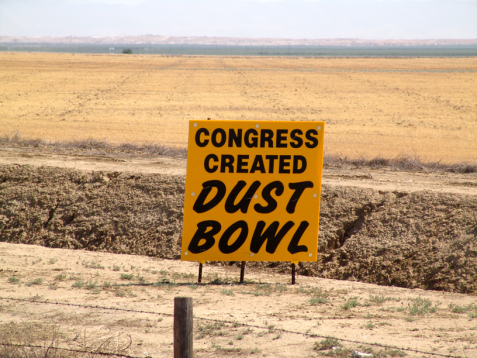 Because salmon are listed as an endangered species, "we have an obligation under the Endangered Species Act to do what we can," Ron Milligan, operations manager with the federal government's Central Valley Project, said. As a result, water is being kept longer in Shasta in an effort to cool the reservoir.
Farm groups say the salmon preferences are creating enormous complications for them. Water districts south of the Delta, already facing a total cutoff of Central Valley Project deliveries this year, have negotiated significant purchases of water from Sacramento Valley farmers who have better supplies. But those deals, worth tens of millions of dollars, could be negated if the Sacramento Valley farmers don't get as much water from Shasta as they were anticipating, the Sacramento Bee reported.
In the Central Valley, at the same time the Obama Administration has denied the agriculture millions of acre feet of their rightfully contracted water since 2011, federal regulators continue ordering the dumping of millions of acre feet of water into the Pacific Ocean for salmon and Delta Smelt.
There was a time when the principal objective of our federal water policy was to assure an abundance of water to support a growing population and  economy.  But in recent years, a radical and retrograde ideology has taken root in our public policy, abandoning abundance as the objective of our water policy and replacing it with the government rationing of government-created shortages.