Last week, Gov. Jerry Brown said California has an overpopulation problem. He said the ongoing drought is a sure sign that the explosion of population in California has reached the limit of what Nature can provide.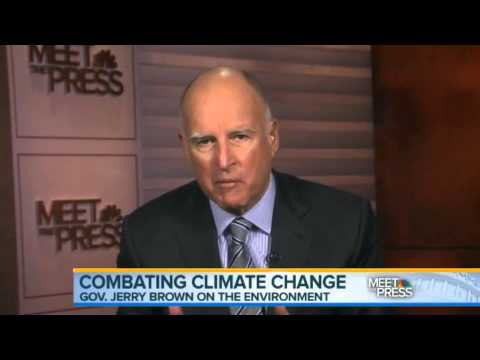 "We are altering this planet with this incredible power of science, technology and economic advance," Brown said during a discussion with Austin Beutner, publisher and chief executive of the Los Angeles Times and the San Diego Union-Tribune. "If California is going to have 50 million people, they're not going to live the same way the native people lived, much less the way people do today.… You have to find a more elegant way of relating to material things. You have to use them with greater sensitivity and sophistication."
Does anyone ever really know what he is talking about?
If you subscribe to man-made global warming the way Jerry Brown does, you think it's bad to have billions of people using more energy and emitting more CO2, so it's better to have fewer people using less energy and emitting less CO2. (Perhaps this is why progressive liberals love assisted suicide and on-demand abortions, and don't seem to mind freezing old people to death because they can't afford exorbitant utility prices to heat their homes.)
If so, then why do Jerry and the Democrats have a Welcome Wagon basket of goodies and a welcome mat laid out for illegal aliens… which really only makes it harder to meet the strict lower carbon emission goals of AB 32, California's Global Warming Solutions Act of 2006?
You can't have it both ways Jerry.
The inconsistencies of Gov. Brown's climate change policies, together with his immigration policies, could make you want to gnaw your own arm off — one policy is driving people out of the state, and the other is driving them into the state.
Illegal aliens, who are enticed here with an assortment of freebies and entitlements, fuel Jerry Brown's "population explosion."
Let's take a quick trip down memory lane with Governor Jerry.
The pro-amnesty Jerry Brown has a long history of inviting illegal aliens into the Golden State and rolling out the welcome mat. What else would you call the scores of bills he has signed into law providing illegal aliens everything they could possibly need? (and almost all of the bills have been authored by Sen. Ricardo Lara,  D-Los Angeles, who openly admits he was an anchor baby to illegal alien parents).
Free education… financial aid… student loans… low-cost auto insurance… free health care… free legal aid… subsidized housing… food stamps… school breakfasts, lunches, snacks and dinners… California's millions of illegal aliens are enjoying many benefits the state's legal residents and taxpayers do not. And it comes at a very heavy financial burden — legal residents are not just paying for their own health care, rent, transportation, food and education, they are paying for illegal aliens' as well.
Brown formalized California as a sanctuary state by signing the Trust Act into law, limiting California's cooperation with federal immigration authorities, to prevent deportations from the state. When Brown signed the law giving driver's licenses to illegal aliens, it couldn't have been more apparent he didn't want to be upstaged by former San Francisco Mayor Gavin Newsom and former Los Angeles Mayor Antonio Villariagosa's sanctuary cities…
More New Laws for Illegal Aliens
Senate Bill 4 by Sen. Ricardo Lara, is proposing health coverage specifically for illegal aliens – not "all" as the bill title states.
Lara's justification for SB 4 — "the Health Act for All" — is that the federal Affordable Care Act specifically excludes people living in the country illegally. Wow, how unfair. "Access to health care is a human rights issue and until everyone is included, our work is unfinished," said Lara.
Lara has a second illegal immigration bill, which would create the California Office for New Americans. Lara claims this new agency is for the purpose of helping illegal aliens integrate into the state. Lara said he wants to create the California Office of New Americans to "provide our undocumented population with resources, information, and fraud prevention assistance, helping them better integrate into the economic, social and political fabric of our state."
It wasn't that long ago people migrated to California because it was the land of opportunity, not the land of welfare queens and free cheese. Immigrants didn't need Ricardo Lara and his government handouts.
In 2011, Brown signed the California Dream Act by Assemblyman John Perez, D-Los Angeles, allowing illegal aliens in California colleges and universities access to state financial aid programs.
In 2013 Brown signed AB 60 by Assemblyman Luis Alejo, D-Salinas, allowing illegal aliens to obtain state drivers licenses.
Last year Gov. Jerry Brown signed three more bills benefitting illegal aliens, all by Sen. Lara:
–       The State Dream Loan Program, also by Sen. Lara, authorizing $9.2 million for state universities to loan money to illegal alien students;
–       SB 1159, also by Sen. Lara, to allow illegal aliens to poly for professional licenses — law licenses, medical licenses, and the like;
–       Also authored by Sen. Lara, Gov. Brown signed SB 873 allocating $3 million to certain non-profit organizations to provide legal representation to illegal alien minors in deportation cases.
–       Brown also signed a bill to prohibit local law-enforcement officials from detaining immigrants suspected of being in the country illegally longer than necessary to resolve their cases for minor crimes so that federal immigration authorities can take custody of them.
It's Jerry Brown's gimmes, freebies, entitlements and vote getters that grossly expose his weird concerns over the state's population explosion and the impacts of the drought.
In 2013, the last available census data available, just in Los Angeles County, $650 million in welfare benefits were distributed to illegal alien parents.
More than $376 million in CalWORKs benefits and food stamps combined were distributed through July 2013 to illegal alien parents for their native-born children – 100,000 children of 60,000 illegal alien parents, CBS Los Angeles reported.
However, add the $550 million for public safety and nearly $500 million for healthcare, the total cost for illegal immigrants to the state's taxpayers exceeds $1.6 billion dollars a year.
There's your population explosion. The taxpaying, utility rate paying Californians are leaving the insanity of state, and trying to get as far away from the batty Jerry Brown and the state's feckless, immoral Democrats.