The ugly truth about the business side of the abortion culture in America recently became even more gruesome. The undercover operation of the Center for Medical Progress revealed Planned Parenthood's government subsidized abortion and political business has also been raising funds by harvesting and selling fetal body parts. Nothing is off the table – brain matter, eyes, hands, livers, hearts, lungs, and assorted tissue from aborted infants in various stages of development.
The accompanying videos show Planned Parenthood abortion doctors talking about their work as if its just another day at the office, and they are negotiating bulk sales of wheat instead of the prices for baby body parts.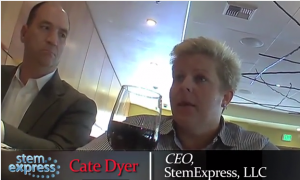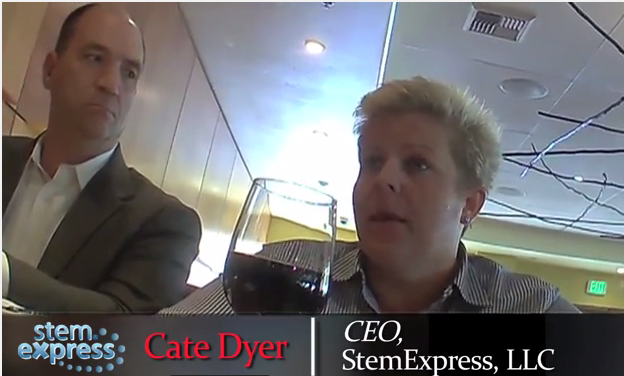 This isn't Planned Parenthood's first dance. The 1982 discovery of more than 16,000 aborted fetuses in a storage container in Los Angeles horrified Americans. Of the nearly 17,000 aborted babies, 193 were over 20 weeks' gestation, with the oldest almost 30 weeks.
But that was before the Internet.
On the other side of this barbarity is Cate Spears Dyer, founder and CEO of StemExpress, LLC, a major buyer of fetal tissue from Planned Parenthood, and one of the companies buying the supply of tiny hearts, lungs, livers and tissue. Dyer's bios indicate she worked as a "procurement specialist at a small Bay Area company that specialized in collecting tissue for medical research, while she was in college.
StemExpress is a for-profit biotech supply company that has been partnered with Planned Parenthood clinics across the country to purchase human fetal parts since its founding in 2010 by Dyer. StemExpress' Medical Director, Dr. Ronald Berman, is an abortion doctor for Planned Parenthood Mar Monte.
Former StemExpress employee Holly O'Donnell helped CMP blow the lid off of the baby parts selling operations. O'Donnell recounted horrific details from her work as a "procurement specialist" for StemExpress, as she was expected to "procure" the pre-ordered organs and tissue from the aborted babies. O'Donnell even said StemExpress offers financial incentives as motivation for better production.
O'Donnell testified last week at a hearing in the California Legislature, in support of asking the State Auditor to do a full audit of Planned Parenthood's public funding. However, the request was defeated, with all Democrats on the Committee voting down the request.
StemExpress Intimidating Former Employees?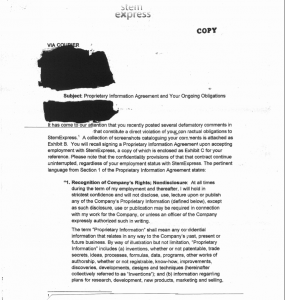 I recently received a copy of a letter written on StemExpress stationary to a former employee (redacted, at right), warning the employee to stop talking about StemExpress in public, or face serious legal action.
"StemExpress and its outside counsel are monitoring the media and other communications for this very sort of activity," the letter says. "To avoid potential legal action, I encourage you to immediately refrain from any future public commentary regarding StemExpress and/or disclosure of StemExpress confidential information of any nature."
The letter is signed by Kevin Cooksy, Esq., Vice President of Corporate Development and Legal Affairs. In the subject line of the letter, Cooksy writes, "Proprietary Information Agreement and Your Ongoing Obligations."
I've also been told by sources that many former employees of StemExpress have been intimidated into silence.
Video No.#8
The eighth video shows Dyer saying she could use another 50 livers a week.
StemExpress filed a lawsuit to try to block the release of any video involving its executives, and received a temporary restraining order, in an attempt to halt the release of more videos made at an annual meeting of abortion providers. However, the TRO was lifted August 21. Video number 8 is the latest video showing StemExpress executives, and Dyer, who admit they ship whole baby heads, because neural tissue is "insanely fragile."
In the video, Dyer says boxes shipping fully intact baby cadavers should come with a warning label. "Tell the lab it's coming," Dyer jokes, or they will "open the box and say, 'Oh, God!'"
Released on Aug. 25, in the full-length eighth video actors posing as another human biologics company meet with StemExpress CEO Cate Dyer, VP Kevin Cooksy, and Procurement Manager Megan Barr. StemExpress and the actors are discussing a potential partnership to supply extra fetal body parts to each other.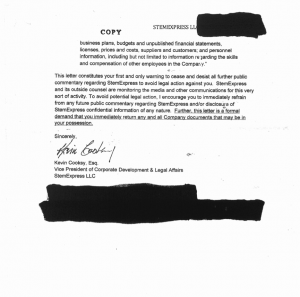 "So many physicians are like, 'Oh I can totally procure tissue,' and they can't," says Dyer, indicating that abortion doctors must do the procedure in a special way to obtain useable fetal parts.
The previous videos feature Dr. Debra Nucatola, the Senior Director of Medical Services at Planned Parenthood, and Mary Gatter, a senior medical director with Planned Parenthood in California, at different lunch meetings with actors posing as representatives of a biotech firm. Dr. Nucatola discusses selling hearts, lungs, livers and even the muscles of aborted fetuses while eating and drinking wine at a restaurant, while Gatter is asked questions about the possibility of purchasing fetal organ tissue from Planned Parenthood clinics. Gatter discusses various prices of aborted baby body organs and tissue, and offered that prices for a baby's liver, head or heart are negotiable. Gatter also offers to talk with the Planned Parenthood abortion practitioners about altering the abortion procedure to better preserve the organs and tissue for sale, after the baby is killed in the abortion, just as Dr. Nucatola did.
The harvesting, sale, and ultimate use of the tissue and body parts of aborted fetuses is governed by a 1993 federal law passed when the United States Congress enacted 42 U.S.C. 289g, regulating fetal research in general. In particular, 42 U.S.C. 289g-2(a) makes it unlawful for any person "to knowingly acquire, receive, or otherwise transfer any fetal tissue for valuable consideration if the transfer affects interstate commerce."
See the video at: http://www.centerformedicalprogress.org/2015/08/planned-parenthood-baby-parts-buyer-stemexpress-wants-another-50-liversweek-financial-benefits-for-abortion-clinics/