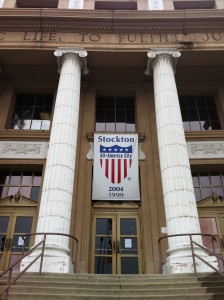 The City of Stockton filed a petition for Chapter 9 municipal bankruptcy relief on June 28, 2012, and the petition was accepted on April 1, 2013. Earlier this year, on February 25, the City of Stockton exited bankruptcy protection.
Stockton's city manager declared that "We emerge from bankruptcy a renewed city, perhaps better prepared for our future than any other city in the State, with a new value system, a thorough understanding of our operations and finances, and the tools to maintain solvency and adjust to economic conditions for decades into the future."
With that inconvenience out of the way, the Stockton City Council is proceeding to implement a "value system" similar to what brought it to bankruptcy in the first place. It is giving its most favored constituency – unions – a potentially costly monopoly on construction contracts.
On November 17, the Stockton City Council voted 7-0 to direct city staff to determine how to administer a Project Labor Agreement with the San Joaquin Building and Construction Trades Council, AFL- CIO on city projects of $1 million or more. The city council cared so little about "a thorough understanding of our operations and finance" that it rejected its staff recommendation "to refer the item back to the [Legislation/Environmental] Committee for further consideration along with the appropriate legal analysis to determine what, if any, impact will occur."
Supporters of the Project Labor Agreement insisted that no additional study of the issue was needed, despite an assertion in the staff report that it was "exceedingly important to carefully evaluate the terms and conditions of any such agreement."
Staff will present a final recommendation to the city council for approval and implementation, but the result will surely be similar to the template Project Labor Agreement provided to the Stockton City Council by the San Joaquin Building and Construction Trades Council for the November 17 meeting. Companies working on city contracts will have to obtain their workers (both journeymen and apprentices) from unions and pay fringe benefits for workers (health care, retirement, etc.) into union-administered trust funds. Workers must pay union initiation fees and dues.
A Project Labor Agreement mandate will likely reduce the number of companies willing to bid as a general contractor or participate in a bid as a subcontractor. Less competition may mean higher costs, even beyond the costs already imposed by state-mandated "prevailing wage" laws for construction contracts. In fact, the most comprehensive study of the costs of Project Labor Agreements on California building construction found a 13-15 percent cost increase.
Unions Offer a Solution to the Problems of Stockton — and the Planet
So why would a city just out of bankruptcy fundamentally change its public works contract bidding to give unions a monopoly? An obvious answer is that the Stockton City Council is still unwilling to resist lobbying demands of a powerful political group – a flaw that contributed to the causes of the recent bankruptcy. Of course, the city council and their union allies offer other reasons to justify the Project Labor Agreement.
To fool people, the city council and the unions are calling the deal a "Community Workforce Training Agreement" rather than a Project Labor Agreement. This name emphasizes the claim that untrained Stockton residents will become skilled workers after unions get a monopoly on construction contracts.
Another argument being pushed is that it will reduce the need for Stockton residents to travel long distances to find jobs. According to the preamble of the Project Labor Agreement template, Stockton residents must leave home very early in the morning and return late in the evening, often leaving children and teenagers alone and unsupervised during the day to cause problems for families, communities, and the City as a whole.
It will also help the City of Stockton save the planet from climate change. According to the preamble of the Project Labor Agreement template, much of the work force living in Stockton has to commute long distances to find work, which causes increased traffic, increased pollution, and other serious environmental impacts. In fact, don't be surprised if a revised Climate Action Plan for the City of Stockton claims that the Project Labor Agreement is reducing greenhouse gas emissions as required under Assembly Bill 32 (the Global Warming Solutions Act of 2006) and Senate Bill 975.

A Few Futile Pockets of Opposition to the Project Labor Agreement
Two representatives of non-union construction associations spoke against the proposal during public comment, along with a small business owner and a member of the city's Measure A Citizens' Advisory Committee. (Measure A is a three-quarter cent (0.75%) transaction and use tax approved by voters on November 5, 2013 and effective as of April 1, 2014.) Also speaking against the Project Labor Agreement was a union worker who felt it was wrong to discriminate against workers who chose not to be in a union.
In addition to sparking hostility from union activists crowding the meeting room, these comments were greeted with silence and disdainful stares from the city council members. They had obviously already decided to vote for what the unions were demanding.
Reportedly potential opponents in Stockton were intimidated into silence, resigned to the outcome, or just don't care anymore what political deals the city council makes with unions. As one person said derisively behind the scenes, "Who cares? Stockton doesn't have money for any big projects."
However, some people care – a lot. The city council chamber was packed with union officials, union activists, representatives of union companies (who want to get rid of pesky non-union competition), candidates for city council (including a union lobbyist, of course), and politicians.
A highlight of the meeting for unions was the in-person statement of support for the Project Labor Agreement from State Senator Cathleen Galgiani (D-Stockton). Senator Galgiani has received awards and acclaim for being the author of Proposition 1A, the November 2008 statewide ballot measure called "The Safe, Reliable High-Speed Passenger Train Bond Act for the 21st Century." Political observers say she has a bright political future. She's making sure the unions will continue to provide significant campaign support for it as her 2016 re-election looms.
The Future of Bankrupt Local Governments Using Project Labor Agreements
Project Labor Agreement policies are frequently adopted by California local governments already maintaining a reputation for fiscal irresponsibility and contract mismanagement. It's likely that several California local governments with Project Labor Agreements will be forced to seek Chapter 9 municipal bankruptcy protection or takeover by the state after the next recession occurs. You can expect vociferous objections from union officials if repeal of these Project Labor Agreement policies becomes part of the plan to restore solvency.
Sources
Sample Project Labor Agreement for City of Stockton, Provided by San Joaquin Building and Construction Trades Council
Staff Report for November 17, 2015 Stockton City Council Agenda Item on Project Labor Agreement