As the Black Lives Matter protest in the San Francisco Bay Area on Martin Luther King Day blocked traffic on the Bay Bridge backing commuters up for nearly 45 minutes, Sacramento had its own Martin Luther King Day Parade hijacked.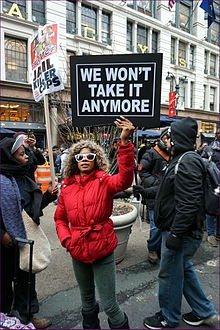 The annual MLK Parade passes by my house, and through my downtown neighborhood every year. This year, a very large group marching behind the high school marching bands loudly chanted, "Hands up, Don't shoot." Led by a woman on a megaphone, they also chanted, "Black lives matter," and "Hey hey, ho ho, racism gotta go."
Yet nowhere in any of the local Sacramento media did I see this reported—not on local television news, not by local radio, and not in my local newspaper, The Sacramento Bee. The printed version of The Bee ran a very nice feel-good story about two pastors who led Sacramento's MLK parade, but the writer made no mention of the Black Lives Matter faction of the parade.
The online version of the Sacramento Bee ran an Associated Press story of a mere 142 words about the San Francisco MLK parade 'Black Lives Matter' protests and traffic roadblocks.
Sadly, this is another example of a whitewashing and lack of news reporting, in favor of presenting the biased side of the story they want people to see.
So, why no mention?
"I look to a day when people will not be judged by the color of their skin, but by the content of their character." – Martin Luther King, Jr.
The Washington Times exposed last year that leftist billionaire George Soros gave more than $30 million in seed money to Black Lives Matter affiliated groups, and continues to financially support them. Other big-money leftists have been revealed financially supporting the movement.
Western Journalism reported the major liberal donor group Democracy Alliance held meetings last year to discuss funding the Black Lives Matter movement.
Wealthy donors including Tom Steyer and Paul Egerman were expected to attend and help fund the groups.
"According to Essence magazine, Google is also helping to fund the Black Lives Matter movement, giving $2.35 million in grants to activist organizations addressing the 'racial injustices that have swept the nation,'" Western Journalism reported. Donors wereexpected to contribute at least $200,000 a year to supported groups.
Combined donations to the groups now exceed $500 million, according to Politico.
Last year the Washington Times also reported that it was liberal billionaire George Soros who spurred the Ferguson protest movement through years of funding and mobilizing groups across the U.S., according to interviews with key players and financial records reviewed by The Washington Times.
"In all, Mr. Soros gave at least $33 million in one year to support already-established groups that emboldened the grass-roots, on-the-ground activists in Ferguson, according to the most recent tax filings of his nonprofit Open Society Foundations," the Times reported.
So, is the reporting of these activities limited to white washing?
BLM Sacramento
The Sacramento Black Lives Matter website, called INCITE INSIGHT, posted a column titled, "Martin Luther King Jr Day: A Dream Still Deferred." It appears they interpret Martin Luther King's teachings as disdain for police. "In a time when blacks are being killed at a rate of 7.15 per million and whites at a rate of 2.92 by our own police, have we met the expectation of that dream?" writer Dondy Marie asks. "Or, when numerous cis-, trans-, and pregnant black women are targeted and fall victim to police brutality; women who do not receive justice for the crimes committed against them, have we met Dr. King's expectation of equality and justice?"
They continue: "But, we don't have to look to one or two examples of systemic racism. Racism is predominant at your local grocery franchise, where employees aren't paid a livable or sustainable wage. Or, at your local mall, where corporations allow prejudiced employees to follow customers of color around a public store. Racism that okay's corporations who fatten their portfolios of good deeds by supporting the local MLK community walk; in the same gentrified communities where they exile people of color from their homes and businesses by raising rental costs to excessive heights."
When and how did the BLM movement hijack Martin Luther King's day of honor and messages, to support their agenda, much less in 2016? Are they so self-absorbed they don't know that I too am followed by store security at local stores and malls? I know I am followed at my neighborhood market if I stop in and shop while wearing a baseball cap.
I get it. It bugs me, but I understand. We are all profiled because theft crosses all racial and gender lines. There are plenty of cases of bored suburban housewives stealing from retail stores. And, there is the case of the Bay Area Assemblywoman who stole several thousands of dollars worth of clothing from Neiman Marcus.
"Every 28 hours, a black person is murdered by police," Black Lives Matter activist Cherno Biko told Fox News Channel's Megyn Kelly in November. "It feels like we're in a war."
"University of Toledo criminologist Dr. Richard R. Johnson examined the latest data from the FBI and Centers for Disease Control, and found from 2003 through 2012, law-enforcement officers killed an average of 429 people per year in 'legal interventions,'" former Rep. Allen West, (Fla) reported. (West is an African American male)
"These include a relatively small number of innocent people killed by cops and many more who died due to reasonable use of force.
"But the biggest problem black men face is that their black lives don't matter to other black men," West's website reported. "On average, 4,472 black men were killed by other black men annually between Jan. 1, 2009, and Dec. 31, 2012, according to the FBI's Supplementary Homicide Reports. Using FBI and CDC statistics, Professor Johnson calculates that 112 black men, on average, suffered both justified and unjustified police-involved deaths annually during this period.
This equals 2.5 percent of these 4,472 yearly deaths. For every black man — criminal or innocent — killed by a cop, 40 black men were murdered by other black men. The, at most, 2.5 percent of the problem generates relentless rage. And, yet, it is rude-to-racist to mention 97.5 percent of the problem."
Why can't the Sacramento Bee and other mainstream media outlets tell the truth and report the actual news? Many newspapers around the country reported that BLM hijacked MLK parades.
Homicide is the leading cause of death among young black men, and 90% of black murder victims are killed by other blacks. Blacks are just 13% of the population but responsible for a majority of all murders in the U.S., and more than 90% of black murder victims are killed by other blacks.
"Pretending that police behavior is the root of the problem is not only a dodge but also foolish," Jason Riley, an African American male wrote in the Wall Street Journal. "Racial profiling and tensions between the police and poor black communities are real problems, but these are effects rather than causes, and they can't be addressed without also addressing the extraordinarily high rates of black criminal behavior—yet such discussion remains taboo. Blacks who bring it up are sell-outs. Whites who mention it are racists," Riley said. "But so long as young black men are responsible for an outsize portion of violent crime, they will be viewed suspiciously by law enforcement and fellow citizens of all races."
Where is the honesty in the media and by the Sacramento Bee? Black Lives Matter is propaganda, and not about saving black lives.