Rocky Chavez, a California GOP candidate for U.S. Senate, isn't just another empty suit or pretty face in politics. Chavez, a Republican Assemblyman from Oceanside, CA, served 28 years in the United States Marine Corps, rose to the rank of Colonel, and commanded 22,000 troops.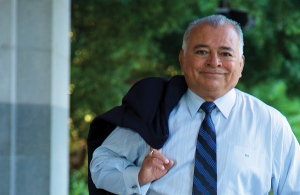 He later served as the acting Secretary of the California Department of Veterans Affairs, and then as the Vice Chairman of the Assembly Veterans of Affairs Committee.
Chavez wants to take this leadership experience to the U.S. Senate, to replace retiring Senator Barbara Boxer, one of two ultra-liberal senators from California. "This isn't about participation – I don't want a participation trophy – its about being the champ," Chavez said in an interview. "I've never been elected to be elected; You have to move the ball forward and change the dynamic in California."
Experience and Substance, Or Ignorance and Illusion?
"Leadership is recognizing and defining the threat and finding solutions," Chavez said. "Kamala Harris refuses to talk about the huge security issues facing the U.S… she knows nothing about foreign affairs."
When a supporter recently asked Harris what she'd advise President Obama on ISIS and Islamic State, she said, "I don't think I'm in any position to advise President Obama.… He knows more than any of us in this room."
But that's par for the course with Harris. It's no secret that Kamala Harris got her start in politics as former Assembly Speaker Willie Brown's girlfriend. Speaker Brown appointed her first to the state Unemployment Insurance Appeals Board, and then to the California Medical Assistance Commission, along with a $72,000 salary for the part-time position.
Speaker Brown also helped Kamala Harris become district attorney of San Francisco and later California Attorney General.
While it's nice to have friends in high places, the people tend to prefer those who have hands on experience, who built and commanded their own empires and enterprises.
"What is needed instead of Obama's 'we're working with friends and allies to stop ISIL's operations, to disrupt plots, cut off their financing, and prevent them from recruiting more fighters,' is a Combined Leadership Force with all the necessary command and control to pursue a stated objective," Chavez said. "Look at the Middle East, and the regional powers. The nuclear weapons and non-proliferation treaty doesn't allow expansion," Chavez said. "To give that away to bring Iran into the discussion, is too big a price," he added, referencing President Obama's recent "treaty" with Iran, in which Obama bypassed Congress and went to the UN  Security Council for approval instead.
Domestic Issues
Chavez, who grew up in the barrio in Redondo Beach, isn't just focused on strengthening national security. Chavez said he's gravely concerned about the more than 30 percent of the state population in poverty.
He wants to expand educational opportunities for children, and focus on the inland areas of California that are so destitute, in order to help improve California's economy. "Kids are not graduating from schools," Chavez said. He said Californians are ready for a big change in government, and want less of it in their lives.
Chavez said he's greatly concerned with the multiple threats to California agriculture, as well as the ongoing water storage issues. Chavez said some legislators understand the importance of California agriculture, as well as the jobs the industry provides, but primarily those from the San Joaquin Valley.
The biggest concerns in his Assembly districts are crime and education, a problem throughout the state he said. "And with the closing of San Onofre, we also have energy concerns," Chavez added
After retirement from the Marines, Chavez and his wife Mary founded the School of Business and Technology Charter High School in Oceanside, a charter High School in the Oceanside Unified School District. He served as the school's Director from 2002-2008.
In November of 2002, Rocky was elected to the Oceanside City Council. During his seven years on the council, he focused on economic development, public safety and quality of life issues.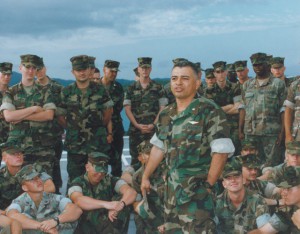 Veterans For Rocky
In an effort to mobilize California's more than two million veterans, Chavez has also formed 'Veterans for Rocky' to support his campaign. "I'm the only candidate in this race who has served in the military, and with all of the turmoil in the world, we need more Senators with real foreign service experience, not a Bay Area attorney."
During Chavez's military career, he trained as a nuclear weapons offices, served in Korea on the Korean Demilitarized Zone known as the "DMZ," the buffer zone between North and South Korea. He was charged with commands in Okinawa, Hawaii and Marine Corps Base Camp Lejeune, N.C., where he commanded the II Marine Expeditionary Force, one of three MEFs in the Marine Corps. He also commanded the 5th Battalion, 10th Marines, 2d Marine Division and 4th Battalion, 12th Marines, and 3D Marine Division.
Chavez, who says he has achieved everything through hard work and work ethic, is quite a contrast to Harris. He was born in Los Angeles, and grew up in the fields alongside his uncle, who taught him how to pick grapes. Chavez continued to work in the fields through college by harvesting almonds to support himself in order to earn a Bachelor's degree from California State University in Chico.
Chavez has amassed a nice list of endorsements including San Diego Mayor Kevin Faulconer, Local Deputy Sheriff's Association, Chad Mayes, Republican Assembly Leader, Kristen Olsen and Connie Conway, both former Assembly Republican leaders, Neal Kashkari, and numerous members of the State Assembly.