Increasing the amount of CO2 in the atmosphere from 0.03 per cent to 0.04 per cent has not caused and is not causing catastrophic runaway global warming. Dishonest references to "97 per cent of scientists" equate a mild warming influence, which most scientists agree with and more importantly can demonstrate, with a catastrophic warming influence – which most don't agree with and none can demonstrate.
–Alex Epstein,

author

of the Moral Case For Fossil Fuels, on the fundamental problem with the climate change industry
Gov. Jerry Brown Jr. announced this week he is anxiously awaiting SB 32 and AB 197  to hit his desk. If these bill numbers don't (yawn) mean much to you, PAY ATTENTION!  Authored by Senator Fran Pavley, D-Agoura Hills, and Assemblyman Eduardo Garcia, D-Coachella, respectively, these bills will ensure the expansion of California's dubious climate change law and corrupt cap and trade program, by moving the bar on clean air achievements — solely to keep the apparatchik California Air Resources Board in business beyond their charter.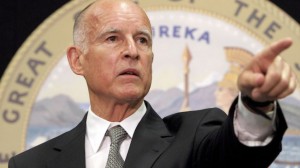 This fascist effort to kick poor and middle class people out of their cars by making it cost-prohibitive to drive is failing, but still Brown and Democrats persevere with their revenue scheme and climate-shaming.  "Yesterday, big oil bought a full-page ad in the capital city's newspaper of record to halt action on climate," Brown said in a statement Tuesday. "Today, the Assembly Speaker, most Democrats and one brave Republican passed SB 32, rejecting the brazen deception of the oil lobby and their Trump-inspired allies who deny science and fight every reasonable effort to curb global warming. I look forward to signing this bill – and AB 197 – when they land on my desk."
"With these bills, California's charting a clear path on climate beyond 2020 and we'll continue to work to shore up the cap-and-trade program, reduce super pollutants and direct more investment to disadvantaged communities," Brown said.
'One Brave Republican' 
Assemblywoman Catharine Baker, R-San Ramon, was the only Republican to vote for SB 32, leading many to wonder what she got in exchange for her vote… Because her vote will ensure the climate-change witch-hunters will only enhance their attacks on reasonable people who don't believe their la foutaise. And the Democrats will expand the size and scope of the unaccountable, unelected dictatorial California Air Resources Board, while at the same time punishing the poor and low income drivers who live in rural areas, or on the fringes of large cities due to outrageous home prices.
Scientists and climate realists have continually pointed out that climate has always changed, and always will change. California is taxing the air we breathe. However, it is also one of the biggest taxing schemes perpetrated on Americans, Californians, and businesses.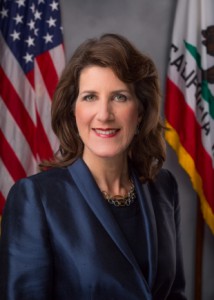 Failure is the New Success When the Public is Paying
Carbon cap and trade flopped in Europe, and in the East Coast collaborative. But Brown and California Democrats stubbornly double down on it for unwholesome reasons – it's as if they are trying to drive businesses and citizens out of the state.
"Roughly 9,000 California companies moved their headquarters or diverted projects to out-of-state locations in the last seven years, and Texas has been a prime beneficiary of the Golden State's 'hostile' business environment," the Dallas Business Journal reported.
"Los Angeles led the Top 15 California counties with the highest number of disinvestment events, followed by: (2) Orange, (3) Santa Clara, (4) San Francisco, (5) San Diego, (6) Alameda, (7) San Mateo, (8) Ventura, (9) Sacramento, (10) Riverside, (11) San Bernardino, (12) Contra Costa tied with Santa Barbara, (13) San Joaquin, (14) Stanislaus and (15) Sonoma.
Companies continue to leave California because of rising costs and concerns over the state's 'hostile' business environment, according to the study, which also names companies and provides details of business disinvestments in the state."
This is just more evidence that Gov. Jerry Brown, California Democrats, and now Assemblywoman Catharine Baker, really don't really care about the poor or working poor at all. Because according to the Climate Change Business Journal, the global climate change industry is now worth an annual $1.5 trillion. Money talks.
'Dear Leader'
This is just one more in-your-face-example of state government operating not on the will of the people, but on corrupt government cronies and big money from billionaire Tom Steyer, while taking out competing businesses. "Democratic donor and environmentalist Tom Steyer was also in the Capitol during Tuesday's debate talking to lawmakers," the Los Angeles Times reported. "'You're dancing to the flute of a rich hedge fund billionaire who is running for governor,' Assemblyman James Gallagher, R-Plumas Lake, told his colleagues who were supporting the legislation, a nod toward Steyer's rumored political ambition."
Since the passage of AB 32, the Global Warming Solutions Act of 2006, and SB 375, the Sustainable Communities Protection Act, the CARB has used this law to add regulations on manufacturers, food processors, agriculture, auto and truck owner/operators, trucking companies, energy producers, utilities, and many small businesses.
CARB's director is Mary Nichols, a Gov. Jerry Brown appointee. She clearly has his approval to operate as an authoritarian.
Nichols has a long history of Politburo behavior, and the Air Resources Board is California's version of the Soviet Union's State Committee For Planning, which was the Communist central board that supervised the planned economy of the Soviet Union, and decided how much industry in the Soviet Union was allowed to grow in each five-year period.
Nichols even tried to pass a regulation to "forbid dishonest statements offered to the Board or to its staff." However, once it made the news, the proposed regulation providing for "penalties for false information" was removed from CARB's website.
Up to this point, the CARB has ignored the costs that come from implementing cap and trade. And the CARB has been dismissive to any lawmakers who question the increase of electricity costs due to the requirement to meet the 33 percent renewable energy mandate in the 2011 Regional Portfolio Standard.
Solar and wind power are very expensive and dramatically increase utility costs – costs are passed on to consumers and small business.
Cap and Trade is a Flop
One year ago in June the Los Angeles Times headline boasted, "Emissions cap-and-trade program is working well in California." This past June the headline was quite different: "California's cap-and-trade program faces daunting hurdles to avoid collapse." Despite financial and legal troubles, and grossly underperforming carbon auctions, which signify failure, Democrats jumped into action. "Unless the state acts, 'the whole system could fail,' said Senate leader Kevin de León (D-Los Angeles)," the Los Angeles Times reported. "If that happens, we could lose an entire stream of revenue to make our communities more sustainable." …As if cap and trade revenues are going to be used to make "our communities more sustainable." Even those who shun the news know Gov. Jerry Brown earmarked cap and trade auction money for his High Speed Train to Nowhere.
Two years ago, Brown included cap and trade funds in the state budget for the High Speed Train construction to fill the HSRA budget shortfall. But he overshot the revenue estimate.
The May cap and trade auction produced only $2.5 million of the $150 million expected, far short from the $600 million annual projection. The recent August auction was also very weak. And the system is being gamed. "Traders who hoped to flip allowances at a higher price have since been offloading credits and undercutting CARB's auction floor," the Wall Street Journal wrote in May.
This fascist effort to kick poor and middle class people out of their cars by making it cost-prohibitive to drive is not working. And its fail may help bring down the High Speed Rail. If cap and trade revenue continues to falter, the governor's train-to-nowhere could run out of money needed to match a federal grant. But Brown will be long gone from office when SB 32 and AB 197 kick into high gear, leaving an economic disaster in his wake.
O, what a tangled web we weave when first we practice to deceive!