The California Legislature is threatening its own agriculture industry again with an expansion of overtime rules for farm and ranch workers.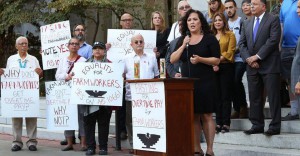 State government has been hostile to California farmers and ranchers for some time: cutting water to farmers and water rationing, "humane" chicken farm laws, regulating farm stands, regulating dairy farms almost out of existence, and very hostile labor relations with the malignant Agricultural Labor Relations Board. And that's just the tip of the iceberg.
Following a staged publicity stunt hunger strike last week by Assemblywoman Lorena Gonzalez, the recently gutted-and-amended bill to expand overtime for farm workers was passed by the Senate.
Using the shell of another bill, Assemblywoman Lorena Gonzalez, D-San Diego, in cahoots with the United Farm Workers, the bill's Sponsor, gutted the language of AB 1066, and inserted the farmworker overtime language because she could not get the bill passed through the committee process during the legislative session.
The previous bill, AB 2757, was defeated in the Assembly in June.
No real friend to farm workers, Gonzalez and the Latino Caucus only takes cues from labor unions and the UFW. The Latino Caucus has ignored the pleas for help from thousands of farmworkers in the Central Valley who legally held a decertification election in 2013 to oust the UFW from their workplace, but can't get the California Agricultural Labor Relations Board to count the votes or comply with the election results.
"For many decades farm workers have been the least paid and most exploited," Senate President pro Tem Kevin De Leon said this week following the bill's party-line passage in the Senate.  De Leon has never taken a call or a meeting from one of the thousands of farm workers fighting the UFW.
The misnomer in the argument to expand overtime for agricultural workers is that they deserve more respect and dignity, and paying more overtime as non-ag California workers are paid would afford that. That's the party line, but not really what is at the root of this bill. They already received overtime — California is one of only a couple of states to mandate "premium overtime pay" for farm employees after 10 hours of work in a day.
Unions want a bigger cut of farm worker pay, and they think increased overtime is one way to accomplish this.
Not all businesses are able to schedule 8-hour days and 40-hour weeks. In fact, many manufacturing and processing jobs are production oriented, and workers need to work when the work is available. This is also the case with agricultural workers – farming is a seasonal business, and workers understand they are needed to work more hours when the harvest is at its peak. I know – I was the Human Resources Director for a large manufacturer for 20 years.
And that is why the government allowed the standard overtime exemption for agricultural workers. They still receive overtime after 10 hours in a day and 40 hours in a week, but not after 8 hours in a day as standard non-ag workers do.
In 1999, Gov. Gray Davis, signed AB60, called the "Eight Hour Day Restoration and Workplace Flexibility Act of 1999," dramatically changing the state's overtime compensation laws. The act went into effect for most employers on January 1, 2000, however the list of exemptions was long, and included public employees. The 1999 act's most dramatic change was the restoration of the daily overtime requirement. Ironically, union employees covered by a collective bargaining agreement were not covered by AB60, nor were public employees.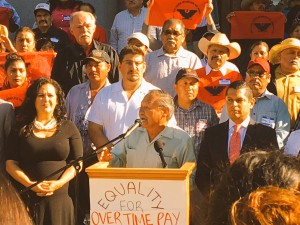 Additionally, agriculture workers are at the mercy of weather, which can and does cancel work for extended periods. Most farm workers want to work 10 hour days, to make up for lost hours, and bank the wages for the leaner times.
Putting a time limitation on agricultural workers also puts California farmers at a distinct disadvantage in competition against Mexico, Colombia, Ecuador and other countries for produce exports. No other state in the United States has a daily hourly limit on agricultural work.
California farmers are also burdened with higher-than-average costs for fuel, electricity and land, and are required to comply with severe environmental, health and safety and food regulations. Farmers in other states don't have the strict labor laws or environmental regulations, which are the cause of high energy costs.
"California is already at a competitive disadvantage as it is one of only a few states that require any overtime pay for agricultural workers, and our requirement for daily overtime is already the most expensive," bill analysis said. "This bill will exacerbate this disadvantage."
"Opponents also note that this bill cannot be viewed in isolation and argues that California saddles its farmers with the highest regulatory costs and compliance burdens in the nation," bill analysis said.
"Among others, they state the following:
 Electricity costs for industrial users that are 63.4% higher than the national average.
 The highest workers' compensation premium rates in the nation.
 California-only restrictions on use of approved crop protection tools that increase the risk of crop loss due to pests and disease.
 Water supply costs driven by regulatory loss of surface water supplies, forcing farmers to drill new and deeper wells, pay more for energy to pump, and scramble to purchase expensive water (if it can be found and conveyed) from others."
This bill will "impact suppliers and purchasers who will be forced to look elsewhere for the ingredients they need to manufacturer their consumer goods and suppliers will have to scale back their own operations as customer orders for services and goods decrease."
If farmers are forced to pay higher overtime costs during peak harvest, this legislation will end up hitting many agricultural workers in the wallet, just as the increase in the minimum wage has hurt other workers. Passage of this bill would result in the tens of thousands of workers who are employed year round to work fewer hours as farmers add additional employees to avoid overtime costs.
This bill is a disaster for the agriculture industry – unless that is the end goal.