There are numerous news articles about University of California President Janet Napolitano apologizing to legislators this week over a state audit which found $175 million squirreled away in a secret account, while the UC universities were increasing tuition costs on students.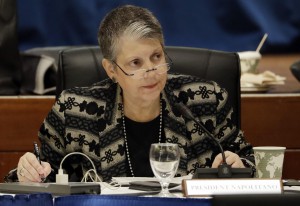 The problem is, her apology is hollow, meaningless, worthless, or any number of synonyms for her senseless drivel. She knows nothing will happen to her.
"UC President Janet Napolitano apologized to a joint legislative oversight committee on Tuesday, a week after a blistering state audit of UC's central administration found tens of millions of dollars in reserve funds that weren't publicly disclosed and accused the president's office of interfering with a survey of campuses assessing the office's effectiveness," the San Jose Mercury News reported.
I am told by government sources that nearly every state agency has millions squirreled away. So what's new?
The state is corrupt. The state's leaders are corrupt. The Governor is corrupt. The agency directors are corrupt. And Janet Napolitano is corrupt.
Janet Napolitano wasn't brought to California to legitimately run the massive taxpayer-funded University of California system; she was brought in to help facilitate the "fundamental" changes in the entire system.
Remember when Napolitano ordered UC professors they can no longer say "America is the land of opportunity," and instituted a system training faculty about the menace of "microaggressions?"
"'America is the land of opportunity,' 'There is only one race, the human race' and 'I believe the most qualified person should get the job' are among a long list of alleged microaggressions faculty leaders of the University of California system have been instructed not to say, the College Fix reported.
Janet Napolitano announced the UC system would become an official sanctuary for illegal alien students.
"The University of California system announced Wednesday that campus police will not undertake joint efforts with any law enforcement agencies to investigate students suspected of breaking federal immigration laws. Police officers at the UC's 10 campuses will not contact, detain, question or arrest any individual solely on the basis of immigration status, except as required by law, the school system said in a statement," the Washington Times reported.
And there was the Linda Katehi scandal, under Napolitano's watch.
The notorious 2011 pepper spraying of peacefully protesting students; Katehi's misjudgment about serving on corporate boards; and the university's efforts to sanitize its history by scrubbing the Internet of critical coverage and upheaval surrounding university employment of Katehi family members.
Following that scandal, faculty and students at UC Davis called for the ouster of Janet Napolitano, rather than Katehi.
Napolitano and UC San Francisco outsourced about 100 IT jobs of Americans to foreign workers under the H1-B visa program.
"Questions have been raised by California Sen. Dianne Feinstein, who reminded UC President Janet Napolitano of its public responsibilities. Napolitano skirted the issue by tinkering with the plan by limiting the H1-B visa workers and transferring other jobs to other locations. This a smoke screen designed to mask the real purpose, which is not to have foreign workers stay on the job here but to eventually move the jobs to India," Steven Mintz wrote in the Pacific Coast Business Times.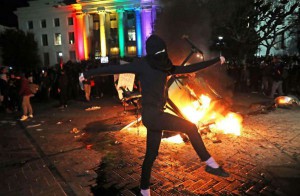 And of course, under Napolitano's tenure, UC campuses have allowed riots, violence, Antifa thugs, to prevent Milo Yiannopoulos, David Horowitz, Heather MacDonald, Ann Coulter and other conservative speakers to speak, despite the invitations from student groups on campus.
According to Matthew Vadum at Frontpage Mag, UC President Napolitano "is deliberately harboring hundreds of illegal aliens attending UC system schools. She has forbidden campus police from working with immigration law enforcement and provided $5 million to aid the illegals UC is sheltering from ICE."
"The University of California system even provides legal aid to illegal alien students who wish to keep breaking U.S. immigration laws."
See why Napolitano's apology rings hollow? She's doing the job she was brought to California to do. So what if the state auditor found a hidden bank account; Napolitano's annihilation and dismantling of the UC system is far worse for California, and the precious little snowflakes in UC schools.