FlashReport Weblog on California Politics

7-2-2006 8:32 am
This entry may be a tad too personal for some tastes.  Yet, as I have been on vacation this past week, I've had some time to think about my decision earlier in the week that I would not run for re-election this year to the La Mesa City Council, where I have served since late 1990.  (The story ran in the SDUT on Thursday, even referencing the FlashReport, of all things.)

The response has been a blessing, quite frankly.  Most emails have been very supportive, and only a few have questioned why I wouldn't inform them in advance of the decision (it was clearly only my wife's and mine to make).  Still others have tried to read between the lines of my statement that I want to spend more time with my family, especially now that my daughter is entering kindergarten.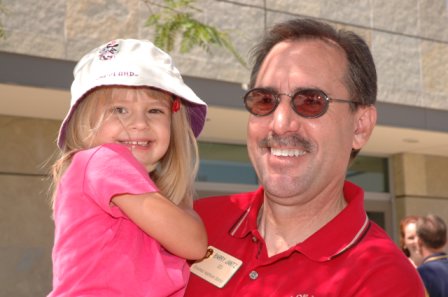 Have we become so jaded about politicians that we automatically assume whatever is said is simply spin?  I guess so.  But, what I said is what I meant.

Some have conjectured that I'm planning a run for school board this November.  Uh-huh, right.  I'm gonna give up an office where being a conservative usually only means folks yelling about your view on property rights, and where the local police and firefighters associations sometimes endorse Republicans (in East County, anyway)...and I'm gonna trade that for an office where nearly half of the community seems to want your head, and where the unions burn you in effigy if you even utter "GOP."  God bless my counterparts that serve on school boards, but Ron Nehring, Mike Spence, and the many others I know...I sure am glad it's you!

Bottom line, folks.  I can say, unequivocally, that none of my political roles or even the accomplishments and enjoyment derived from my involvement in any of them comes anything close to the time I've been given as a spouse and a parent.

Yes, I also know there's not a rational member of a legislature or local office anywhere in the land that would say - or believes - differently.

However, I've also seen the realization of time spent away from kids coming - for some - later than they would have liked.  I watched one of my best friends go nearly "lame duck" his last year and a half in the legislature when he awoke to the needs of his children.  It's a good thing he had a district staff in those final months, but you know what?  He became a much better father than perhaps he was a legislator, and today he's a better person for it.  

Another retired assemblymember looked me in the eye and told me it was only after terming out that he realized how much his teen son had needed him at home.  A former congressman wept on the witness stand a few years ago in defense of his criminally charged son, regretting that his political career had not provided enough time at home.  Another state legislator told me of his toddler saying to him on a Sunday as he left for the airport, "Daddy, you can be a legislator here with me, you don't have to go to Sacramento."  Ouch.

Over the years, I've had dozens of people, upon hearing my lukewarm response to the "When-you-gonna-run-for-higher-office" question, tell me in very certain terms about the assemblyman or senator they know who has children, as if to say, "He or she does it."  My response:  "And that's all you know about their family situation, isn't it?"

Let me make myself clear.  I don't begrudge for one second those many committed elected officials who do the work of the public every day while also making their family lives work.  I admire them.  For some, the traditional view of one spouse going off for extended absences while the other keeps the home fires burning works for them as elected officials.

For others, perhaps the time spent away from family is more than compensated by their work to make the nation, the state, their local community, or their schools a better place...including for their family.  In a very limited sense (and I mean very limited), maybe any time spent away is not unlike that of a member of our military, defending our nation while sacrificing so much at home (comparing the risk factor to a politician would be quite laughable, however).

But, let's face it.  You and I both know that for many who seek office - and win - it is not always about the noble cause of family, country, or even God.  It's about recognition, power, and sometimes too-difficult-to-define deep-seated needs.  And, even the most statesman-like of elected officials can easily get caught up in the trappings.

I admit, this is something with which I've struggled over the years...the very real need to be involved in the controversial issue, the political intrigue, the reading of the emails...versus the very real need of a five-year-old asking to play hide-and-seek.

That sucking sound you hear is sometimes about screwed-up priorities.

The worst cliché in the world may serve here.  We can be promoting family values every day of the week in D.C., in Sacramento, or on our local city council, but if we're not promoting them in our own homes, what then does it all mean?

In my case, I'm only retiring as local office-holder, with no need on a weekly basis to be off in Sacramento for three or four days and sometimes more.  No comparison whatsoever, I know.  Thus, I've viewed my very local involvement - as well as my ability to be home at night - as a benefit to my family.  At some point, however, it was appropriate to ask the question:  Is my time commitment benefiting the community - and thus my family - to a greater extent than other things I could be doing that have a more direct impact on their lives?  For me, that question has been answered.

Thanks for putting up with my personal missive today.  Have a great week!