FlashReport Weblog on California Politics

2-2-2010 2:05 pm
Earlier this week, I penned a commentary where I pretty well laid out California Supreme Court Justice Ron George for making a number of contributions to the Hillary Clinton for President Campaign in 2008, aggregating to $2300.  I drew the conclusion that George had made these contributions based solely on information taken off of the Federal Election Commission website,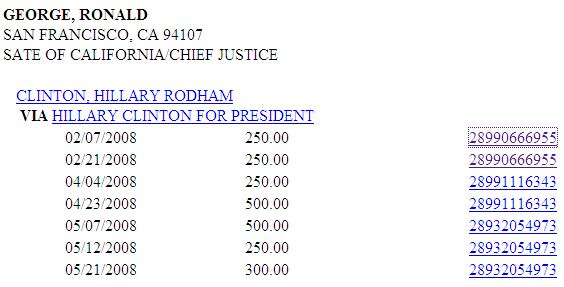 where a search of Ron George produced a listing of these donations to Clinton, identifying the giver as Ronald George, with an employer and occupation of State  of California/Chief Justice
(the graphic is a clip straight from the FEC website)
.
As it turns out, Chief Justice George did not make any contributions to the Presidential campaign of Hillary Clinton, and that the information that is presented on the Federal Elections Commission website is not accurate.  To be more specific, the FEC relies on campaigns to file specific donor information, which they then upload to their site, where it then can be accessed in a large database search, like the one I conducted.
According to information sent to me by the Chief Justice's attorney, she has spoken directly with a representative of the Clinton campaign who has acknowledged the error and is working to amend the appropriate campaign report, so that it is no longer inaccurate.
This is probably an appropriate place to make it very clear that I apologize to the Chief Justice for this situation and for "lighting him up" for what seemed like a clear-cut violation of the Code of Judicial Ethics - when clearly, as more facts have come to light, is not the case.  Clearly both he and I are victims of the actions taken by the Clinton for President Campaign in listing George as a donor when he was not.
Someone else owes an apology both to the Chief Justice and to us here at the FlashReport - and that is Hillary Clinton.  Justice George was the victim of a "drive by reporting error" which was terrible.  Never mind the whole issue of a judge giving money to a partisan campaign, George is a Republican and probably would rather be run over by a car than be associated with trying to elect a left-wing ideologue into the White House.  We here, of course, relied on the information reported when making the erroneous accusation against George.
Presumably somewhere in San Francisco is the "other" Ron George, the one that the Clinton campaign confused with the Chief Justice.  Maybe he deserves an apology, too.   While I can't say that I agree with his decision to give $2,300 to Clinton's campaign, he certainly deserves some credit in the campaign reports that until now he has not received.
There are a couple of important take-aways from this experience.  The first is that I should endeavor, whenever possible (and there was no tight deadline for this piece on the Chief Justice) to contact the subject of a story.   The second is to remind everyone that just because it's on the FEC website doesn't mean it is true.  And finally, one of the Golden Rules of politics still prevails - never trust anything that a Clinton says or does, period.