Today's Commentary Author
Doug LaMalfa

LaMalfa, a rice farmer from Butte County, is a former member of the State Assembly.
Get free daily email updates
What They Are Saying
"The FlashReport is a great resource for political news, and to keep your pulse on what's being said about the important issues."
- State Senator Steve Knight

More Testimonials
Send FlashReport to a Friend
Today's Commentary on the News

Congressman David Dreier: Congressional Democrats Stifling House Debates, Breaking Pledge To Have "Most Open Congress in History"
5-18-2007 6:43 am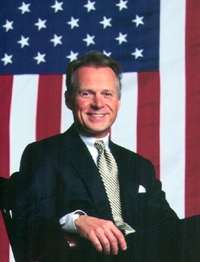 14-term Congressman David Dreier of California's 26th Congressional District (Los Angeles and San Bernardino Counties) is emerging as the leading US House Republican in Spotlighting Congressional Democratic attempts to stifle debate on legislation on the Floor of the US House of Representatives. Such efforts are causing Democrats in their new-found majority status to break a key election year campaign pledge to ensure the "Most open Congress in History."  According to Congressman Dreier (David Dreier is the immediate past chair the House Committee on Rules), Speaker Pelosi's Democrats have intentionally quieted discussions on very serious federal measures, including last week's historic debate on Iraq supplemental funding legislation.
Specifically, Congressman Dreier is taking Congressional Democrats to task for issuing of a closed rule for consideration of an appropriations bill. Last week, House Democrats issued one closed rule for the latest version of the Iraq war supplemental funding bill. No amendments were allowed to be offered to the two new funding bills introduced, H.R. 2206 and H.R. 2207, or a third bill introduced late last night, H.R. 2237, which calls for the redeployment of U.S. troops from Iraq within ninety days. Traditionally - and a mainstay under the twelve recent years of GOP House management - wartime emergency supplemental funding bills were always considered under an open amendment process, allowing any member to offer a germane amendment on the House floor.
While the seeming heavy-handedness of Speaker Pelosi's Democrats escaped attention of much of Washington's Capitol press corps, one media outlet did take note; and, surprise, it's an internet-based news source. In a story dated just yesterday May 17, 2007, reporter Patrick O'Connor of the The Politico reports "Democrats are wielding a heavy hand on the House Rules Committee, committing many of the procedural sins for which they condemned Republicans during their 12 years in power." Many of the sources for The Politico's report originated from Congressional Republican staff insights, who pointed to recent backroom shenanigans orchestrated by the Democratic Congressional leadership that allowed the protection of a $23 million project for Pelosi's hand-picked candidate for US House Majority leader, Democratic Congressman John P. Murtha of Pennsylvania. Read the article here.
Furthermore, Congressional Democrats suggested changing the House rules to limit the minority's right to offer motions to recommit bills back to committee -- violating a protection that has been in place since 1822.
What is noteworthy about the Democratic maneuvering to ensure a desired outcome of Congressional action is the fact the Speaker Pelosi is engaging in exactly the practices she and other US House Democrats fought against during last year's federal midterm elections. For instance, just last December, House Democratic Leader Steny Hoyer stated the new Congressional majority "intend to have a Rules Committee ... that gives opposition voices and alternative proposals the ability to be heard and considered on the floor of the House."
According to Congressman David Dreier, that is not happening. Taxpayers should be grateful that Dreier is informing the public of what is really occurring under the "most open Congress in history."
While David Dreier is highlighting Democratic hypocrisy on Capitol Hill, local Dems in his own Congressional District have placed a target on his back for defeat in 2008. 
Although the 2008 Congressional primary elections are mote than a year away, one candidate is starting to emerge as a would-be challenger to the popular incumbent: wealthy liberal magazine distribution magnate Russ Warner. If that name sounds remotely familiar to you, it should. Warner was the highly-touted Democrat prospect in 2006 to oppose Dreier, but he suffered an embarrassing defeat at the hands of a perennial candidate whom he had outspent by a significant margin. From the look of Democratic Party activist websites, it certainly appears Russ Warner is back once again for a shot at the Democratic nomination to face Dreier in November.
Should California Republicans really be concerned about the 26th Congressional District? Most likely, no. Congressman David Dreier is doing a tremendous job of reaching out to Republican grassroots organizations and his record of constituent service is second to none. Plus, given the conservative nature of his constituency, it is likely that any liberal Democrat - no matter how well-funded - will have a difficult time against the highly-regarded Congressman. On one issue of deep significance to conservatives is yesterday's immigration "deal." Dreier had this to say on yesterday's developments: "I will not support any legislation that grants amnesty."
As Congressional Democrats become even more brazen in their attempts to silence debate and banish discussion on matters of deep importance to the United States, watch for Congressman David Dreier to continue to let the sun shine in on closed-door Democratic maneuvering to break tradition and prevent members of the US House of Representatives from having a full and complete discussion on pending federal legislation.
Care to read comments, or make your own about today's Daily Commentary?

Just click here to go to the FR Weblog, where this Commentary has its own blog post, and where you can read and make comments.