Today's Commentary Author
Doug LaMalfa

LaMalfa, a rice farmer from Butte County, is a former member of the State Assembly.
Get free daily email updates
What They Are Saying
"California is a huge state with a lot of political action happening every day. In serving my large district here at the top of the state, The FlashReport keeps me and my staff ahead of the curve! Jon's service is invaluable."
- Congressman Doug LaMalfa

More Testimonials
Send FlashReport to a Friend
Today's Commentary on the News

Pirates Seize The HMS Bieber On Halloween
10-31-2007 8:14 am
We here at the FlashReport would like to wish all of our readers a Happy Halloween, our third since the FR went "live" in October of 2005.  Last Saturday night, I had a chance to stop by a couple of great Halloween parties -- one of them actually had guests "transported to a Carribbean Island circa the 17th century for some priate fun.

A jolly, rum-filled time was had by all at the home of my long-time friends Jim and Kellie Bieber.  I don't have words to describe the ornate invitation that was mailed out, complete with an "treasure map" on parchment with burnt edges, and a couple of weighty gold doubloons to pay for entry.  The invite pointed to a cool  website.  (Since Jim creates and sends out direct mail for a living, he was able to prepare it all in-house.)  The theme?  Pirates of the Caribbean!  A lot of Orange County politicos "boarded" the Bieber family home in San Clemente (the only one on the block with a row of cannons sticking out from its side).

Proper regard was given to victims of the recent wildfires in Southern California as the hosts politely requested guests dig out their gold coins and other treasure for charity.  In all, the party raised $2,100 for the American Red Cross Wildfires Disaster Relief Fund and The Family Assistance Ministries.  (We're still waiting to hear how much money for disaster relief was raised at John McCain's fundraising event in Beverly Hills).

The honorary hosts for the event were State Assemblyman Chuck DeVore and Orange County Supervisor John Moorlach.  Supervisor Moorlach even brought his extended family, including his father - who celebrated his 80th birthday at the party - and his sister, who I have known since 1987!  A professional band (the actual "pirate band" from Disneyland, no less), catered meal (complete with a pile of enormous turkey legs), contests, wash-off tattoo artist, and open bar insured guests had a very fun night. 

But don't take my word for it.  Check out the pictures from this costume mandated event (failure to come in costume landed you in the "brig" for ten minutes):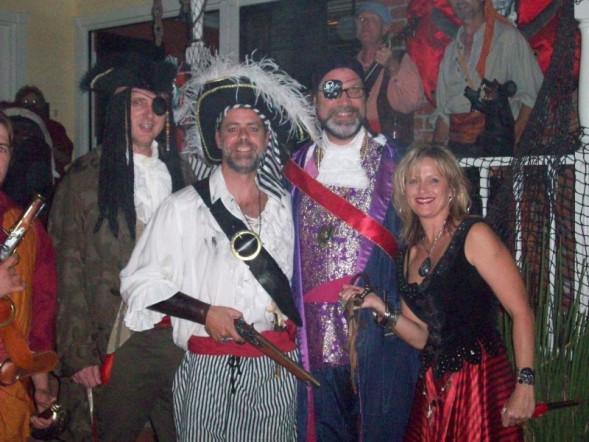 Left to right: Assemblyman Chuck DeVore, Jim Bieber, Supervisor John Moorlach, and Kellie Bieber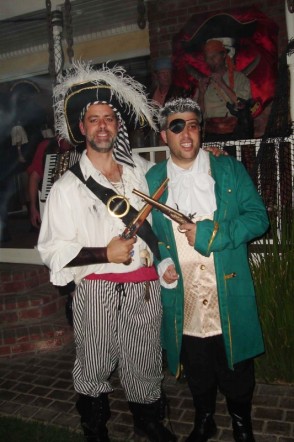 Two old California YAF Chairmen: party host Jim Bieber and... me!

(A link to more photos is here - SnapFish free registration required.)

Care to comment on this item, you can do so on it's mirror-post on the FR Blog.