Publisher, The FlashReport

Jon Fleischman
What They Are Saying
"I check FlashReport every morning for the latest on politics in Orange County and beyond."
- John Marelius, San Diego Union Tribune

More Testimonials
Send FlashReport to a Friend
Featured Column Library

« Return to Special Reports
REPUBLICANS ARE COMMITTED TO FINDING REALISTIC BUDGET SOLUTIONS - WITH NO NEW TAXES
Senate Republican Leader Dennis Hollingsworth and Assembly Republican Leader Sam Blakeslee
June 4, 2009

[Publisher's Note: As part of an ongoing effort to bring original, thoughtful commentary to you here at the FlashReport, I am pleased to present this commentary, which is the first jointly authored column from State Senate Republican Leader Dennis Hollingsworth and Assembly Republican Leader Sam Blakeslee. - Flash]



If you are new to the FlashReport, please check out the

main site

and the acclaimed FlashReport

Weblog on California politics.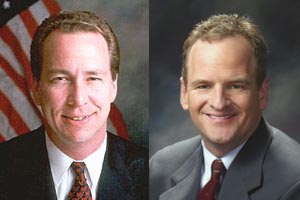 This week, in a rare address to both houses of the State Legislature, Governor Schwarzenegger spoke in detail about the very bleak budget picture facing California today. 
At the same time, he put forward a plan of action to address California's budget problems – detailing budget cuts to reduce state spending and reform proposals to improve government efficiency and help tackle our budget problems in the long term. 
Senate and Assembly Republicans share the Governor's commitment to acting quickly to resolve California's budget crisis.  We take very seriously the warning from the nonpartisan Legislative Analyst's Office that the deficit has grown to $24 billion, and the admonition from the State Controller that California will quickly run out of cash to pay its bills if we don't act soon. 
While the choices we will be asked to make are difficult, Republicans are prepared to face head-on the great challenges confronting California.  We stand ready to work across party lines with Democrats and the Governor to make the tough decisions now to balance the budget, and craft the necessary reforms to get California working again.
While we are considering a range of strategies to close the state's deficit, Republicans stand opposed to any effort to raise taxes. 
Republicans know that higher taxes are a false choice that will hurt the economy, hurt working families, and do nothing to improve our budget picture.  Not only are taxes wrong, the people have clearly spoken against them as a budget option on May 19th. 
In rejecting the budget-related ballot measures, the people of California made it clear that they will not accept business as usual in Sacramento. Taxpayers are fed up with the Legislature continually asking them to pay higher taxes for the budget mess it created. 
It is our hope that Democrats take the judgment of the voters to heart and reject a budget strategy that includes any attempt to raise taxes.  This is a time when we must take responsible actions to reduce the size and cost of government.  We have made it clear that we will not support any budget plan with new taxes.   
Republicans are under no illusion that the choices we will make will be easy ones.  With the state facing a $24 billion deficit, lawmakers and the Governor have no alternative but to find significant budget savings – including tough cuts that will impact many Californians.  To be sure, we will work to establish reforms and find efficiencies that protect core programs like education and public safety, but it is inevitable that we will need to find savings in every area of the budget. 
Republicans believe that we must also take steps to make sure government operates more efficiently for the taxpayers it serves.  Eliminating duplicative programs and inefficient spending, finding places where we can contract out government programs to save money and passing reforms to help government run more effectively will help us address our state's ongoing budget problems both now and in the future. 
Californians want their elected officials to step up to the plate and work together to make the hard choices to get through the immediate crisis, and also pass the positive and substantive changes to get us on the right track in the long term.  Only by doing so will we truly solve the problems facing our state and begin to rebuild the people's trust in their government.
____________________________________________________ 
Senate Republican Leader Dennis Hollingsworth, is from Murrieta and represents the 36th State Senate District.  Assembly Republican Leader is from San Luis Obispo and represents the 33rd State Assembly District.
You can learn more about Senate Republican Leader Dennis Hollingsworth here.
You can learn more about Assembly Republican Leader Sam Blakeslee here.