Publisher, The FlashReport

Jon Fleischman
What They Are Saying
""The Flash Report is an effective way to get the word out to small business owners around the state and those who support them. In a time where there is so much media clutter, the Flash Report helps cut through the noise and make the Voice of Small Business heard."
- John Kabateck, Executive Director of the National Federation of Independent Business/California

More Testimonials
Send FlashReport to a Friend
Featured Column Library

« Return to Special Reports
STATUE OF RONALD REAGAN UNVEILED IN STATE CAPITOL
U.S. Representative Edward R. Royce
June 4, 2009

[Publisher's Note: We are pleased to present this original commentary from Republican U.S Representative Edward R. Royce who represents a portion of Orange County. In this column, Royce tells FlashReport readers about yesterday's ceremony in the United States Capitol unveiling the new statue of former President and Governor Ronald Reagan. Below the column is some video footage taken at the event - Flash]


If you are new to the FlashReport, please check out the
main site
and the acclaimed FlashReport
Weblog
on California politics.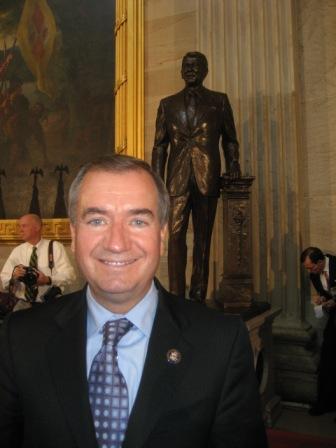 Ronald Reagan served as inspiration for an entire generation to get involved in politics. For those of us in the California delegation today is a truly special day, one that recognizes the historic contributions President Reagan made to our society. I along with many in the delegation attended today's Congressional Tribute commemorating the dedication of the statue of President Ronald Reagan in Washington, DC. The statue is now part of a collection throughout the United States Capitol, in which each state honors two historical figures.
I am an example of Reagan's inspiration, like so many of my colleagues in the House, and we probably would not be where we are today if it were not for him. I first met Ronald Reagan as a student in California. That experience led me to become involved in the Youth For Reagan movement. He was an inspiration for a whole generation, and his message of freedom, opportunity, and limited government motivated me and so many others to get involved in our community.
I am reminded of the parallels in history. In an era very similar to today, political pundits wrote the Republican Party off and cried about its destruction. But from the ashes of the 1976 election came the leadership of Reagan and the leadership of those inspired by him created new ideas. The result: one of the biggest landslides in the history of presidential elections.
After the inflation rates of the Carter Administration it took Reagan's focus to lead us back on the path of capitalism. Now, it seems that Obama is trying to undo that course. However, it isn't surprising how many people today are upset by the government takeover. After all, for every action there is a reaction and if you take away a man's freedom he'll fight to get it back.
Over the years, I was privileged to meet Reagan many more times. It was one of the most memorable meetings in 1986. I was visiting the White House as a State senator on the day that President Reagan ordered the bombing of Libya because of their open support for international terrorism. The President told me what a difficult decision it was, but how the future of our Nation and the safety of our citizens depended on firm action. President Reagan was never afraid to take a stand, never afraid to do what was right, even if it was not popular at the moment.
Throughout his career, Ronald Reagan was always helping America reach for her best. He inspired us with his spirit, with his optimism; and he led us with his commitment to principle and unwavering resolve.
It is only appropriate that we recognize Reagan's legacy with a statue in the U.S. Capitol. This statue will forever remind new generations of Americans that it was his ideas that set us on the path of destroying communism, that set us on the path of economic growth rates at five percent, that set us on the path of markets versus socialism. And from here on forward, this statue will stand as a constant reminder to the nation and the world how much our fortieth President and two-term Governor meant to California and our nation.
____________________________________________
Rep. Ed Royce (R-CA) is one of 24 signers of the letter sent to Governor Schwarzenegger and leaders of the California Legislature asking for the statue to be changed to Reagan. Royce is also a cosponsor of H.Con.Res. 101 providing for the acceptance of the statue from the people of California after the State Legislature voted to place the statue in the U.S. Capitol.
You can find out more about Rep. Royce and contact him via his Congressional website
here
.