Publisher, The FlashReport

Jon Fleischman
What They Are Saying
"I look forward to reading the FlashReport every morning and strongly recommend it to everyone who wants to stay on top of what's going on in Sacramento and in their local government as well."
- State Senator Mimi Walters

More Testimonials
Send FlashReport to a Friend
Featured Column Library

« Return to Special Reports
CUT JUDICIAL BUREAUCRACY BEFORE SHUTTING COURTHOUSES
By Sacramento Superior Court Judge Maryanne Gilliard and Sacramento Superior Court Judge Steve White
July 30, 2009
[Pu

blisher's Note:  As part of an ongoing effort to bring original, thoughtful commentary to you here at the FlashReport, I am pleased to present this column from
Sacramento Superior Court Judge Maryanne Gilliard and Sacramento Superior Court Judge Steve White
- Flash]



If you are new to the FlashReport, please check out the

main site

and the acclaimed FlashReport

Weblog on California politics.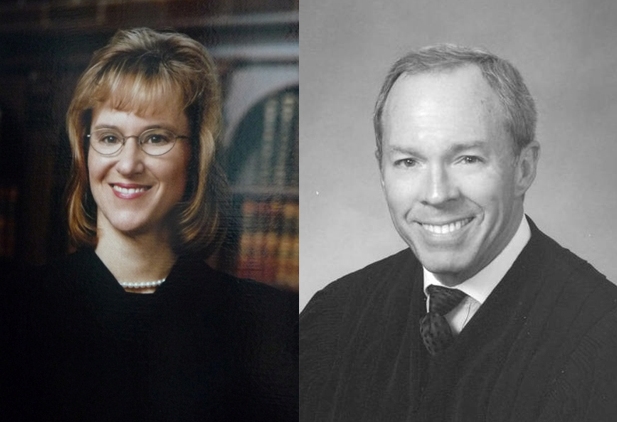 The state budget crisis demands that every branch, agency and department of state government reduce costs and expenditures.  California's Superior Courts understand this and are ready to do our part.

Superior Court Judges in California are constitutional officers of the state, independently elected by the voters in each county. Judges in each county elect a presiding judge for their court. The Judicial Council is the state policy-making body for the courts.  Its 21 voting members are comprised of the Chief Justice and 14 hand-picked appointees of the Chief Justice, along with four appointees for the State Bar and two of the Legislature. Under the Judicial Council is a little known state bureaucracy sitting in San Francisco, the Administrative Office of the Court, or AOC. 

Recently, the AOC devised a plan to close every County Courthouse on the 3rd Wednesday of every month.  Sadly, this unwise and unnecessary plan has been rubber stamped by the Judicial Council.

While closing down some agencies of state government on one Wednesday a month would have little or no impact on the public, our county courthouses are different.   Closing courts means trials halted and justice delayed for neglected and abused children, crime victims, and the accused. It means jurors, even those in the midst of deliberations, being sent home for an unwanted day off.  It means persons seeking relief in civil matters, already forced to wait years to have their day in court, must wait even longer.

There are other options and other ways to save money in our court system. But the state court bureaucracy chooses bureaucratic self-preservation over the needs of the public.  It is astounding that California's citizens would be deprived of access to their courts without a top down review to determine if budget savings could be achieved elsewhere. 

The first place to start should be the AOC itself.  In 2003/2004 the AOC had 490 employees.  Today, it has ballooned to over 900 employees, over one-third making more than $100,000 per year. The organizational chart of the AOC shows 51 different programs or departments.  Most of the AOC's employees seem to work in San Francisco, one of the most expensive cities in America when it comes to office space, parking, etc.   And the AOC seems oblivious to the current fiscal crisis. Recently they spent $82,000 on dinners, hotel suites, and a conference "facilitator" at a San Francisco conference to discuss the financial shortfall facing the courts.  One Judicial Council member was fortunate enough to stay in the Presidential Suite. 

Another way to save money would be to scrap completion of the ill-conceived billion dollars plus statewide court computer system. This system, with its server located in Arizona, is notorious for breakdowns and for being out of date even before being installed.  While the AOC is preparing to sink hundreds of millions more into this failed system, a better plan would be to drop it now and cut our losses.

Millions of dollars sitting in the new Courthouse Construction Trust Account could also be used to keep the doors of our existing courthouses open during the current fiscal crisis.

When a group of Judges from the Superior Court in Sacramento pointed out these and other options for saving money, we were met with outright hostility from the AOC. 

Instead of considering our ideas, the AOC's staff drafted trailer bill language to do away with the local court election of presiding judges and give the Judicial Council the power to appoint the presiding judge in all 58 counties.  When caught red-handed, they first denied the language was theirs and blamed the Department of Finance. When Finance disputed their claim, they changed their story and blamed their own staff.  Recently, the AOC even adopted rules giving the Judicial Council the authority to name and rename county courthouses.

Reform should start with an independent, outside audit of state court operations, as recently called for by the Sacramento Bee.  The Judicial Council should also be restructured to better represent the voice and concerns of the elected Superior Court Judges in California, rather than the Chief Justice alone.

California's Judiciary should be held to the highest of standards.  At a minimum the entire Judiciary and its support staff should stand united in working to preserve the public's access to their courts, even if that means bureaucrats, computer projects, lavish conferences and new buildings are eliminated.

_______________________________________________________________________

Maryanne Gilliard and Steve White are both Sacramento County Superior Court Judges.  You can write to them, via the FR, here.