Publisher, The FlashReport

Jon Fleischman
What They Are Saying
"My mornings begin with two indispensible starters: a cup of coffee and the Flash Report."
- Ken Khachigian, Senior Advisor and Chief Speechwriter for former President Ronald Reagan

More Testimonials
Send FlashReport to a Friend
Featured Column Library

« Return to Special Reports
FR'S 2009 TOP TWENTY BILLS THE GOVERNOR SHOULD VETO
Senator Mimi Walters, Assemblyman Chuck DeVore, and FR Publisher Jon Fleischman
September 18, 2009

Introduction from FR Publisher Jon Fleischman
Unfortunately for the people of California, the State Legislature is dominated by liberal Democrats.  because of it, there were hundreds of bills passed by the legislature, by and large over the objection of Republicans, that are on the Governor's desk.  In an effort to allow readers of the FlashReport to really get a handle on how well Governor Schwarzenegger is wielding his veto pen over the coming weeks, the FlashReport asked two of Sacramento's most well-respected Republican legislators, State Senator Mimi Walters and Assemblyman Chuck DeVore, if they would help us to compile the FlashReport "20 Worst of the Worst."  These bills represent the most egregious attempts by the Democrats to restrict the freedom and liberty of Californians, and grow the size and scope of state government. 

Needless to say, this list is hardly comprehensive, and there were a great many pieces of legislation that were considered for inclusion, but eventually we had to limit it to twenty.

For my part, I did want to highlight a few bills that didn't make the final list, but really should get the ax from the Governor.  These would include: AB 1422, which increases taxes to obtain federal funds for welfare (

PubNote: Apparently we're too late, the Gov. signed this tax increase into law!

NEW UPDATE: It's apparently NOT yet signed.), AB 436 & SB 34 which both make it more difficult to quality ballot measures, and AB 64 making the purchasing of renewable energy more expensive.

Without any further delay, I present our Top Twenty Bills To Veto...


-- Jon Fleischman, Publisher
THE FLASHREPORT 2009

TOP TWENTY WORST BILLS WORTHY OF THE GOVERNOR'S VETO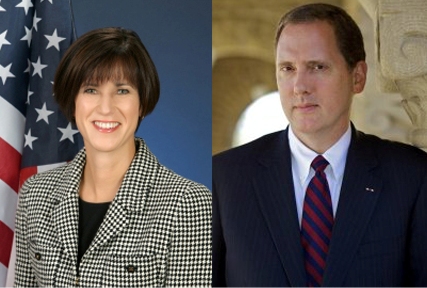 As compiled by Senator Mimi Walters and Assemblyman Chuck DeVore
(with some assistance from FR Publisher Jon Fleischman)
We will be keeping the list below updated as the Governor takes action on each of them!

After he has acted on all of these bills, we'll be handing out a grade!  If he vetoes 90% or more, the Governor gets an "A", 80% - 89% a "B", 70 - 79% a "A", 60 - 69% a "D" and below that, an "F" -- so here's hoping for an "A+" from the Governor... 

This year's legislative session has been dominated, by and large, with the issues surrounding the state budget, and the fiscal crisis caused by having billions more in authorized spending than could be matched by projected revenues.  FlashReport readers saw a flawed budget "deal" enacted in February that resulted in over $16 billion in higher sales, income and car taxes -- the passage of which exactly the opposite of what the legislature needed to be doing to spur on economic growth in this state.

Just a few months later, again the budget was the major issue, but in the June "deal" that was enacted, as a result of Republicans standing together against tax increases, we finally saw some reforms that saw a reduction in the size of state government.  FR readers should maintain their vigilance, however.  These cuts were enacted not because of a sea-change of opinion by the majority party in the State Capitol -- but rather due to the fact that the state literally ran out of money, and unlike in Washington, D.C., state government cannot just print more of it.

Lost by many in the noise of the two high-profile budget deals during this  legislative session is the fact that the better part of a thousand pieces of legislation that only required a simple majority to pass now sit on the Governor's desk awaiting his signature or veto.

Like every other legislative session, there are many bills that attempt to grow the size of government, get government more involved in almost every aspect of your life or roll back reforms that have proven effective.

We have compiled a list of 20 of the most egregious
pieces of legislation.

 

We would encourage everyone to contact the Governor concerning these pieces of legislation urging the Governor to veto these bad bills.

 



We will keep track of the status of the bills and report back to you which of them were veto and which were signed into law.





For convenience, we have broken down the bad bills into six different categories…

TAXES

Assembly Bill 267 (Torlakson)
Allows neighboring educational districts to band together into so-called Educational Finance Districts (EFDs) to create a new kind of taxing entity. This bill is part of a Democrat effort to both widen the area in which taxes may be collected and to lower the 2/3 threshold to raise taxes.

Assembly Bill 286 (Salas)
Extends the sunset date from January 1, 2010 to January 1, 2018 allowing some  counties to impose a $1 annual vehicle registration fee (additional $2 on commercial vehicles) -- without a vote of the people per Proposition 218 -- for the purpose of funding programs that enhance the deterrence, investigation, and prosecution of vehicle theft crimes in local communities.

Assembly Bill 1087 (Ma)
Makes it easier for retailers to charge sales tax on shipping costs.  
Senate Bill 83 (Hancock)
Authorizes a countywide transportation planning agency to place a majority vote ballot measure before the voters authorizing the imposition of an annual fee of up to $10 for every vehicle registered in the county for the purpose of funding congestion management and pollution mitigation programs. Another example of Democrat efforts to make it easier to tax Californians.

Senate Bill 406 (DeSaulnier)
Authorizes regions to increase vehicle registration fees by $1 or $2 to pay for regional land use planning activities.  Depending how many jurisdictions impose this cost upon vehicle owners, Californian's could pay nearly $62 million more in fees each year.
ECONOMY
Assembly Bill 2 (De La Torre)
Requires a health care service plan or health insurer to prove that an applicant "intentionally" (rather than "willfully") misrepresented or omitted key information on the health coverage application before canceling or rescinding an individual plan contract or insurance policy.  This makes it practically impossible for a health plan or insurer to lawfully cancel or rescind contracts or policies even when the applicant lied about their health history.  This will make insurance premiums to rise and force honest applicants to subsidize the premiums paid by dishonest applicants in the already expensive individual health insurance market.

Assembly Bill 3 (V. M. Perez)
Requires that the California Workforce Investment Board establish a Renewable Energy Workforce Readiness Initiative by January 1, 2011, to boost so-called green collar jobs. This bill is predicated on the belief that the jobs destroyed by California's AB 32 will be replaced by so-called "green jobs" in industries that do not yet exist.

Assembly Bill 513 (De León)
This bill requires health insurance plans to cover "lactation consultants" for new mothers, which raises the question of whether such consultants exist or fill a significant need. In any case, this bill is another example of legislative micro-management of private health care and will cause an increase in health care premiums in California.

Assembly Bill 527 (Fuentes)
Provides that if the Labor Commissioner in an unpaid wage dispute finds there are any falsified payroll records submitted for any pay period relating to any claim or complaint brought pursuant to the commissioner's authority, all payroll records relating to that claim or complaint must be presumed false. If some records are erroneous, all assumed to be falsified.  Another reason for business to feel unwelcome in California.

Assembly Bill 943 (Mendoza)
Forbids an employer from obtaining a consumer credit report for "employment purposes" with narrow exceptions.  Consumer credit reports can be a useful tool for prospective employers to screen employees for their reliability.

Assembly Bill 1366 (Feuer)
Attempts to solve water quality salinity problems on the backs of residential users of water softeners in selected areas of the State.  Gives local agencies the right to ban residential self-generating water softeners and to allow the removal of existing residential water softeners if a regional water quality control board makes a finding that the control of residential salinity will improve water quality objectives. This measure ignores the fact that California's increasingly stringent water use restrictions undoubtedly increase salinity level in waste water by reducing the overall amount of water while keeping waste levels constant.
 
Senate Bill 242 (Yee)
Makes it a violation of the Unruh Civil Rights Act to limit or prohibit the use of any language in a business establishment, unless there is a business necessity for the restriction.  This bill will result in unreasonable and significant new liability exposure and unnecessary lawsuits against businesses with a minimum penalty of $4,000, even if the violation was unintentional.

ENERGY

Assembly Bill 1404 (De León)
Establishes burdensome restrictions and conditions upon the use of greenhouse gas emissions offsets that may be used by entities for compliance with the California Global Warming Solutions Act. This bill restricts the ability of businesses to choose the most economically prudent offsets and prevents competition from providing lower costs by creating incentives for California offsets, but making it more difficult to use offsets originating elsewhere.

Senate Bill 14 (Simitian)
Increases the existing Renewable Portfolio Standard (RPS) purchasing mandate for electricity suppliers from 20% by 2010, to 33% by 2020.  Severely restricts the ability of utilities to purchase out-of-state renewable energy in order to satisfy their RPS mandate.  Will increase electricity costs by 30% in a state where electricity costs for manufacturer are already 45% above the national average.

SB 279 (Hancock)
Expands the use of Mello-Roos taxes for the purpose of financing renewable energy and energy efficiency improvements on private property. SB 279 continues the recent trend of efforts to expand Mello-Roos taxes to pay for projects (in this case solar) outside the original intent of the Act. 

EDUCATION

Senate Bill 572 (Leno)
Requires the Governor to annually declare May 22nd as Harvey Milk Day, and encourages schools to set apart that day as a day of special significance and conduct commemorative exercises remembering the life of Harvey Milk. Incidentally, Milk's murder had no relation to anything but a workplace disagreement.  This legislation, if itpasses, would be tantamount to declaring a special holiday for people based on their sexual orientation -- which is not a proper role for state government.

PUBLIC SAFETY
Senate Bill 3X 18 (Ducheny)

Summaries of the worst part of the prison-break bill are as follows:

Increases early release credits for most inmates, allowing them to earn four months off their sentences each year for successful completion of "performance objectives" in specified rehabilitation programs.

Increases the credits earned by inmates while they are incarcerated in county jails awaiting transfer to state prison. Under current law, an inmate may only earn 1/3 credits for any time spent in county jail.  Most prison inmates may earn 50% credits in state prison.  This bill provides that inmates may earn 50% credits in county jail for time after they were sentenced to state prison.

The bill makes it more difficult to return a felon back to prison for a parole violation.
Assembly Bill 962 (De León)
Requires all handgun ammunition sales to be made in face-to-face transactions (banning ammo sales by mail); requires handgun ammunition to not be accessible to purchasers without assistance from the store employees (hurting small stores in mostly rural California locations); requires handgun ammunition purchasers to provide specified documentation; and imposes other regulatory requirements on sellers of handgun ammunition.

Assembly Bill 1053 (Solario)
Provides for a 90-120 day early release of Division of Juvenile Justice wards who will be released from division custody because they will reach either the maximum custody time or the jurisdictional age limit (either age 21 or 25, depending on the offense). While this measure is intended to provide a "parole period" for such offenders, wards who age or max out of Division of Juvenile Justice may not be revoked for violations and it is unclear what benefit this will create.

SCOPE OF GOVERNMENT
Assembly Bill 606 (Ma)
Creates the California Blueberry Commission.  While it is true that a myriad of other similar commission exist in the agricultural area, we believe that having fewer state boards and commissions should be our goal.  This bill is being advocated by the California Blueberry Association, which would like to be able to use the power of the state to coerce fees from growers.  We say that if the Association provides needed services, they can collect those monies through dues.
_________________________
We will be updating this column regularly as the Governor takes action on these terrible pieces of legislation.  We are hoping that the Governor will get a perfect score of twenty out of twenty.

If you would like to urge the Governor to veto any or all of these bills, you can contact his office via the internet here.
Sincerely,



State Senator Mimi Walters




State Assemblyman Chuck DeVore




FlashReport Publisher Jon Fleischman