Publisher, The FlashReport

Jon Fleischman
What They Are Saying
"I recommend the Flashreport to anyone who has an opinion but is uninformed."
- Anne Dunsmore, Capital Campaigns, prominent political fundraiser

More Testimonials
Send FlashReport to a Friend
Special Reports

« Return to Special Reports
FR'S EXCLUSIVE Q & A WITH STATE SENATOR TOM MCCLINTOCK
Interview conducted by FlashReport Publisher Jon Fleischman
February 9, 2007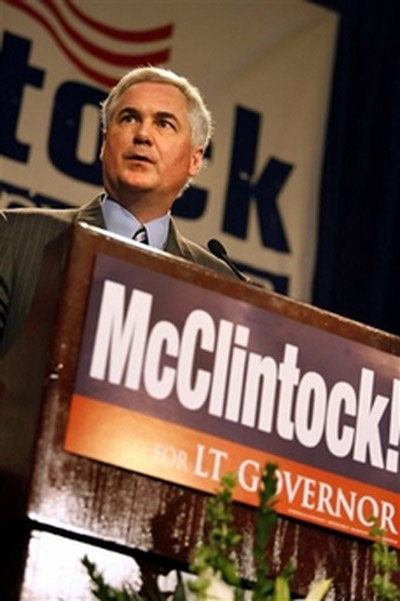 State Senator Tom McClintock is the most recognized and popular conservative leader in California today.  At the close of his 2006 campaign for Lt. Governor, more than 80 percent of California's public had heard of him and viewed him favorably by a three-to-one margin.  He has received the support of more than 44,000 individual contributors and an additional 35,000 volunteers – constituting one of the broadest political followings in California.  Through Citizens for the California Republic, Tom has a vehicle to amplify and broadcast McClintock's commentaries and proposals to an awakening constituency throughout California.  
The following is my conversation with Sen.  McClintock as he prepared to unveil CFCR at the GOP State Convention this weekend in Sacramento. 
Flash:
You recently announced the formation of a new committee, Citizens for the California Republic. What is the role of this new organization?
TM:
The purpose is providing the 75,000 citizen politicians who supported me in recent elections with a steady stream of information and practical suggestions to enable every one of us to make our voices heard.  CFCR's mission is to expand, mobilize, inform, focus and animate this dedicated activist base to influence the public policy debate.  CFCR's large base of supporters gives it a considerable head-start to develop ballot initiatives.
Flash:
What motivated you to start the Citizens for the California Republic?
TM:
I founded Citizens for the California Republic (CFCR) to continue the fight to restore the fundamental American principle of freedom in California's political debate.  Like you, I have been watching the disastrous turn to the Left that is now taking place in Sacramento – and like you, I don't intend to sit idly by.  Spending is growing faster and the deficit is growing bigger than under Gray Davis.  The Governor who promised to "cut up the credit cards" has doubled our debt burden in just three years.  And 72 hours after he took the oath of office, the Governor who promised never to raise taxes proposed the second biggest tax increase in California's history to provide free health insurance to illegal aliens.
Flash:
What types of projects or issues do you hope to champion through the new committee?
TM:
Our first project is completed:  a new web site at CAREPUBLIC.COM, which will include a daily blog, legislative alerts and an action center to make it easy for you to hold our politicians accountable for their actions.  I expect in the next several weeks to roll out our first policy initiative – a right to vote on all tax increases.
Flash:
What are some of the issues you will be highlighting in your blog?
TM:
Policy and politics, the issues that affect the lives of Californians.  People have heard me speak on talk radio shows; this gives them an opportunity to hear from me regularly.   Recently, I blogged about California's fiscal condition, the state budget, the Hetch Hetchy Dam, government accountability, crime, and transportation issues.
Flash:
Will your committee play an active role in future ballot propositions and initiatives?
TM:
Among the most important tools for citizen activism in California are the initiative, referendum and recall. CFCR begins with a broad and active base of support, highly visible and respected leadership, and an expert political team – a combination that gives it tremendous potential in this arena.  CFCR anticipates active involvement in an initiative drive this year, involving tax limitation, property rights or illegal immigration reform, fully engaging its volunteer and donor resources.
Flash:
But you are not limited to initiatives, how active will you be helping other candidates?
TM:
CFCR intends to play a significant role in encouraging and training articulate candidates and spokespeople who can move that discussion back toward fundamental American principles of individual responsibility, limited government, free markets and natural human rights.
Flash:
How can people join Citizens for the California Republic?
TM:
Visit the web site at
CAREPUBLIC.COM
to become a member of the team, to join the discussion, or to contribute.  
McClintock's commentaries on California public policy have appeared in every major newspaper in California and he is a frequent guest on radio and television broadcasts across the nation. Numerous taxpayer associations have honored him for his leadership on state budget issues.