Publisher, The FlashReport

Jon Fleischman
What They Are Saying
"Jon Fleischman understands politics better than a journalist, has more perspective than a politico, and works harder to stay plugged in than a pundit. His FlashReport is the fastest, smartest, and best way to stay informed on what's really going on in California politics."
- Dan Schnur, Veteran campaign strategist and communications consulant.

More Testimonials
Send FlashReport to a Friend
Special Reports

« Return to Special Reports
2002 OC RETROACTIVE PENSION SPIKE APPEARS UNCONSTITUTIONAL
A column prepared especially for the FlashReport by Orange County Supervisor John Moorlach.
July 21, 2007
[Publisher's Note: We are pleased to present this original commentary from Orange County Supervisor John Moorlach. Yesterday we attending a briefing that he gave where he outlined the case for why a retroactive increase to members of the Association of Orange County Deputy Sheriffs violated the California State Constitution - Flash]
If you are new to the FlashReport, please check out the main site and the acclaimed FlashReport Weblog on California politics.

**For more information, you can go to the Red County/OC Blog site, and specifically to see a memo from Moorlach to his colleagues and view an extensive powerpoint presentation, go here.**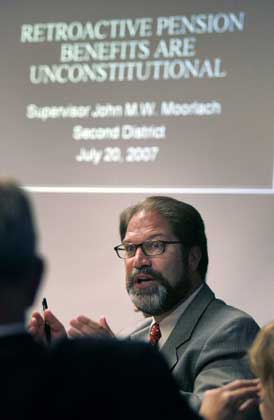 Let's say that your employee starts working for you at age 25. You provide a starting salary of $54,000 per year and promise that when he/she retires in 25 years that you will pay him/her 50 percent of their last year's salary for the rest of their life, plus an annual 3 percent cost of living adjustment. This formula is known in the public sector as "2 percent at 50."
In order to pre-fund this obligation, you need to hire an actuary and a money manager.
The actuary tells you that your 25 year old employee is expected to live to age 80.
Your money manager tells you that you can expect a net annual rate of return on your investments of 7.75 percent and that you should make the annual contribution on the first day of each year during the period of employment.
Your business plan tells you that your employee should average an annual raise of 4 percent per year over the 25 year period that he/she will be with your company.
Believe it or not, his/her salary will be $143,955 at the time of retirement. The annual benefit in year 26 will be $71,978, which increases by 3 percent per year for the next 30 years.
Your actuary will tell you to contribute 17.284 percent of the annual salary at the beginning of the year. The first year's contribution will be $9,333. By the 25th year the annual contribution will be $24,881. The funds available at retirement in the retirement trust will be $1,124,038, which will last until the former employee reaches age 80. At age 80 the annual benefit will be some $169,620.
The power of compounded interest is one of the marvels of investing. You will have made your annual salary and pension plan contribution commitments and your employee will enjoy lifetime benefits until his/her anticipated age of demise. If the employee dies before age 80 you have an actuarial gain. If the former employee lives well past age 80, which is probable with advances in medical science, you will have an actuarial loss. Consequently, you'll need to check in with your actuary from time to time to see if the anticipated life expectancy has increased and adjust your contributions upward accordingly.
Other issues could occur. What if the investments don't earn 7.75 percent per year? If they are higher, then your annual contributions will decrease. If you earn less, then your contributions will increase in order to catch you up to the financial target where you should be. In technical terms, the difference between where you should be in your funding level, as a result of contributions and net investment earnings, is the unfunded actuarial accrued liability (UAAL).
What if the retirement formula is changed during the term of employment? It is unlikely that the formula will decrease the expected benefit, as pension plans tend to be a vested right. If it increases, then you will have an unfunded actuarial accrued liability that will require increased funding. If you increase the benefit and make it retroactive, then you will have a significant UAAL to deal with.
Let's say that the benefit is increased, retroactively, to "3 percent at 50" when the employee is near retirement age. Well, the new benefit at age 51 jumps from $71,978 to $107,966 (a 50 percent increase). If the funding level is not changed, instead of ending with zero funds at the 80th year of life, the funds would dry up at age 65. In year 66 someone would have to come up with $168,208 from somewhere to pay that year's benefit. To fund the extra 15 years, someone would have to fund $561,500 in the 26th year! This is approximately half of what you have earned over 25 years of methodical contributions and investments. Now you can appreciate why municipal employers are reeling from recent retroactive retirement benefit enhancements.
But wait! How can a governing body give such a rich benefit, creating such a large debt, for services they already rendered? If you believe in following the Constitution of the State of California, you can't!
Article XVI, Section 18 states that if you want the taxpayers to absorb a debt, you had better get a two-thirds approval from them.
Article XVI, Section 6 states that elected officials "have no power to make any gift or authorize the making of any gift of public money to any individual." And "Lamb v. Board of County Peace Officers Retirement Commission of Los Angeles County" states that "a pension is a gratuity when it is granted for services previously rendered."
And Article XI, Section 10 specifically states that "a local government body may not grant extra compensation or extra allowance to a public employee after service has been rendered."
Numerous elected officials have been approving illegal benefits ever since Governor Davis signed "3% at 50" and retroactivity into law. Even though "3% at 50" is extravagant, I have no quibble with that. But, going from "2% at 50" to "3% at 50" overnight and gifting the extra one percent back to the date of hire is unconscionable. It's also unconstitutional. That's why my office is supporting legal action to rescind this burden on the taxpayers and returning the County to some semblance of fiscal responsibility.

________________________________



John Moorlach is an elected Supervisor in Orange County, California. Prior to that he served as the county's elected Treasurer for many years.