Kathy Tavoularis passed along this message last night…
It is with an incredibly heavy heart and with great sadness to report that Thomas A. Fuentes passed away peacefully at 11:55 p.m. on Friday, May 18, 2012 at his home in Lake Forest, California.
Tom is survived by his wife Jolene, daughter Michelle and sons Tj and Joey.
As many of you know, Tom had a successful liver transplant years ago. Unfortunately, late last year cancer returned to his new liver and spread to his lungs and lymphatic system and eventually invaded the bronchial tubes of the lungs.
The Funeral Service and Reception for Family and Friends is being arranged. I will send you exact locations and times as soon as possible.
The family asks for your prayers for Tom. Per their request, please do not call or email them at this time.
For those who prefer to send a donation Tom wished to designate the Carmelites Sisters of Alhambra and the Norbertines at St. Michael's Abbey as the recipients of donations in his memory.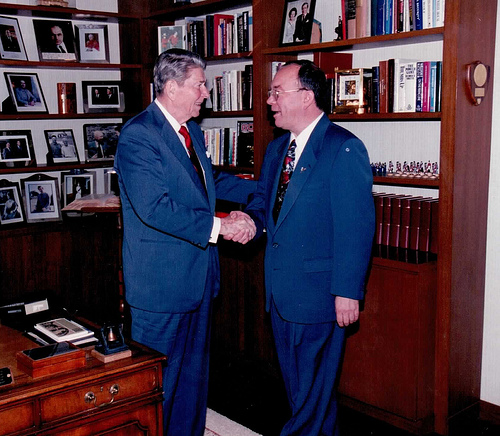 1. Carmelite Sisters of the Most Sacred Heart of Los Angeles, Attn: Advancement Office, 920 E. Alhambra Road, Alhambra, CA 91801-
2. St. Michael's Abbey of the Norbetine Fathers, 19292 El Toro Road, Silverado, CA 92676-9710
If you also would like to send flowers to the service, I will have that information in the upcoming email with more details.
On a personal note, I worked for Tom for 10 ½ years and below is a 'political bio' he and I wrote a few years back for you to reflect upon.
THOMAS A. FUENTES REPUBLICAN VOLUNTEER
Thomas A. Fuentes walked his first precinct as a Republican volunteer in 1960, at age 12, for the re-election campaign of Republican United States Congressman Gordon L. McDonough of California and for Richard M. Nixon for President.
As a student attending Transfiguration Catholic School in Los Angeles, Fuentes met fellow parishioner Congressman McDonough. He rode in the congressional campaign's sound truck, speaking on the public address system, and distributed the congressman's brochures door to door.
In 1962, along with his family, he moved to Orange County in time to work in the Nixon for Governor campaign as a member of the Southwest Orange County Teen Age Republican Club of which he became president and in which he was active during his four years at Bolsa Grande High School in Garden Grove.
He came to know local Republican Party leader Walter Knott, the founder of Knott's Berry Farm, who hosted Republican volunteer efforts at his amusement park offices. In 1964, he volunteered for the Barry Goldwater for President and George Murphy for Unites States Senate campaign. In 1966, he campaigned for Ronald Reagan for Governor of California. He worked in the Nixon for President campaign of 1968 as an Orange County Republican Party volunteer.
He was President of the College Republicans at Santa Ana College and was twice elected Student Body President while obtaining his Associates in Arts Degree in Journalism in 1968. He also served as College Republican Club President at Chapman College where he received his Bachelor of Arts degree in Government in 1970.
He worked his way through college managing a hotel near Disneyland. Just before graduating from college, he joined the Ronald W. Caspers for Supervisor campaign as its director, winning an upset victory in the June, 1970 Primary Election. He served as Supervisor-elect Caspers as the Special Assistant to the Chairman of the Board of Keystone Savings & Loan Association. Upon taking office in 1971, Supervisor Caspers appointed him as an Executive Assistant, and he eventually became the supervisor's Chief of Staff. First appointed to a vacancy and then elected in 1972, he was the youngest individual to sit on the Republican Central Committee of Orange County. He served as Treasurer of the county party when George Delahanty was Chairman.
He walked precincts, raised funds, and campaigned for Republican candidates as a member of the Orange County Young Republicans.
In 1974, he resigned his seat on the Republican Central Committee of Orange County to enter St. Patrick's Seminary in Menlo Park, California, to study for the Roman Catholic Priesthood.
Returning to Orange County he joined a local civil engineering firm and returned to active participation in the county party. He was elected Second Vice Chairman and then First Vice Chairman when Lois Lundberg was Chairman of the county party. He was first elected Chairman of the county party in 1985 and was re-elected unanimously each term until his retirement in April, 2004 – a record twenty years.
He served as a Member of the State Central Committee and of the Executive Committee of the California Republican Party. He was a California Delegate to the Republican National Convention for George H.W. Bush in Houston, Texas in 1992, and an Alternate Delegate to the G.O.P. National Convention for Bob Dole in San Diego in 1996.
He has personally known every Republican Presidential Nominee since 1960; Richard Nixon, Barry Goldwater, Gerald Ford, Ronald Reagan, George Bush, Bob Dole, George W. Bush and John McCain.
During his tenure as Chairman of the Republican Party of Orange County, the G.O.P. achieved a never-seen-again voter registration margin of more than 200,000 more registered Republicans than Democrats in Orange County and twice during his tenure captured all seven Orange County seats in the California Assembly, all four Orange County seats in the California State Senate, and all six Congressional seats were also held by Republicans. Likewise, during his chairmanship Republicans occupied virtually all county- wide non-partisan offices of the County of Orange, including all five seats of the Board of Supervisors.
To recognize volunteer efforts for the party, he established such awards as the annual Republican Party of Orange County Lee Atwater Award, the Volunteer of the Month and the Volunteer of the Year Awards, the Legislator of the Year Award, the Local Elected Official of the Year Award, the Lifetime of Service Award and the Chairman's Award.
As the principal fund raiser for the County Party, he achieved a financially solvent treasury each year of his chairmanship. And, working closely with the California Republican Party, the county party met State Party goals for voter registration and election day results during his tenure. President Ronald Reagan appointed him to the California Appeal Board of the United States Selective Service System.
During the Bush Administration, he was appointed to the Boards of Directors of three savings and loans institutions by the Federal Home Loan Bank of Washington, D.C. While Chairman, he traveled and spoke for the International Republican Institute of Washington, D.C. He lectured on political party building and democracy in Nicaragua, Columbia and Korea.
For his efforts to foster new democracy internationally, he received the Order of Fulencio Vega of the City of Managua from the Mayor, Honorable Dr. Arnoldo Aleman, who later served as President of Nicaragua.
He served as Senior Vice President of TAIT & Associates, Inc., a professional civic engineering, surveying and environmental firm. He is a former Member of the Board of Directors of Fleetwood Enterprises, Inc., the nation's largest housing and recreational vehicle company. He served as a Member of the Board of Directors of Eagle Publishing, Inc., owners of Regnery Books, the Conservative Book Club of America, Human Events, the national weekly conservative newspaper, and the Evans Novak Report. He served as a Senior Fellow on the Board of Directors of the Claremont Institute, the premiere conservative think tank in the Western United States.