A few months ago Steve Baric announced his candidacy for the open 73rd Assembly District in South Orange County.  The popular Rancho Santa Margarita City Councilman and former Vice Chairman of the California Republican Party made a big splash, coming out of the gate with prominent endorsements from his former boss, District Attorney Tony Rackauckas, and Sheriff Sandra Hutchens.  In a five way GOP donnybrook in a seat destined to elect a Republican as a "red" seat, Baric ended the June 30th fundraising period with the most cash in the bank.  While his victory was far from assured, Baric's odds of going to Sacramento, in my opinion, were the greatest of any other candidate in the field.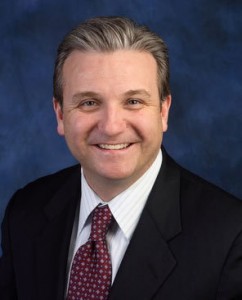 Steve Baric has dropped out of the race.
While he made this decision a few weeks ago, it has taken some time for him to appropriately inform all of the people who got out early for him with donations, endorsements and financial contributions.  As his good friend, and someone who had endorsed his candidacy, I was not prepared to write about it here until he gave me the green light.
So I'm sure you're wondering why Steve is no longer running for the legislature.  You can be sure that when Steve sat me down to tell me about his decision, I was all ears.
"I entered the race for the Assembly because I felt that with my particular skill-set I could best serve the public in the state legislature," Steve told me.  "But over the past few months, the part of my legal practice that provides representation to crime victims has substantially grown, and after some soul-searching, I realized that for now, it feels right to focus on this very important, and meaningful work.   The decision to leave the race for Assembly was not an easy one, but it is the right one for me."
Steve is a former gang prosecutor.  He is very passionate about doing what he can to help the victims of crime, and conveyed to me that at this point in his life, he realized that this was a higher calling for him.
To that point, Steve was recently appointed to Congressman Ed Royce's Anti-Human Trafficking Congressional Advisory Committee (HTCAC).  The HTCAC is comprised of victims' rights groups, local and federal law enforcement agencies, and community advocates who will meet on a monthly basis to address human trafficking concerns, as well as offer ideas that may translate into policy recommendations.
Steve certainly doesn't rule out a run for partisan office down the road, but now was just not the right time for him.
In bowing out of the Assembly race, Steve did not immediately announce support for another candidate in the race.  However he did make a general statement about the importance of a Republican holding the seat.
"The California legislature continues to be dominated by very liberal politicians who are intent on increase taxes, growing government, and enacting new laws that make California a less-safe place in which to live," Steve told me.  "I am committed to working hard to ensure that South Orange County continues to have a strong, principled conservative representing us in Sacramento."
Steve will continue to serve on the Rancho Santa Margarita City Council and on the Board of Directors of the California Republican Party.
This is a good time for me to add that I was very sad to have Steve inform me of this decision.  I felt very strongly that he would have been a tremendous addition to the Assembly Republican Caucus.  His decision, while the right one for him, comes at a price.
Of course, Steve's departure from the field of candidates in AD 73 means now the field has dropped to four candidates — Rancho Santa Margarita Councilman Jesse Petrilla, Dana Point Councilman Bill Brough, Capistrano Valley Unified School District Trustee Anna Bryson, and former Laguna Niguel Councilman Paul Glaab.  There is also a credible Democrat on the ballot as well, Wendy Gabriella, all but insuring that only one Republican advances to the November election.  It's too soon to be able to say who the long term beneficiary of Steve's departure will be — but you can be sure that all of the candidates will be courting the former candidate, and of course appealing to those who had been supporting him.
One thing is for certain — for those attending this weekend's California Republican Party Convention — if you are looking for the most relaxed guy at the event, it will be Baric.  Being a former candidate means the monkey is off of his back.