Last night, the Heritage Foundation and Franklin Center recognized Jon Fleischman with the 2014 Andrew Breitbart Blogger Award.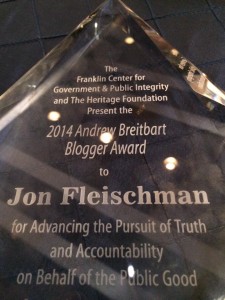 On behalf of our entire Flash Report team, I hope you'll join me in congratulating our esteemed publisher. It's been 13 years since Jon first "spammed" a few thousand friends with the first issue of the Flash Report. Since that first email, he's broken several major stories and been the go-to source for conservative commentary on California politics.
Jon was a close personal friend of Andrew Breitbart– so I know how much this award means to him, not just on a professional level, but as a personal tribute to Breitbart. Of course, that legacy continues on with Jon's work as Politics Editor at Breitbart California.
When Jon accepted his award, he quoted his friend. "Walk towards the fire, don't worry about what they call you," Jon quoted from Brietbart. "All of those things are said because they want to stop you in your tracks. But if you keep going, you're sending a message to people who are rooting for you, who are agreeing with you. The message is that they can do it."
Headlined by Fox News Channel's Greg Gutfield, the event, which was held at the Newseum in Washington, D.C., also included honors for Charlie Hurt, an editor of the Drudge Report and Washington Times and Breitbart News columnist, as well as Mark Nugent of Red Maryland.