The 2015 report on economic competitiveness between states is out, and it still doesn't look good for California. The Rich States, Poor States report by the American Legislative Exchange Council annually ranks states on economic competitiveness. For the 8th year in a row, Utah wins. And for the 8th year in a row, California ranks poorly on the economic freedom and competitiveness scale.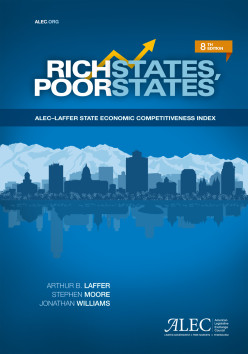 'Rich States' embrace free market reforms and cut taxes.
'Poor States' raise taxes on income, have high property taxes, are not right-to-work states, and kill job growth with these policies.
The highest-tax states of New York, Vermont, Minnesota, Connecticut, Michigan and California rank at the bottom of the 2015 Rich States, Poor States report.
The report found that millions of people migrated from the most highly taxed states to the low-tax states between 2003 and 2013.
California Improved… Or Not?
"While historically California always ranks low, 44th place is a three-spot improvement from last year," said Jonathan Williams, Vice President of the ALEC Center for State Fiscal Reform and co-author of Rich States, Poor States. In an interview, Williams said the three-spot improvement for California wasn't due to improving or good fiscal policy in California; it was due to "the tax happy folks in Connecticut, Minnesota, Vermont and New York raising taxes and putting worse policies into place."
While California ranks 44th for its economic competitiveness, up from 47 in 2014, Utah earned the top spot for states with the best economic outlook in 2015, followed by North Dakota, Indiana, North Carolina and Arizona.
"The big story this year is the bipartisan embrace of state tax cuts," said Williams. "States are increasingly realizing the need to become more competitive through fiscal responsibility and free market economic reforms. We anticipate 2015 will be a record year for pro-growth tax reform."
Thinking of Moving? These are the States To Watch
Williams said Indiana was a positive, free market success story, rising to number #3 after hovering in the mid-20's for years. Williams attributed this rise to Indiana adopting a right-to-work policy, and killing the state's death tax. "They really put themselves on solid footing going forward."
North Dakota moved up to number #2 from number #18 in 2008. With the explosion of oil exploration in the state, job growth in North Dakota has been phenomenal. "The economic opportunity is there," Williams said. "Guys with no education are moving there and making six-figures."
North Carolina has dramatically improved as well. "They enacted the most significant tax reform package of any of the states," Williams said. The state went from a progressive income tax to a flat tax.
Arizona made it into the top five for the first time. According to Williams, Arizona is starting out the new year positively by already cutting taxes during the 2015 legislative session. Williams said North Dakota and Arizona are likely the breakout states, with one or both possibly repealing state income tax in the near future.  "Arizona Governor Doug Ducey signed a really good budget," Williams said. Arizona had a high budget deficit, but Ducey is setting up tax cuts for next year.
As for Texas, Williams said the Lone Star State was number #11 this year, "but spent a little too much." According to Williams, Texas has high debt, despite being a no-income tax state. "They haven't been successful in reining in local government spending," which translates into very high property taxes.
The Rich States, Poor States ranking shows how important states with no income tax really are to economic prosperity and competitiveness. Williams said the ALEC study found low income tax states have 25 percent faster growth overall, making them a quarter larger in growth.
And, the states with no income tax growth showed 110 percent greater job growth, Williams said.
The Report
The 15 economic policy variables used by the authors to rank the economic outlook of states have shown over time to be among the most influential variables for state growth. The top ten and bottom ten states for 2015 are:
Overall Economic Outlook for 2015
Rich States, Poor States examines the latest trends in state economic growth. The data ranks the 2015 economic outlook of states using 15 equally weighted policy variables, including various tax rates, regulatory burdens and labor policies. The eighth edition examines the trends over the last few decades that help or hurt states' rankings, and states with low tax rates and right-to-work laws are more likely to have a better economic outlook.
Used by state lawmakers across America since 2008, Rich States, Poor States: ALEC-Laffer State Economic Competitiveness Index, is authored by economist Dr. Arthur B. Laffer, Heritage Foundation Chief Economist Stephen Moore and Jonathan Williams, Vice President of the Center for State Fiscal Reform at ALEC.