Carl's Jr. World Headquarters is leaving the Golden State for the Volunteer State. But the move has nothing to do with volunteerism, and everything to do with hospitality.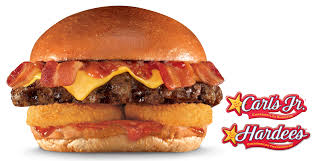 CKE Restaurants, Inc., the parent company of Carl's Jr. was founded in Anaheim 60 years ago. After several years of researching options, CKE Restaurants, Inc. is finally moving its California headquarters to Nashville, Tennessee, a state with no income tax, and a friendly business environment.
In March 2011, I met Andy Puzder, CEO of CKE Restaurants, Inc., the parent company of Carl's Jr., Green Burrito and Hardees restaurants, and author of Job Creation: How It Really Works and Why Government Doesn't Understand it.
Puzder addressed a group Assemblyman Dan Logue's monthly Economic Recovery Group lunch meetings. But at that time, Puzder was planning on moving the Carpenteria-based headquarters from California, to Texas.
"In 2011, Carl's Jr. had 700 restaurants in California, one-half of which were owned by CKE Restaurants, and the other one-half are franchises," I wrote. "The company has more than 72,000 employees total, 18,500 of which are in California."
The CKE system now includes more than 3,400 restaurant locations in 42 states and in 28 countries. CKE has 893 domestic restaurants and its franchisees operated 1,937 domestic and 462 international restaurants in the United States and 27 other countries.
And while Puzder made very clear in 2011 that Carl's Jr. would be "maintaining" status of their California restaurants, the company planned on opening 300 new restaurants in Texas. The message was 'No growth in California,' and lots of growth in other more business-friendly states.
"Describing CKE Restaurants as a  'job creation machine,' Puzder said that the company had more than $4 billion last year in revenues, and paid $60 million in California taxes," I wrote in 2011.
"Puzder said that every Carl's Jr. restaurant is a $1.4 million business, costs $1.2 million to build, and has 25 employees, and feeds a great deal of money into the local and state economy through other jobs that support the operations of a Carl's Jr. restaurant."
California v. Texas
But more than just the large, Texas-sized revenue and tax bills, new Carl's Jr. restaurants in Texas realized record opening-week sales figures, and much less upfront costs than the California restaurants.
"It costs us $250,000 more to build one California restaurant than in Texas," said Puzder. "And once it is opened, we're not allowed to run it." He discussed the difficult California permitting requirement process, and "oppressive environmental requirements."
"It takes eight months to two years to get permits to build a restaurant in California," said Puzder. "In Texas, it's one and one-half months."
In addition to no state income tax, Texas doesn't have the convoluted, oppressive wage and hour laws that California has. As Puzder has repeatedly pointed out in the ensuing five years, even the permitting process is a significant factor in growth prospects for certain states.
Puzder said in Los Angeles it takes 280 days to get a permit, and in San Francisco "we're not sure how many days it takes because it has been so long since anyone could open a restaurant there," a 2014 Yahoo Finance article reported. "These factors are crucial for new businesses because the property sits idle until permitting allows construction to begin, creating losses for every day there's a delay, according to Puzder."
Best and Worst States for Business
Chief Executive Magazine annually ranks the best and worst states for business. The 2015 ranking found Texas number #1 because it is pro-business in terms of low taxation, expedient licensing, business incentives, and quality workforce.
Tennessee ranked number #4 also because of low taxes, no state income tax, along with an educated workforce and low state taxes.
California ranked number #50 – again. Two California CEO's explained:
"California is the highest-taxed state in the nation, highest gas tax, 60-plus cents per gallon, which—combined with CARB regulations—makes delivery within the state extremely costly. Added to this is the disdain for any and all manufacturing as Sacramento wants this to be a Green State. Add to that a pension debt that is largely ignored but very real."
"California is a deeply troubled state with a problematic infrastructure and social issues. Businesses in the state are so highly regulated that most cannot afford to do business and elected officials do not have any business experience/understanding. Growing tensions between ethnic groups and haves/have nots will ultimately result in strife." 
"As for the difficulty in operating a restaurant once it has opened, Puzder described how California's restrictive overtime laws are a nightmare for food retail. Because California requires overtime to be paid after eight hours everyday, restaurant managers can't determine their own hours based on actual production needs, and instead must take mandatory breaks, and collect overtime, instead of being flexible and working when and where needed," I wrote. "Other states follow the federal overtime laws, and pay overtime after 40 hours in one week, allowing the Carl's Jr. managers to work more flexible schedules based on actual need."
Puzder said in 2011 that California is quashing the entrepreneurial spirit. "People are just dying to get out there and make money. But California is setting a bar here," said Puzder. "You can't work smarter, harder, longer or better."