Former Senator Isadore Hall, a Democrat who marched with the President of the United Farm Worker's labor union, and publicly declared his solidarity with the UFW campaign against the Gerawan Farming employees, has been appointed by Gov. Jerry Brown to the Agricultural Labor Relations Board. Hall's confirmation hearing is March 1.
After losing a race for Congress in November 2016, Hall has announced he will make another run in 2018… while he is on the ALRB?
Much Opposition to Hall's Appointment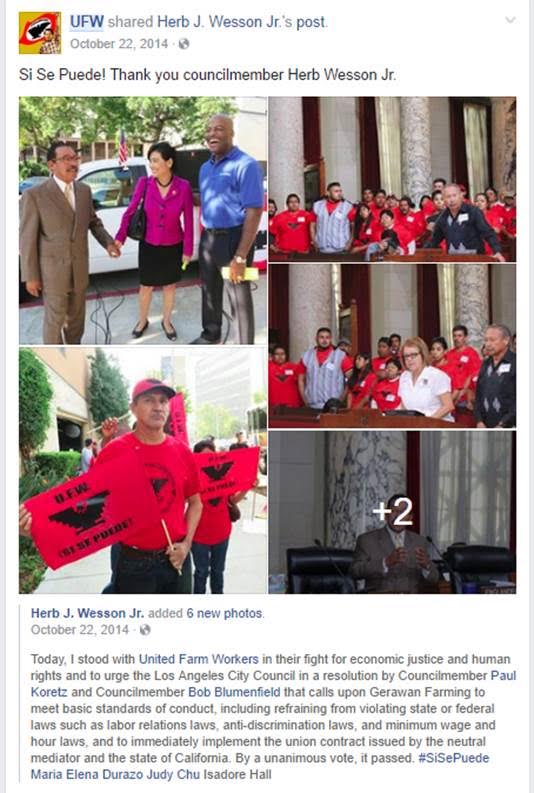 "The ALRB wields extraordinary powers over California's agricultural workers and growers," said Dan Gerawan in a letter addressed to the Senate Rules Committee Feb. 27. "This Board promulgates rules, prosecutes alleged violations, and sits as a tribunal to decide the guilt or innocence of agricultural employers across this state. No board member can wield this power where there is an appearance of bias. Senator Hall has, by his conduct, far exceeded the mere appearance of bias. Not only has he prejudged our company, but he has gone so far as to align himself with a union that has targeted us and our employees for its own gain."
Senator Hall, who can even be seen waving the UFW flag in front of the Los Angeles City Hall, demonstrates a blind adherence to the UFW's agenda. While Gerawan Farming and its employees still face dubious UFW-inspired charges before the ALRB, Hall's public denunciation of Gerawan Farming should render him unsuitable and unable to act with the neutrality and fairness required of a member of this agency, Dan Gerawan said.
Another Superior Court Case
Gerawan Farming recently asked the Sacramento Superior Court to order the Agricultural Labor Relations Board to disclose documents relating to "whistleblower" allegations. The ALRB's former lead prosecutor, Sylvia Torres Guillén, systematically suppressed dissent and punished career ALRB staff members for protesting the agency's "biased, pro-union," prosecution of Gerawan and its employees, according to a statement from Gerawan's attorney David Schwarz. Gerawan made this request following the public revelation of these charges in a retaliation lawsuit filed against the ALRB by a senior ALRB field investigator.
The case, Pauline Alvarez v. Agricultural Labor Relations Board alleges that Ms. Alvarez, a 30-year employee of the ALRB, and other field examiners were directed by Ms. Torres-Guillén "to dredge up witnesses that would assist the UFW's position" after Ms. Alvarez "recommended dismissal of cases in which the UFW failed to cooperate and provide witnesses and evidence to support its allegations."
As explained in the court filing, "[t]hese allegations paint a portrait of an agency highjacked by an ideological agenda set by Ms. Torres-Guillén and implemented by her hand-picked loyalists."
Calling the FBI
Assemblyman Jim Patterson (R-Fresno) has called on the FBI to investigate the ALRB and UFW, Pick Justice reported.  On the KMJ-NOW Ray Appleton radio show in Fresno Monday, Patterson said the ALRB is a "corrupt UFW protection racket [that] comes down not only on the grower, but on thousands upon thousands of farmworkers."
That "racketeering," the lawmaker added, may result in "criminal charges against governor" Jerry Brown.
Is it time to bring in the FBI to investigate? Appleton asked Patterson.
"This is an invitation [to the FBI] to come in and look at it," the assemblyman replied.
Farmorkers have nowhere else to turn but to state and federal courts and the FBI, Pick Justice reported. "The new attorney general [Xavier] Becerra and Governor Brown are going to do everything they can to keep this whistleblower's words out of the public record," Patterson said.
"It's maybe time to blow that whistle," suggested Appleton.
The California state's one-party government is now "bordering on criminal rule," said Patterson.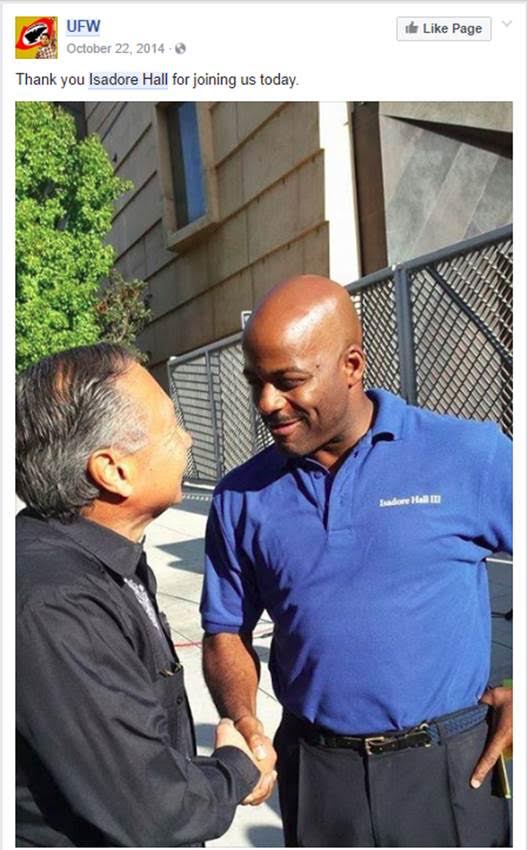 Corrupt Chairman Resigns
Since October 2012, the United Farm Workers labor union and the state Agricultural Labor Relations Board have illegally joined forces to boost UFW union membership by targeting Gerawan Farming, one of the largest non-union farming operations in the state. The prize would be unionizing the 5,000 total Gerawan Farming employees, which would more than double UFW membership, and boost the ALRB's status.
As former Chairman of the Agricultural Labor Relations Board recently said in his letter of resignation to Gov. Jerry Brown, William Gould admitted the ALRB has nothing to do because there is no union organizing actually taking place.
However, by 2015 under Gould's chairmanship, the ALRB doubled their staff and budget to terrorize Gerawan and its workers, and has spent more than $10 million of taxpayer money to do accomplish this. This agency, with such abuses of law, and with a dismal track record, as well as multiple losses in court, should be disbanded.
Former ALRB Chairman William Gould's legacy:
Spending $10 million ($4k per ballot) to suppress the freedom to choose of thousands of the industry's highest-paid farmworkers:  http://prima.com/ALRB-Taxpayer-Funded-Vote-Suppression/
Trying to force a contract on thousands of farmworkers against their will. (A clause in the faux contact would prohibit the employees from continuing their strike protests against Gould's ALRB.)
Banning workers from attending the "public" ALRB sessions where ALRB wrote a faux contract to force on the workers against their will and without the workers' vote.
Proposing outreach to farmworkers, but then after farm workers took a bus trip to meet the ALRB board in Sacramento, Gould refused to meet with them, and used the trip against the workers, claiming it was a valid reason to destroy the workers' ballots.
The UFW won an election to represent Gerawan Farming's workers 25 years ago. But after only one bargaining session, the union disappeared and wasn't heard from for more than 20 years.
In October 2012, the union reappeared to impose a contract on Gerawan Farming and its employees — without a vote of the workers.
But the workers don't want the union, and have been fighting the UFW and ALRB since 2012.