California Gubernatorial candidate John Cox has a message for California voters: "Help is on the way."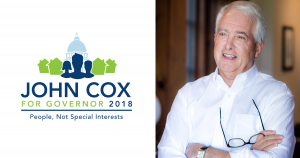 If you ask Cox what he's talking about, you'll get a very clear answer: "Once the land of promise and opportunity, California today is on the brink of financial insolvency, thanks to the failed policies of the Jerry Brown Liberal Politicians."
"All around the world people are rising up against corruption in government. … I'm going to clean out the barn in Sacramento," Cox told Fox News the morning after the California primary in which he placed second behind California Democrat Lt. Gov. Gavin Newsom.
Businessman John Cox has run for political office several times, but actually cut his teeth as a conservative leader years ago when he served on Jack Kemp's national steering committee, and as Newt Gingrich's California Finance Chair. Cox helped lead the successful effort to remove disgraced Democrat Mayor Bob Filner in San Diego, and was a major backer of the Paycheck Protection campaign to rein in the corrupting power of the public employee unions.
Unaffordable California Housing: $2 Million Ranch-Style House
When we talked, Cox was on his way to a Facebook Live event at the Brady Bunch house, from the 1970's television show, in North Hollywood. The iconic ranch-style, 3-bed, 3-bath house, only 2,477 square feet, is on the market for nearly $2 million! "Mike and Carol Brady could not afford their house today," Cox said. In the show, Mike Brady a widowed man with three sons, was an architect who designed the house they lived in. He and Carol, who had three daughters, married and lived in the Brady home with their blended family.
"A $2 million house would require a $400,000 to $500,000 down payment," Cox said, "and plan on $25,000 a year in property taxes." He added that the annual mortgage and property taxes would run about $110,000.  "How many middle class families are making the $300,000 a year just to afford this house?" he asked. "This isn't middle class, but the house is." Cox, who is a financial adviser also said that a house should never cost more than 30 percent of the annual family income. "The California dream is priced out of reality for most people," Cox added. "Mike and Carol Brady would both have to be working at jobs earning at least $150,000 annually, rather than Carol Brady home with the six kids."
For the record, my 29-year old son just bought a 3-bed, 3-bath house on 3/4 of an acre, with a swimming pool, in a coastal town in Virginia for $360,000.
"Government regulations are preventing the construction of new homes, and costs are being driven up like crazy," Cox added.
Environmental regulations block new housing construction. CEQA, the California Environmental Quality Act, and "design-review process have morphed into dangerous weapons used by 'not in my backyard" forces to stop nearly all new development," the Legislative Analyst's Office concluded in 2015. And it's only gotten worse since then. "Housing Is More Expensive in California Than Just About Anywhere Else," the LAO report said. "Home prices in California are much higher than they are in other large states."
"Out-Of-Touch-Elites"
Cox calls those responsible for California's failing status, "out-of-touch-elites," of which "Gavin Newsom is the poster boy.""These elitists just told us we're going to have to live on half the water we currently use," Cox said, referring to Gov. Jerry Brown's recent bill signed restricting every California resident to 55 gallons per day until 2025, 52.5 gallons from 2025 to 2030 and 50 gallons beginning in 2030 — or receive a fine of $10,000 a day.
Most California households will have to choose between showering, or doing a load of laundry under these ridiculous daily restrictions. And forget about taking a long, lingering bath without penalty since most large bathtubs hold more than 100 gallons of water.
Demonstrating that California's droughts are naturally occurring, and its water shortages are government created, Cox said he recently read Let There Be Water by Seth M. Siegel, which shows how Israel, even with 60 percent of its country made of desert, has not only solved its water problem; it also has an abundance of water, and even supplies water to its neighbors – the Palestinians and the Kingdom of Jordan – every day.
"We live next to the largest body of water in the world," Cox said. But the newest Carlsbad desalination plant cost three-times more to build than Israel's, due to high labor costs and environmental regulations and interferences. And the plant is delivering much less water than expected.
"Desalination, along with drip irrigation, water recycling and sustainable water conservation policies – has increased Israel's water supply and amazingly, transformed its water shortage into a water surplus," NoCamels Israeli Innovation News reported.  "The people of this state are tired of being deceived and told only half of the story," Cox said.
Repeal the Gas Tax
"The Democrats in Sacramento are taxing California's working families to the breaking point," Cox said. "We're spending three to four times more to build a road than Texas. The $15 billion we're spending is $5 billion in Texas money."
"We've got to repeal Jerry Brown's massive $52 billion gas tax increase," he said.  The gas tax increase,  which would raise $5.4 billion a year to ostensibly pay for infrastructure repairs and expansion to the state's roads, bridges and transportation systems.
This $52 Billion Gas Tax Increase has been undergoing a serious repeal effort, and is now on the November ballot as Proposition 6.
'Not enough taxes' are not the reason for California's poor roads; Democrats are the reason. "California's crumbling roads and highways are the direct result of failed leadership in Sacramento, where billions of transportation dollars have been diverted to pay for other things," the Fresno Bee editorial board said in April.
There is nothing in the gas tax legislation, SB 1 by Sen. Jim Beall (D-Campbell), signed into law by Gov. Brown, to guarantee the $52.4 billion raised by the gas tax will actually go to roads. But gas increased more than the 12 cents a gallon promised, diesel 20+ cents a gallon, electric car owners now pay an annual fee of $100, and it increased the registration for all vehicles by $38 – $175. In fact, "30% of the new tax revenues will go to projects other than roads (including parks, workforce apprenticeships, rural bike lanes, boats, trains and local planning grants) and that the plan mandates that less than 5% of funds can go to traffic relief or lane expansion," Jon Fleischman reported in Breitbart.
"If we start spending like Texas does — efficiently – we're going to get much more roads and highways – twice as many roads," Cox said. "We definitely need another governor to make this happen."he added.
"Watch Your Back" 
Cox talked about a full-page advertisement in a July San Francisco Chronicle placed by an anonymous resident of the city, "to draw attention to the city's homelessness crisis after an alleged experience with a scissors-wielding homeless man in a downtown cafe left her feeling 'horrified,'" Yahooreported.
The woman detailed her account in the ad, titled "Watch your backs — nobody else is."
"The ad is signed by 'Fed Up Populace Campaign,'" Cox said.
"The San Francisco city fathers and those who should be held accountable for our public safety have for years let us down by catering to the lowest common denominator," the ad says. "We, the tax paying, responsible contributing members of society have had our quality of life as San Franciscans seriously compromised, dangerously so."
"San Francisco epitomizes this," Cox said. "And Gavin Newsom was the Mayor and still lives there."
"I met with 300 farmers — all family businesses being run out of California," Cox said. "You can't pick up a farm and move it to another state."
"Water, housing affordability, and the gas tax — these are the issues we must immediately get to work on," Cox said. "We need to unshackle the productive capacity of California's vast economic engines, unleash small business, roll back oppressive regulations and focus on economic growth. This is the only possible way to rescue California from a likely financial melt-down."
"Gavin Newsom screams 'Trump' or 'abortion.' He has no answers for water, housing or California's losing schools," Cox said. "He's been bought by the teachers unions. Killing charter schools and taking over health care is the only prescription for the Democratic nomination for President. That's why he's doing what he's doing."
"This election will set up a clear choice between Venezuela, which is what Gavin Newsom wants California to look like, and the California Dream restored, which is what I am aiming to do. "We're going to shock the nation – a shocker like Brexit, like Trump," Cox said. "The people of California are ready for it… they are fed up."