For nearly 40 years, Jim Riley and his family have lived on their 760-acre apple farm in Oak Glen, California, in San Bernardino County.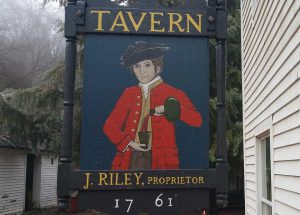 Jim and his wife built a Colonial-inspired home on the farm in 1994, and were thinking about doing 18th century dinner theater. Shortly thereafter, the Riley's were approached by parents of local elementary school students asking for historical field trips at the farm. "We started doing American Revolution-themed tours, and Civil War reenactments for 5th graders in Southern California," Riley said when we talked recently. "Within five years, we were seeing 50,000 students a year, and in the last 17 years, more than 1.2 million students, parents and teachers visited programs on the Revolutionary War, the Civil War, and the California Gold Rush."
Riley described the events as an escape to the 18th century, where school children are met and harassed by Redcoats as they arrive at the farm. "It's all American for people who love America," Riley said.
However, recently schools began cancelling reservations for the Riley Farm historical reenactments.
Twitter Wars
Riley, who is a Conservative and Christian, has been accused of being a racist, misogynist, homophobic, and a White Nationalist – on social media — for Tweets on his personal Twitter page.
What was his crime? He Tweeted something snarky about Stormy Daniels while she was on her "Make America Horny Again" tour of strip clubs around the country. Daniels is the client of creepy porn lawyer Michael Avenatti, who accused President Trump of a tryst with the former porn star, now a strip club performer.
In another Tweet, Riley replied to some feminist's Tweet after she accused him of being a White Supremacist, so he Tweeted, "If there's a problem in America today it's BLACK supremacy. Farrakhan, Obama, Lebron James, etc. Typical brain dead feminist."
Local leftist activists collected all of Riley's Tweets and feigning outrage, notified a Southern California school district to boycott his family's historical tours. And that's exactly what public schools started doing. Riley's monthly tours are down 35 percent.
Riley said his program has no political agenda, and has been loved by Americans who are left, right, and center on the political spectrum.
So the crusading leftist activist attacked him for suggesting that the Reverend Louis Farrakhan is likely more dangerous than any notion of White Nationalism, and he was called a racist. "For thinking Stormy Daniels was wildly over the top assaulting an undercover police officer, I was called a misogynist," Riley said. "For being bewildered by a sudden multiplicity of gender identities, I was called a homophobe. Suddenly, in these polarized times, Riley's Farm is now no longer considered a 'safe space' for children by timid, progressive school administrators."
"I have a political life on my own time," Riley pointed out, however he said his personal political life has absolutely no effect on Riley's living history programs. He noted that he hires a very diverse group of people who make the learning of American history fun and accessible for children and families.
Riley's comments on social media were only made on his personal accounts, and not his business accounts.
Lawsuit
The Claremont School district insinuated (without evidence, and indeed contrary to evidence) its cancellation action was necessary to "secure and protect" students from "discrimination and harassment," and to avoid exposing them to inappropriate sexist or racist attitudes," or sexually explicit, indecent or lewd speech…" all because Jim Riley made some observations about Stormy Daniels and Louis Farrakhan.
Because of the school districts' actions, Riley filed a lawsuit accusing the school district, the Superintendent and individual school board members of violating his First and Fourteenth Amendments rights, as well as Conspiracy to Violate his Civil Rights under the First and Fourteenth Amendments.
Public agencies may not take adverse actions against citizens, including public employees and independent contractors with pre-existing commercial relationships with the agencies, based on speech or expression by those persons which the agencies or their officials or employees disagree with.
Riley is suing for "Lost future revenues and/or profits due to the District's unlawful blacklisting of Riley's Farm… as well as the damage to Riley's reputation.
The leftist "activist has also undertaken to induce other school districts to take similar unlawful retaliatory action against Riley's Farm. To date, at least four other school districts have indicated that they intend to follow the District's example. Riley alleges that one or more of the school board Defendants have taken further overt action in furtherance of the conspiracy, by contacting officials at other school districts and encouraging them to join the District in retaliating against Riley's Farm," the lawsuit states.
Jim Riley and his attorney have asked for a jury trial.
Blacklisting Conservative Businesses
Riley said over the years he's talked with Cambodians, Hungarians, and Russians who love America intensely, and really understand Riley's Farm. "You can see it in their eyes when we tell the kids at the end of every field trip, 'if you don't remember anything about today – not the funny three corner hats or old language or the buckled shoes – I want you to remember that there were Americans, and there are Americans, of every sort who love you, and what you believe in, enough to give their lives.' I've seen Americans of all sorts, but particularly immigrants, wiping away their tears."
The targeting of Jim Riley is particularly vicious and vile because Riley says "all we do is celebrate American history. We're far less political than most 'educational' destinations these days."
Jim Riley asks: "Do you really want an America that can deny you a job for everything you've said on Twitter or Facebook? Do you really want to give up your right to speak just because you made the mistake of starting a business?"
You can read Jim Riley's lawsuit at http://www.goeforlaw.com/