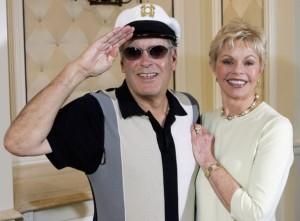 In 1975 Billboard's number one song of the year was Captain and Tennille's "Love Will Keep Us Together" – and apparently that worked for almost years, with news coming out last week that 70's that the two entertainers, who were married, had filed for divorce.  '75 was the year that newly elected Congressman Henry Waxman was sworn into his first term in Congress.  And now, 40 years later, he's calling it quits as well.
Liberal icon Henry Waxman announced today that he is retiring from the House of Representatives. That such a senior Democrat would bail out, on the heels of fellow 40 year incumbent Rep. George Miller's announcement that he too is retiring this year, is a major blow to Nancy Pelosi. It's also the clearest sign yet that Democrats don't believe they are regaining the majority anytime soon.
No doubt adding to Waxman's decision was the prospect of another surprisingly competitive re-election bid. In 2012, the redistricting commission placed Waxman in a Democratic seat but it was less so than his previous congressional district and a significant portion of it was brand new to Waxman. The Congressman received the toughest race of his entire political career when he beat Republican turned No Party Preference candidate and businessman Bill Bloomfield by only a 54% to 46% margin.
Bloomfield made it into the top-two general election run-off after overcoming a single Republican candidate, a number of minor party candidates and a couple of additional Democrats in the primary to emerge as Waxman's top challenger.
Waxman, who is a resident of Maryland, has been forced to repeatedly return to the 33rd District in order to campaign ahead of 2014. He had reportedly shared with a number of insiders over the past year that he didn't enjoy making the long journey from D.C. to California on a frequent basis, something which hadn't been necessary in his previous district.
Bloomfield's strong showing had stirred a pair of No Party Preference candidates, New Age guru and author Marianne Williamson and producer Brent Roske, to run against Waxman in 2014 from the incumbent's left. Bloomfield had remained undecided about running again but in recent weeks had started sending signs that he was interested in facing Waxman again. This probably also played a major role in Waxman's decision to retire.
Bloomfield's likely entry now makes him a strong contender to make it into a run-off under the top-two primary system and the best bet to elect a non-Democrat from a district which went for Obama by 24 points. However, so many Democrats could enter this race in a district with stretches from Malibu through Santa Monica and Venice to the South Bay and includes Beverly Hills and much of West LA that some Dems are expressing fear that their vote will be so split that two non-Democrats could make it into the run-off. That's probably unlikely but this will be a fascinating race to watch.
Dem State Senator Ted Lieu is likely to jump in and Los Angeles City Councilman Paul Koretz is also mentioned as a possibility. There will likely be some liberal candidates from Santa Monica and Venice entering the race in what will be a free-for-all.
One thing is certain to this observer. Bill Bloomfield can take credit for holding Waxman accountable to his district and ultimately forcing the 74-year-old to finally retire from Congress after 40 years. That's something that a lot of people, and not just Republicans, can cheer about.