In  exclusive "first release" to the FlashReport, former California Governor Pete Wilson has issued a pretty strongly worded warning to Republican voters about nominating Assemblyman Tim Donnelly for Governor.
Here is the Governor's statement, in his own words (you can see an official version here):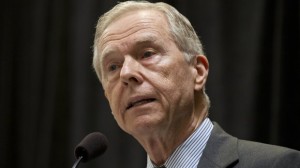 "I respect and share the concern of Tea Party and other California voters who are determined to reverse the growth in the size and cost of our state government. I strongly urge them to vote for a candidate for Governor whose campaign can compel the public to focus on reform of our failing public schools and of the tax and regulatory burdens that are driving companies and good jobs out of California.
Neel Kashkari can and will produce such a campaign. Tim Donnelly will not because he cannot.
Keeping public focus on the real and important issues facing California will require a candidate who does not have to defend Tim Donnelly's bizarre votes and statements or his irresponsible personal behavior. Donnelly's record – not California's critical challenges – is what would inescapably become the focus of a Donnelly campaign.
With Tim Donnelly on the ballot, it would be a losing campaign, risking injury to our party and our state, and to other Republican candidates who deserve to win." 
PETE WILSON
Governor Wilson's joins a number of other prominent Republican Party officials who have been critical of the bombastic Assemblyman for his tactics and/or statements.  Most recently the Orange County Lincoln Club (of which I am member, though had no role in their action) issued a strong rebuke of Donnelly, and Congressman Darrell Issa perhaps issued the harshest criticism of all (which you can read in my column last week over at Breitbart California).   In my column I express concerns about Donnelly's posting on his Facebook page that his opponent, Neel Kashkari, a Hindu, advanced Sharia Law while an official with the U.S. Treasury Department back in 2008.
For his part, Donnelly went on the offensive in response to criticisms of his candidacy by Issa, and the Lincoln Club, in the San Francisco Chronicle.  Chronicle senior political reporter Carla Marinucci wrote:
Republican gubernatorial candidate Tim Donnelly defended himself Wednesday from blistering attacks from his own party, saying the criticism is evidence that the GOP elite has "lost touch with people in the neighborhoods" because "they're too busy golfing or drinking together."
"When the GOP is taking about the threat (I pose), they're right," Donnelly, a Tea Party favorite and San Bernardino County assemblyman, said during an hour-long session with The Chronicle editorial board. "I'm a threat to the country-club Republicans. I'm a danger because I might bring a little more country into the club."

You can read the full Chronicle piece here.