As a confirmed dog lover, I admit I have dined with my dogs at outdoor restaurants. I've eaten many outdoor meals in beautiful Carmel, CA, which is very dog friendly, as are many California cities and restaurants. Apparently, I've been doing this illegally.

For many years, many California restaurants have provided outdoor space for dog lovers, complete with bowls of fresh water and complimentary dog biscuits. However, because in California, restaurants are actually breaking the law by allowing canines to join their humans at the dining table, comes a bill to address this problem.
There arf to be a law
Under current California law, the only live animals allowed in restaurants are police dogs, animals in aquariums, animals used as consumption and service animals for disabled patrons. If the dog is a service or assistance animal, then the Americans with Disabilities Act and California Civil Code Section 54.2 guarantees disabled owners and their dogs access to public places such as restaurants, stores, movie theaters, and libraries.
Riding to the rescue of dog owners, the California Assembly passed a bill last week allowing restaurants to officially open their outdoor dining areas to dogs, if they choose, unless local ordinance prohibits this.
I don't have tiny purse dogs that no one will notice; my German Shepherd and Australian Shepherd don't exactly fit under the table.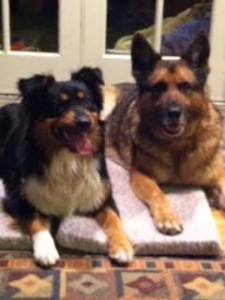 Beware dog-unfriendly cities – the pressure is on you now
This bill has gone to the dogs
AB 1965 will allow diners who have been enjoying outdoor meals with their canine companions, to continue. But only if the bill receives California Senate approval – which looks likely given that AB 1965 received nearly unanimous approval in the Assembly, with a vote of 71-1. The bill heads to the Senate next.
Assemblywoman Mariko Yamada, D-Davis, author of the bill, said, "Despite the best efforts of counties to balance the desire of restaurant and dog owners with the need to preserve public health, there remains one hurdle they cannot overcome: state law preempts any effort restaurants make by prohibiting any dogs in food facilities unless they are service animals or under the control of law 
enforcement or licensed security personnel."
"Some of these local jurisdictions have attempted to issue guidelines on the basis that outdoor dining areas are not considered part of 'food facilities' as defined in state law," Yamada said in the bill analysis.
However, Section 113789 of the Health and Safety Code defines a food facility as 'an operation that stores, prepares, packages, serves, vends, or otherwise provides food for human consumption at the retail level' as well as 'any place used in conjunction with the operations described in this subdivision.' This definition extends the restrictions created by Health and Safety Code Section 114259.5 to 'any place used in conjunction' (with a food facility), which can be interpreted to include outdoor dining areas maintained and operated by food facilities.
Dogs night out
The bill does not mandate that restaurants allow furry friends dining on outdoor patios, but would leave the option open for restaurant owners to decide on their own.
While this is already occurring in numerous cities throughout the state, AB 1965 would make it legal unless prohibited by local ordinance. City and county ordinances could still prohibit the practice, but many have been unofficially allowing it for years.
But there are a few caveats:
Food and water provided to pet dogs shall only be in single-use disposable containers;
Food employees are prohibited from having direct contact with pet dogs while on duty;
If a pet dog deposits excrement or other bodily fluids, an employee shall immediately clean and sanitize the affected areas.
Last week I saw two lawmakers had their adorable doggies with them at the Capitol. Bring Fido lists 60 dog-friendly restaurants in Sacramento, including many in downtown near the Capitol.
Warning: Cats not allowed. This bill is for Fido.