The Sacramento arena deal has prompted questions over the lack of public debate about key details, dubious financial numbers from the city and the public subsidy the project requires. And, last-minute legislation last year by Senate President Pro Tem Darrell Steinberg, D-Sacramento, is allowing the arena's construction proceed without a credible environmental impact review.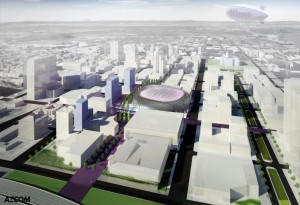 Last week, the city of Sacramento announced it expects to spend up to $750,000 to defend a lawsuit related to the planned downtown arena. The lawsuit accuses city officials of making a secret deal to provide an extra $80 million of public money to help the investors' group beef up its offer against a well-funded Seattle group that wanted to buy the Kings and move them to Seattle.
I have reported Attorneys Jeffrey Anderson and Patrick Soluri said city officials have committed fraud because they have not fully informed the City Council and the public about details of the deal.
City officials will ask the City Council to set aside the $750,000 to cover past and future legal costs, the Sacramento Bee reported last week. However, the Sacramento Bee story intimated city taxpayers are supposed to feel sorry for the city, or mad about the latest lawsuit on behalf of Sacramento citizens.
What taxpayers should ask is why the city is spending $750,000 of taxpayers money on outside attorneys when the city has a bevy of staff lawyers, and why voters have not been allowed to weigh in on the public subsidy of the arena.
Arena lawsuit
According to a city staff report, the city has spent nearly $500,000 on the arena lawsuit. The city outsourced much of the legal case to private law firms.
After the Bee story was printed and posted online, it was appended to include: "Councilman Jay Schenirer, who asked city staff to compile the lawsuit's cost to the city, said "there is 'absolutely no basis' for the lawsuit and said it was forcing the cash-strapped city to spend money on something it shouldn't."
It appears Councilman Schenirer is now voluntarily breaching policy not to comment on active litigation, offering his independent legal conclusion.
"It's $750,000 that we cannot spend on police, that we cannot spend on community centers and that we cannot spend on providing services for young people – all of which should be our priorities," the Bee reported Schenier said.
Schenirer's discussion of active litigation by the City may run afoul of new rules adopted by the City Council curtailing councilmembers' ability to disclose such matters.  Perhaps Schenier believes the censure resolution doesn't apply, and his First Amendment rights remain intact because he's parroting the City Council's majoritarian position.
A Bee reader summed this debacle up the best: "Perhaps if we had been allowed to vote on this issue, we could have saved the $750,000. I think the city fathers who rammed this through should pay for it — not the taxpayers. This boondoggle is already costing us too much."
With the city's taxpayer subsidized contribution to the arena of $388 million, this reader is right.
City's other stupid business decisions 
The whining over the legal fees should be a non-issue since the City has, or should have, an indemnity agreement with the Sacramento Kings to handle just these kinds of things. An indemnity agreement would "hold harmless" one party for some loss or damage.  If there is no indemnity agreement then some in the legal community say Sacramento Assistant City Attorney Matthew Ruyak should be put out to pasture.
If Ruyak's name isn't ringing any bells, he is the city attorney responsible for grossly mishandleding a contract four years ago that allowed BLT Enterprises to turnaround and peddle a new 20-year exclusive city garbage to Waste Management for an obscene $50 million profit.
Like an episode out of Goodfellas, the city council approved a multimillion dollar solid waste contract in 2012. Despite dire warnings, the no-bid contract to BLT Enterprises, was quickly swallowed up by garbage giant, Waste Management Inc., for a cool $50 million profit, leaving Sacramento city rate payers to live with the contract for decades, according to the Sacramento County Grand Jury.
The stinky garbage contract forces city residents to pay 25 percent higher garbage pickup rates than any other city in Sacramento County.
The City Council did this without a competitive bid process, despite the contract being worth more than $22 million, the Grand Jury found.
Had Ruyak been doing his job correctly, city ratepayers would be paying perhaps $100 million less for garbage pick-up over the next 20 years.  Ruyak ignored all of the flashing red lights that BLT was planning to peddle the contract for a massive profit before it was finalized.
Eye on Sacramento, a public policy watchdog, did an eye-opening report on the BLT garbage contract, which found:
The story of the city's garbage contract with BLT, as recounted in this report, is a is a 14-year saga of careless city contracting practices, crony capitalism, closed-door government decision-making, weak city council oversight, a steadily revolving door between city management and BLT, poor city staff work, out-classed city negotiators, a secretive city investigation of a possible fraud claim against BLT and, finally, a proposed secret settlement of the city's potential claim against BLT for an inadequate sum of money. 
Eye on Sacramento also did an efficiency study of the city attorney's office two years ago, comparing Sacramento to five other California cities. It wasn't pretty.