Wisconsin Governor Scott Walker showed a strong lead in a new California statewide poll of 600 likely Republican voters.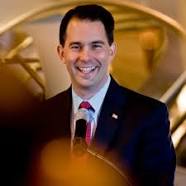 Walker leads by a statistically significant 20 percent margin in California's June 7, 2016 presidential primary election, in the poll conducted Feb. 8-9 by Landslide Communications.
The results were particularly interesting because California Republicans see parallels with Wisconsin over the influence of public employee unions and labor agreements.
The poll questions were prepared by Jim Lacy, Managing Partner of Landslide Communications, and author of Taxifornia.
In an interview Thursday with Lacy, he explained:
When matched with 15 other possible candidates for the Republican nomination for President, Walker wins 20% of likely GOP voter's support. Neurosurgeon Ben Carson and former Florida Governor Jeb Bush follow distantly but closely matched with 10.7% and 10.5% of the vote, respectively. Mike Huckabee, former Governor of Arkansas receives 7.3%, followed by New Jersey Governor Chris Christie at 5.8%. Florida Senator Marco Rubio has 5.2% and Kentucky Senator Rand Paul has 4.7%. Other candidates finish with lower percentages and there is 17% undecided.
"I had no idea Scott Walker would receive two times as much support as Jeb Bush," Lacy said.
The male and female vote was notable. Lacy said Scott Walker is currently more strongly favored by men than women in this poll.
Carly Fiorina's showing was as interesting. "It's evident she has no real support in California," Lacy said. Fiorina received 1.7% of the vote in the full field of 16 candidates tested, and when the field is reduced to just 8 candidates, Fiorina's support improves to 3.2% of the vote, the poll found. Lacy said this was even below the margin of error.
The questionnaire consisted of five questions: one screening question to confirm voter registration at the address listed on the voter file record, a ballot question listing potential candidates, a follow-up ballot question to test most probable candidates and two demographic questions, gender and age. Additional demographic classifications were appended from the voter file to each respondent interview for inclusion in final results tabulation.
Of the poll results, Governor Scott Walker is a solid, top choice in both ballot questions, well outside the margin of error, and the only candidate chosen by more respondents than those undecided.
Additionally:
Ben Carson is in a statistical tie with Governor Jeb Bush for second place in the first, broader ballot question though not included as an option in the second, shorter list candidate question.
Senator Ted Cruz and Governor Huckabee appear to gain the most from Carson's exclusion in the second question.
There was a slight increase in those undecided from the first to the second question.
The poll was conducted by NSON Opinion Strategies among 600 likely Republican primary voters, and has a margin of error of +/- 4% at a 95% confidence level. Lacy has posted detailed data, crosstabs and poll questions at his website.
Senators Ted Cruz (TX) and Marco Rubio (FL) hover near the 8% mark. Former Hewlett Packard chair Carly Fiorina polls poorly, though she is known to California voters from her 2010 race for U.S. Senate against Democrat Barbara Boxer.
See NSON Opinion Strategy's Poll Summary here: 16′ CA GOP Presidential Primary Poll
See Poll Frequencies here: CA Rep Pres Primary – Frequencies
See Poll Crosstab Tables here: CA Rep Pres Primary – Crosstab Tables