Vida Wright and Cheryl Bly-Chester, two minority owned, small business owners, bid a contract with Caltrans to administer the education and mentoring program for the Disadvantaged Business Enterprise program. They complied with the rules of the process, spent hundreds of hours and thousands of dollars preparing their Request For Proposal, and they qualify as a DBE. But they lost the contract by tenths of a point after Caltrans employees changed the documents of the incumbent contractor, as well as the scoring on the incumbent contractor bid, so Caltrans could award it to the incumbent.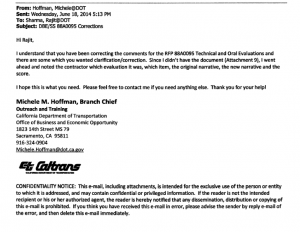 The American Civil Rights Institute filed a lawsuit in Superior Court asking the contract be removed from GCAP Services, Inc., a consulting firm, and awarded to Veridico-Rosewood Joint Venture, owned by Wright and Bly-Chester, which provides water resources, civil, and environmental engineering consulting services.
Dr. Cheryl Bly-Chester, P.E. is the principle of Rosewood Environmental Engineering, and Vida G. Wright, Ph.D., P.E. is the principle of Veridico Group, Inc.
ACRF,  a national civil rights organization created to educate the public on the harms of racial and gender preferences, would prefer Caltrans use race neutral contracting practices, but said it recognizes the Disadvantaged Business Enterprise program is a Civil Rights program to include and assist such classes as women and minorities. As a Civil Rights program, it is the mission of ACRF to see that Caltrans is administering the Disadvantaged Business Enterprise program fairly so as to provide these DBEs with access to the system. "In light of the extraordinary facts that came to light in the Public Record Act disclosures, showing the arbitrary changing of comments and scoring, we feel it is our duty to challenge the administration of this program," Diane  Schachterle with American Civil Rights Institute said. "It appears Caltrans procedures are excluding rather than including Disadvantaged Business Enterprises."
The Lawsuit
Superior Court Judge Michael Kenny's ruling, which found the Caltrans protest process "arbitrary and capricious," confirmed Caltrans had doctored the $2.5 million disadvantaged business services procurement. The judge even awarded attorney's fees to Bly-Chester and Wright. However Caltrans ignored the ruling. Bly-Chester and Wright were forced to protest again.
"Even though we (two Women-owned Micro-businesses) prevailed in the courts against Caltrans with a very harsh judges ruling, Caltrans paid their improperly selected bidder hundreds of thousands of dollars and are now re-bidding the same scope of work – even though part of it has already been performed and paid for," Wright and Bly-Chester told me. Veridico-Rosewood Joint Venture is protesting the re-bid. "The same staff who falsified evaluation documents on the last round are still working this rebid. The only Caltans staffer to lose their job was Michelle Hoffman, who was the only one to put in writing that she was ordered to do so and wasn't sure about what was going on with altering selection documents."
Bly-Chester and Wright obtained copies of email communications verifying that Rajit Sharma, a Caltrans employee, "made corrections" on the cost proposal bid submitted by GCAP Services, Inc., and altered comments in the scoring process to favor GCAP Services.
"It appears from a thorough review of the proposal scores that advantages were given to GCAP throughout the entire scoring process," Judge Kenny wrote in his decision. "These advantages are in direct contravention of the fair playing field that is presumed to exist in the awarding of public contracts." Judge Kenny found that Caltrans did not follow its own scoring criteria, and in doing so, failed to meet the mandates of California Public Contracts Code.
"A Writ of Mandate is available to correct a public entity's abuse of discretion, including a public entity's arbitrary and capricious performance of a duty," Judge Kenny wrote in his order.
The Judge ordered Caltrans to rescind the award to GCAP, reevaluate the proposals that were originally submitted, or reject all proposals and cancel the RFP.
According to Wright and Bly-Chester, Caltrans defied the Judge's order.  "We received a snotty letter from Erin Holbrook, a Caltrans attorney, which said, 'We don't settle on contracts,'" Bly-Chester said.
Where It Stands Now
At the latest hearing on June 5, 2015 the judge was not happy that Caltrans had defied his order and decided on its own that "canceling" the contract rather than "rescinding" the contract as ordered, meant the same thing.  The Judge reaffirmed the Wirt of Mandate and ordered Caltrans to rescind the contract to GCAP immediately.
It remains to be seen if Caltrans will comply with their own rules for public contracts.